What Is Bullet Journaling And Why Is It Taking Over The Internet?
You may have heard of the bullet journal, but what exactly is it? A runner tried it out and breaks down just how to do it.
Heading out the door? Read this article on the new Outside+ app available now on iOS devices for members! Download the app.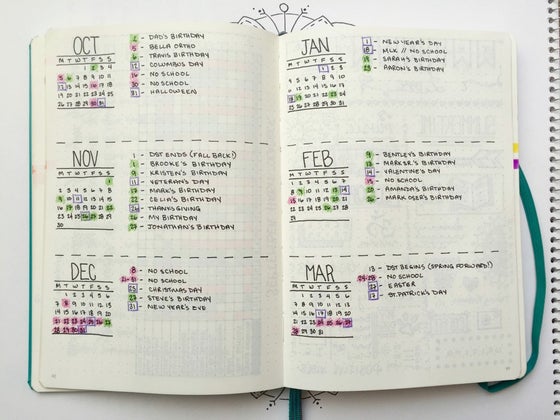 Unless you have already been busy bullet journaling, you probably know it's the latest craze to hit social media. If you're like me, you may have thought (by reading countless headlines and hashtags) that this was some mystical, magical, life-transforming methodology that had the power to shift reality.
Turns out, it's pretty much just old fashioned journaling, but with rules.
What Is A Bullet Journal?
First off, we need to get the lingo right—it's known as BuJo to those who do it—and is referred to as "the analog system for the digital age."
Second, let's be very clear that fundamentally, bullet journaling is simply putting pen to paper in a designated book, and perhaps getting creative with organization and color.
Third, it can be confusing AF if you simply Google "bullet journaling" so we have taken all the guesswork out of it and condensed it into one, easy to read and retain, article.
The Short Of It
Ryder Carroll, the man credited with creating this phenomenon, has a video and detailed outline on his web site with extremely basic methods guiding the reader from concept to completion:
Write short lists of what needs to be done, projects you are working on, thoughts that pop into your head that you want to write more about or upcoming events. This is called "rapid logging" but it's basically jotting quick notes instead of writing long sentences.
Each note has a symbol in front of it depicting which category the item is in:
O Event
X Complete
< Scheduled
> Migrated
– Quick note
*It's also recommended to keep a key of these symbols in the back of your journal
You can use any journal and, there are literally thousands for sale online.
Bullet Journaling Terms Defined
For some reason, everything about this gets overly complicated, including the terms used to discuss how to organize the journal. Here is everything you need to know:
Bullet Journal: A method of journaling and note-taking that uses bullet points as the core structure
Index: A table of contents that you update as you go
Daily Log: Everything you did and/or need to do today (+ other observations)
Monthly Log: Traditional month calendar + things you need to do that month + things you forgot to do last month
Rapid Logging: Symbols that help you get stuff done
Future Log: Year-at-a-glance calendar where you can put events, goals, and long-term projects you need to do
Every Bullet Journal Should Have…
Numbered Pages
Index
Future Log
Large projects you need to track over time, either personal or professional
Big picture view of the current month with important pieces highlighted
Any additional monthly items you want to track—workouts, doctor appointments, books read, etc.
*For great examples of all of the above check out How to Bullet Journal, The Ultimate Guide
Who Should Bullet Journal?
Of course anyone can do it and it definitely does not need to be fancy or artistic in any way. The bullet journal is all about the owner and should reflect your life, on paper.
The qualities one probably should possess to start bullet journaling are as basic as the bullet journal concept should be:
Anyone who wants to become more organized
Anyone who enjoys old fashioned pen and paper
Anyone who doesn't mind carrying the journal (and a pen/pens) with them everyday
Anyone who is curious to see if it will help them stay organized, be more creative or have more fun
As for me, I will continue my love affair with technology, but at least now I fully understand what I'm missing out on.