Deena Kastor On Being A Beginner On The Trails
See what it is a like for a pro to start over again in her sport.
Heading out the door? Read this article on the new Outside+ app available now on iOS devices for members! Download the app.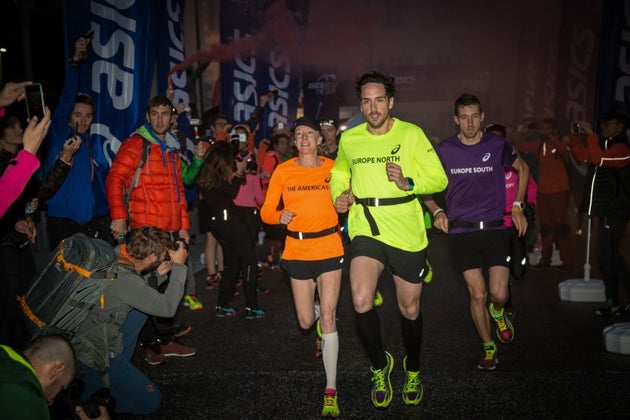 Like a fish out of water. That's how Deena Kastor described her latest adventure, running some 30k of the recent ASICS Beat the Sun relay race around Mont Blanc in the French Alps. But by all measures, this fish proved she can swim.
While Beat the Sun was Kastor's debut at racing in the mountains and on trails, she's no stranger to them at home in Mammoth Lakes, Calif., which tops out around 8,000 feet. Using a training program designed by husband and coach Andrew, Kastor prepped for the race with plenty of long trail runs. "Altitude was not the issue at this race," she said. "I did lots of two-hour hill climbs and hill surges to get ready."
Instead, it was a combination of technical trails and having to recover between legs that intimidated the Olympian. "With three of the fastest legs, the biggest game for me was recovery between them," she said. "I needed to be able to run hard and then fuel up and get warm clothes on right away."
She followed that strategy to a tee, even squeezing in brief naps and showers between legs. It paid off as Kastor managed to help keep her team of six—three elites and three amateurs—squarely in the mix throughout the race.
Eight teams in all from different regions of the world, each with the same three elite/three amateur make up, competed against each other and the sun on the longest day of the year. That meant covering the highly technical and vertical 140k in 15 hours and 40 minutes.
Unique challenges like this are part and parcel to the runner Kastor is becoming in her post-Olympic days. "It's been nice to have the time and freedom to take on the trails at home," she says. "It's also been inspiring to watch the experienced trail runners make the technical sections look so easy—I've learned so much from them."
One lesson, she explained, being that trail runners don't taper. "Also, hills are relative," she laughed.
Even if feeling a bit like a newbie on trails, Kastor's enthusiasm showed through, a testament to the positive attitude she exudes in any environment. She shares that positivity through her Mammoth-based training camps, now entering their third year, and in an upcoming book on training the mind to help the body.
It would be easy for Kastor to rest on her laurels: a marathon bronze from the 2014 Athens games, a bevy of masters records set in 2014, and American marathon and half marathon records that still stand, but that's not her style. Instead, she's testing her limits in new ways on the trails—an ultra not out of the question—and taking joy in a more relaxed approach to running.
"This has been one of the most inspiring weeks I've taken part in over the past few years," she said. "I thought I knew what challenges are, but this has expanded my vision of those philosophies."