A Coach Shares Her 6 Tips To Go From Running To Racing
Celebrity running coach Jenny Hadfield shares the simple steps of shifting from a fun-run mentality to a race-based strategy.coach
Heading out the door? Read this article on the new Outside+ app available now on iOS devices for members! Download the app.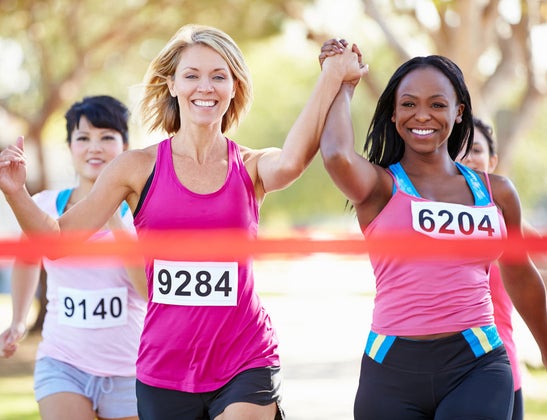 Question: I started running a few years ago and have finished a few 5Ks and even a half marathon! I love doing races with my girlfriends, and we never really worry about our times, but lately I've had the urge to really race and to go for a personal best. Do you have any tips? —Lynn
Answer:  You're on the perfect track for dialing your racing up a notch. You already have the most important ingredient to improving finish times: a solid foundation of miles. The runs you've put in over the past few years provide a base from which you can build on to achieve a new personal best.
The key to improving performance is to think long term. If you focus on evolving your inner speedy chick gradually, you'll enjoy your training, stay healthy, remain motivated and continue to progress. Here are some keys to shifting from a fun-run mentality to a race-based strategy:
Start from where you are.
Being honest about your current fitness level will help you see where your starting point should be. From there, you can find a training plan that closely matches your routine. If you're running 5 miles three times per week, you'll want to find a plan that initially mirrors this mileage and frequency.
Be patient.
I learned from 50K U.S. record-holder, Josh Cox, that the secret to running personal records is to evolve slowly. When asked how he trained to beat the record, he replied, "I started in high school and built up my miles, experience and strategies through college and my professional career. I've been training for this race for years." Allow yourself time to gradually shift your training, and don't be discouraged if your fi knish times don't immediately improve.
Vary your workouts.
Many runners perform all their workouts at the same exact effort level—one that's a tiny bit challenging but definitely inside the comfort zone. It feels good to run at this pace, but if you spend all your time there, you'll end up at a performance plateau. To improve, include slow, easy runs, hard intervals, tempo workouts and long endurance runs. When you ebb and flow with hard and easy workouts during the week, you will recover, adapt and enhance your performance.
Keep track.
Maintain a log online or in a journal. Track your workouts,  pace, mood, speed, terrain, weather, shoes, nutrition, sleep, stress levels and life schedule. All of these variables will affect your training. As you track the information, you'll begin to see patterns that can be adjusted.
Pace yourself.
Go with a race-day strategy that is based on effort instead of pace. For some runners, this can be a hard pill to swallow—but just trust me. When you let go of numbers, you can race stronger than your mind might allow. It doesn't mean you shouldn't use a watch at all; it simply means your watch should give you information, rather than act as your guide. Run the first third of your race in the comfortable zone, the second third at a medium effort and the final third at a hard effort.
Share your goals.
Tell your running friends your objective. You may need to shift group workouts and run alone on race day. Communicating your goals will avoid hurt feelings and sticky race situations, while building a support system to help you to achieve your dreams. Who knows—it may even inspire them to train to race too!
Coach Jenny Hadfield is the co-author of Running for Mortals and Marathoning for Mortals. You can find more of her training programs, tips and running classes at coachjenny.com.