Why Can Sugary Cereals Have 'Healthy' On Their Labels?
See why one company is urging the FDA to change the way our food is labeled.
Heading out the door? Read this article on the new Outside+ app available now on iOS devices for members! Download the app.
There is a big problem with the way the Food & Drug Administration (FDA) regulates the word 'healthy' when it comes to food labels. The problem is simply illustrated in this infographic KIND created: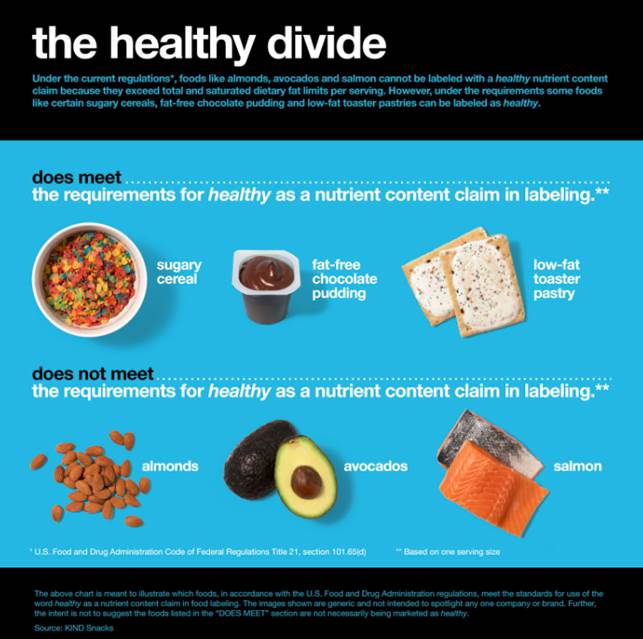 The current regulations are indicative of the latest scientific and nutritional research. Currently, foods must contain 3g or less total fat and 1g or less of saturated fat (with the exception of fish and meat, which must have 5g or less total fat and 2g or less of saturated fat).
So even though many nuts, avocados and salmon are all healthy fats, they don't meet these dated requirements and cannot be labeled healthy.
KIND is working with leading nutrition experts to petition for a change and would also like the FDA to create a framework for dietary statements placed on foods, making it easier for consumers to know what makes up a healthy diet. Their example of this type of statement is "eating nuts has been shown to be part of a healthy diet."
"KIND, with the support from top global nutrition and public health experts, is respectfully urging the FDA to update its current regulations surrounding the use of the word healthy as a nutrient content claim. Our goal is to highlight the importance of following a healthy diet that includes foods made with wholesome and nutrient-dense ingredients," said Daniel Lubetzky, Founder and CEO of KIND.
Did you know about these current regulations? You can support KIND snacks by connecting with them on social media and staying up to date with their work to create a healthier world on their blog.
READ MORE: 
What "Healthy" Food Labels Really Mean
10 Foods That Aren't As Healthy As You Thought