5 Things You Should Know About Mindful Eating
What exactly does it mean to eat mindfully? One expert explains what it is and how to do it.
Heading out the door? Read this article on the new Outside+ app available now on iOS devices for members! Download the app.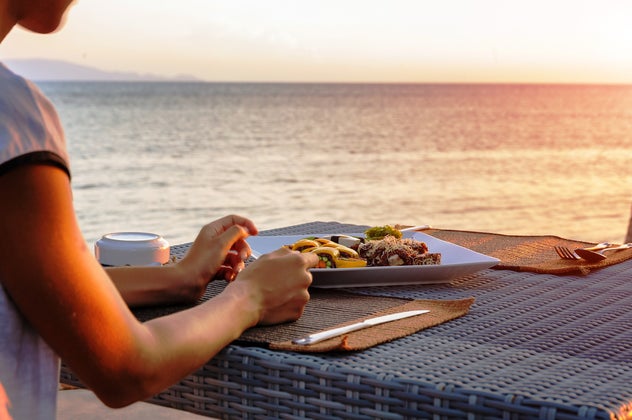 You may have heard talk of 'mindful eating' popping up on social media lately, but what exactly does that mean? You may be inclined to think that you are always mindfully eating if you pay attention to the foods you order and consider options when shopping at the grocery store, but it isn't that simple.
Health Coach Michele Periquet explains that mindful eating is being present in the experience of nourishment. "When you are mindful of the food you are eating, slowly enjoy the food you are eating and are present in that moment of eating (and not doing something else simultaneously), you get more satisfaction from the experience, become more in tune with your body's needs for healthy foods, and tend to naturally consume smaller portions," she shares. "How you eat is just as important as what you eat."
So, mindful eating, really, involves eating without distraction so you are truly savoring your food and paying attention to triggers to know when you are full. This doesn't mean you can't eat food with someone—that conversations can't be had—but does mean that when it comes to snacking, you probably shouldn't be sitting in front of the TV, devoting most of your attention elsewhere.
We asked her some questions about mindful eating to explain the practice further so you can learn how to master awareness when it comes to your food.
Are there initial steps someone can take when first learning how to eat mindfully?
Before a meal, pause and take a couple of deep breaths. This will naturally slow you down and bring your awareness to the food that is in front of you. This is particularly helpful when you're having a hectic day and would normally (and rather unconsciously) chow down the food in front of you so you can get on with your day. It also helps to not wait till you are very hungry to eat—especially if you have blood sugar issues—as that hunger will make it harder for you to eat slowly and mindfully especially if this is a new practice for you.
What are ways to 'jump back in' if you happen to binge or find yourself straying away from being mindful?
Be compassionate rather than judgmental. It takes practice. When you slip, don't be too hard on yourself. Take a step back, observe what took place and take note of why you binged. Oftentimes we eat for emotional reasons, or because of stress or anxiety rather than because of the need for nutrients. It's important to remember that we aren't striving for perfection, but rather for continuous improvement.
What is the optimal setting to eat food in? Do certain places help you become more mindful?
Eat sitting down in a peaceful, relaxed environment. Have some soft music in the background (if it helps you to relax). If possible, avoid loud, stressful places with noisy music or television. Also avoid eating on the run, while driving or working at your desk, or discussing stressful or negative topics. These habits impair digestion, cause stomach discomfort, and take your precious attention away from the meal at hand. Eating by candlelight, dimming the lights and saying grace or giving thanks for the meal can also help set the tone for a peaceful, enjoyable meal and encourages one to be present in and conscious of that moment of nourishing one's self.
What should you do after you eat for continued results?
It's helpful to sit for at least ten minutes after eating. This is not only good for your digestion, it also leaves you with a satisfied feeling and an awareness of the meal you just had. If you just run off and go about your business, you may later feel like you have to compensate for (what you think) was an inadequate meal by overeating.
What effects might you see from mindful eating?
Hara Hachi Bu which means "eat until 80% full" is practiced by the Okinawans in Japan who are known for having the longest life expectancy in the world. This makes one eat less, avoid slipping into a food coma and maintain a healthy weight. Figuring out when to stop eating may initially seem like a challenge, but by eating slower and being more mindful of what, how and why you are eating, you will come to discover that 80% sweet spot.
Read More:
Is All Comfort Eating Bad?
6 Tips To Kick Start A Healthy Eating Plan