3 Reasons To Take A Much-Deserved Running Break
Is your body telling you that it needs some time off?
Heading out the door? Read this article on the new Outside+ app available now on iOS devices for members! Download the app.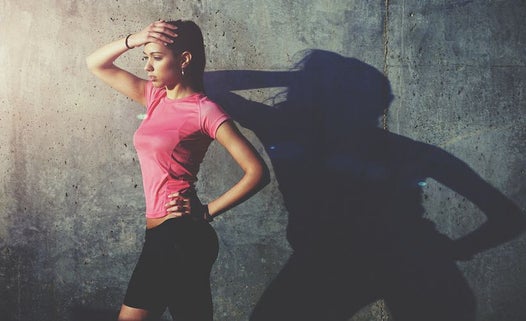 When you have a stress fracture or a scorching fever, it's clear: your running shoes won't be logging any miles in the immediate future. But what about the other 90 percent of the time, when your body isn't in meltdown mode? Should you ever take a break?
Related: Why Runners Have A Love-Hate Relationship With Rest Days
To put it simply: yes! No matter how much you love running, it's important to let your mind and body rest. Constantly pushing your body to the extreme can negatively affect your running and your overall wellness. In order to avoid a crash and burn situation, here are three warning signs to look for:
Your Legs Are Constantly Tired
There are days when you wake up and your legs feel dead. That's normal. What's not normal is waking up with that feeling for multiple days (or weeks) in a row. If there's no clear explanation, it might be your body's way of telling you it needs a breather. If this is the case, try doing low-impact exercise or walking for a few days. As your energy improves, slowly ease back into running. If you're severely over-trained, this could take weeks. But if you're smart and tuned in to your body, it'll bounce back quickly.
Running Isn't Enjoyable
This is a tricky one. As you've probably realized by now, running can be just as challenging as it can be fun. That's one reason we love running as much as we do! So when a runner expresses a sudden but persistent dislike of running, the first thing I suggest is altering their routine or finding a training group. If that falls short, the next step is a hiatus. There's no sense in dragging your feet out the door every day if you've developed a genuine hatred of running. In truth, pressing pause is a healthy investment in your mental health and long-term love for the sport.
You're At The End Of A Training Cycle
Congratulations! You just completed a series of races or a big competition. If you want to be even stronger for your next raining cycle, now is the time for some rest and recuperation. The down time can range from a few days to a few weeks (depending on your race distance and fitness). But don't think you're beyond a break. Even elite athletes take scheduled time off after competition seasons. Focus on rejuvenating your body and mind (i.e. don't sit on your butt and stuff your face with Ben and Jerry's) and you'll be all the more prepared for your next challenge.
This list is far from exhaustive or ironclad, but it is a good starting point for assessing your physical and mental needs. As a young runner, I thought taking time off was a sign of weakness and lack of commitment. That couldn't be further from the truth. Understanding when your body needs a break is a sign of strength–the mark of a runner who wants to continue running for years to come.
Related:
More Runners Are Bragging About Their Rest Days On Social Media
I Did Whatever Random Workouts I Wanted To Do For A Week