Give Yourself A Bit Of Grace This Time Of Year
During the busiest season of the year, it's important to show kindness to yourself by granting some leeway when it comes to training.
Heading out the door? Read this article on the new Outside+ app available now on iOS devices for members! Download the app.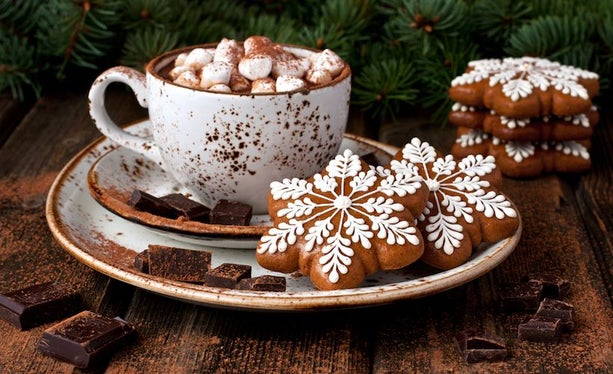 De-Stress The Holiday Season (And Your Training Plans)
It's the season of busy. Many of us have parties every weekend, concerts, festive gatherings, dinners with friends during the week and running around town to finish shopping when we have moments to spare. What's supposed to be the most magical time of year tends to be in actuality when we feel the most frantic. During this season, we also tend to forget the most important thing: We need to have grace with ourselves.
It's easy to go about our days not thinking about our nutrition or workouts, only to have it come crashing down on us at the end of the night. Thoughts like, I should have gotten that workout in, or Why did I eat that?! flood our minds and make us feel bad about our choices. We then let these thoughts dictate how we go about our business the next day, restricting what we eat and making sure to work extra hard during our workouts to make up for missing a day of exercise or to compensate for poor food choices. We've all been there–you are not alone in these kinds of thoughts and actions.
When we bring grace for ourselves into the equation during the holidays, we can find a balance that helps us enjoy the season and be mindful of the goals we want to accomplish. The parties are going to happen. The seasonal treats will be enjoyed. The occasional workout will be missed. This is life. We cannot beat ourselves up over these things. Just as building the foundation of running to complete a half or full marathon takes time, so too does undoing all of your hard work. Give yourself permission to enjoy a treat or to attend a party instead of going on that scheduled run. As long as you are being mindful of what you're doing, you won't spiral down the rabbit hole of no return.
It's also really easy to say, "Forget it all–I will start over on January 1st". When we do this, we fall to the opposite end of the spectrum of being overly restrictive. Keep in mind how strong you feel when you get a run or workout in. Remind yourself of how good you feel when you have more balanced meals, complete with a few treats. We have to remember where the balance is for both ends of the spectrum. We were not meant to live in the extremes, but we can extend grace to ourselves. Remember that you are human: you will miss a few workouts or eat a few too many holiday cookies. Finding balance in the midst of it all will help you have an enjoyable holiday season.
Related:
5 Pieces Of Gear That Excite Runners About Winter Training
How To Prepare For Winter Running