4 Ways To Incorporate More Movement Into Your Work Day
Research has shown that sitting is bad for your health—so how exactly can you get out of your chair and get moving?
Heading out the door? Read this article on the new Outside+ app available now on iOS devices for members! Download the app.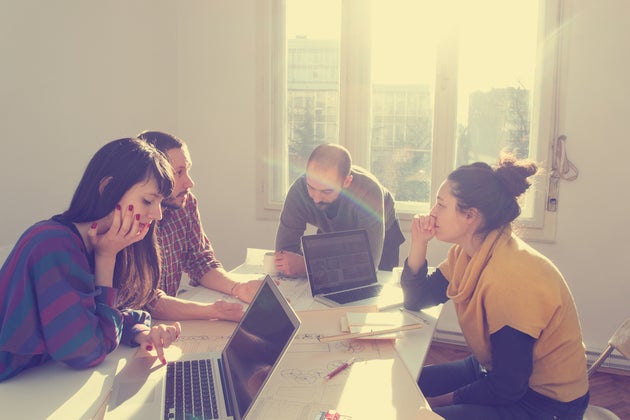 Your mind is on the move all day long when you're at the office. Whether you're fielding calls from clients, writing proposals or giving presentations, you're exercising your brain throughout the work day.
Physical movement is another story altogether. The office environment doesn't necessarily lend itself to activity, and even with that morning cardio session—experts say that's still not enough. Sitting for long periods of time can be very harmful to your heart and overall health.
Clearly, you can make efforts to exercise while outside of the office, but you can also make conscious decisions to move more while you work. The following four tips will help you to add a bit of activity to your otherwise office-bound work days.
Hold Mobile Meetings During The Work Day
A check-in with a team member doesn't have to take place in your office. Instead, discuss what needs attention while you walk the office halls together during the work day.
If you're slated to cover sensitive information at an upcoming meeting, there are other ways to get moving in a similar way. Try taking your lunch break on-the-go instead, either inside or outside of the office. While it might seem more productive to eat at your desk as you work, a walking lunch will give you a burst of energy that'll help you power through the rest of the work day.
Create a New Commute
Driving is the most stressful means of commuting. Like office work, it's a sedentary activity—and that means it too can cause anxiety, which, in turn, lends itself to weight gain and other negative results. The combination actually makes you feel more drained at the end of the day, which won't do much to motivate you to exercise afterward.
Switch things up by commuting in a more active way. If you're lucky to live close enough, start walking to work instead of driving. If you are really lucky and your office has shower facilities, you could even squeeze in a morning cardio session. You could also come up with a bike or skating route. Even taking public transit will inspire more activity, since you'll likely have to walk from your home to the bus or train station and to your office from the closest stop.
Bring in Fit-Minded Furniture
Office furniture isn't really all that exciting. More likely than not, everyone has the same table and chair, and perhaps the same cubicle walls, too. And, this non-stimulating atmosphere doesn't do much to get your heart rate going: in fact, you might find yourself slumping at your desk, which can cause aches and pains post-work.
Fortunately, fit-minded furniture has come into offices around the country—and others have tested it before you with positive results. For one, you could try swapping out your desk chair for an exercise ball. Balancing on the ball helps strengthen your core, since you're no longer relying on the back of a chair to keep you upright. You can even perform some simple exercises with it during the day if you have some privacy in your cube or office (more on that later).
A standing desk is another option when it comes to fit furniture, as it keeps you on your feet all day long. Other options allow you to walk or even bike while you work, but simply standing for a few hours a day will only improve your health over time.
Desk-Excise During The Work Day
Even if you can't sneak in a walking meeting or swap out your traditional desk for a standing one, you can find ways to work out at the office—you can even do it while you sit at your desk.
There are countless ways to work some movement into your work day. As we mentioned above, an exercise-ball chair can double as, well, an exercise ball. With it, you can work your abdominals, legs, chest…the list goes on. Take a few minutes to do a quick circuit, or do an easy set while you phone into a conference call.
If you're don't have fitness accouterments available at your office, don't fret: there are plenty of moves ready to be adapted to your cube or office. For example, all you need is a wall to do a wall sit. Simply take a seat with your back against the wall and no chair beneath you, holding the position for 30 seconds or more. Just about anyone can do this move somewhere in his or her office. Get creative and build a routine that works for you, your schedule and your surroundings.
These aren't the only ways to make more moves while you work, but it's a good place to start. And, once you find the base level of what works for you, you can add more until you've got a bona-fide routine in place. From there, it'll be nothing but improved fitness, and there's not much better than that.
Corinne Keating is a health and wellness writer and enthusiast. She loves a good run, a good book, and writing for her blog, Why So Well.