Pacing My Partner Through A Marathon Taught Me These Things
Pacing a loved one can be a fun challenge. Just remember these 7 things.
Heading out the door? Read this article on the new Outside+ app available now on iOS devices for members! Download the app.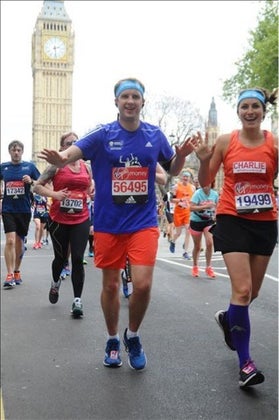 When I run with my fiancé Tom, we are not allowed to chat. Apparently running is a workout, not a social occasion. Clearly he has not been to many group runs, where pace is less of a concern than the local gossip.
We both had spots in the London Marathon this year. I was originally going to try to run a PR, but after getting a spot in the Boston Marathon with Adidas, I knew a fast time at London was not in the cards.
Instead I offered to pace Tom so he could try to run a new PR. Our goal? A sub-4:30.
I thought running alongside him would be my dream and as close as I might ever get to sharing my hobby with him. Thankfully it did all work out brilliantly. However I did learn a few things over the 26.2 miles.
Misery loves company.
Tom said he never understood how anyone could love running a marathon until he ran alongside me during London. While he didn't enjoy all if it, he did say that he had a lot more fun in this marathon than his solo race.
It's not your race.
When Tom stopped for his THIRD bathroom break before mile 20, I had to hold my tongue and remember that it wasn't my race. I'd banked plenty of time so I knew that as long as we stayed on pace, the stops wouldn't hurt us.
A little space can be a good thing.
We didn't run side by side for 26.2 miles, but we kept each other in sight. Mostly I ran a little ahead of Tom. I know that he get's annoyed and feels patronized when I ask if he is okay. So I did my best to only ask whether he wanted water or sports drink at the aid stations. Remember that hurtful things can be said when you're in the pain cave—don't take them personally!
Anticipate their needs.
Know when to grab an extra water cup or to remind your running partner to eat one of their gels. It's actually quite useful knowing your partner so well that you can read their body language and face without having to ask.
Together or on pace?
Decide whether you will stick together no matter what, or if you will split up if someone has a bad day. We decided that we were crossing the start line and the finish line together, regardless of what that time was. Having this conversation beforehand rather than in the heat of the moment was crucial when I thought I'd rolled my ankle at mile 21.
Plan where your spectators will be.
Normally Tom is the face I look for in the crowd. He's the person I want to see most when I'm suffering (closely followed by my number-one cheerleader—my Mum). However when your loved one is running alongside you, it can help to have other friends and family in the crowd to cheer you both on and break up the miles.

Enjoy it.
I'm not sure if we'll ever run another marathon together, so I wanted to enjoy every minute of it. Tom grabbing my hand as we ran down The Mall in the final 0.2 mile stretch is a moment I will never forget.