What I Learned While Researching My Sweat Struggle
We all sweat, but did you know that the amount varies per person? Here is what one runner learned while researching her sweat issues.
Heading out the door? Read this article on the new Outside+ app available now on iOS devices for members! Download the app.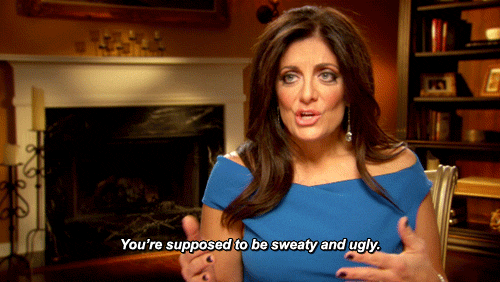 I have recently come to the conclusion that I am the sweatiest person in the entire world.  You know that saying, "Women don't sweat, they glisten?" I glisten the way a sweat tsunami glistens as it overtakes an entire village.
I wasn't always this way. As a child, I rode horses competitively, but that was pretty much the limit of my physical activity. I sweated a normal amount. Upon taking up running in 2009, that all began to change.
Now I'm the person who changes socks, shoes and shirt mid-long run during the summer because everything is squishy and I can't handle it. I wring out my clothes at every water stop. Oddly, the sweat isn't just coming from the "normal" places, like armpits or feet. It's a full body meltdown unrivaled by any of my running buddies, male or female.  The rest of the time, I don't sweat at all—it's only while working out. Embarrassed and thinking that something must be wrong with me, I started asking "what gives?"
After doing the type of groundbreaking research that can only come from Wikipedia and WebMD, I learned that the answer is…nothing. I discovered that the amount of sweat people produce is totally individual and works on an odd curve: people who are very overweight and inactive are likely to sweat more, while people of a moderate activity level and normal weight are likely to sweat less. At the other end of the curve, you have some people who are very physically fit and work out constantly. They become so efficient at sweating and cooling their bodies that they begin sweating more.  It almost seems unfair, until you consider that it's actually pretty cool that your body would become more accustomed to regular exercise, and therefore better at cooling itself over time.
If you're a sweaty woman out there, I feel your pain. It can be frustrating to look over at the sweat-free, perfectly made up face on the spin bike next to you and think "No fair!" It's annoying to have to keep a change of clothes in your car for the middle of your long run. Since I can't change how my body works, I'm going to be grateful that it's working so hard to let me continue to do the things I love safely and comfortably—minus the squishy shoes, of course. I'll never be grateful for the squishy shoes.