Race Spectators, Stop Yelling "You're Halfway There"
Halfway through a marathon is still a long way to go!
Heading out the door? Read this article on the new Outside+ app available now on iOS devices for members! Download the app.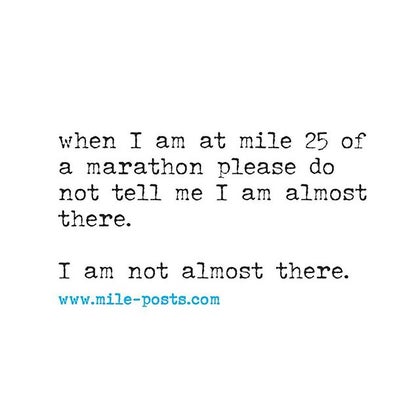 I recently ran the Rock 'n' Roll DC Marathon as the first race of a back-to-back, one-week-apart, marathon attempt.
Running 26.2 miles gives you a good amount of time to think about things that normally would enter your head for only a passing moment. Rock 'n' Roll DC has a half marathon and marathon option, with both races starting together at the same time. Somewhere between the 12-mile marker and the 13-mile marker, the race splits and the half marathoners head towards the finish line.
While it's awesome having the extra space as literally thousands of runners break off from you, it can be a little defeating if you think about the fact that THOUSANDS of runners have now completed their race and you have to double what you just did.
As a veteran of 31 marathons, I know that after the 13th mile, someone on the sidelines will yell out, "YOU ARE OVER HALFWAY THERE!" in an effort to motivate runners. Yet there is nothing more defeating than hearing there is still a half marathon to go. These days even telling me there is ONLY a 10K to go is enough to send me into a tailspin as to how much longer I really have to run.
I dwelled on this for more miles than I care to count, but finally arrived at an answer as to why the popular race cheer is defeating for some and motivating for others.
Are you a glass half full person or a glass half empty?
Pause for a moment and REALLY think about this. Don't answer this the way you want people to see you as, or the answer you think you should arrive at. Focus on and analyze this. If you had an ice coffee or a beer sitting in front of you right now and you drank half of it, is it half empty or half full?
Once upon a time, I was a glass-half-empty girl. I looked at the world and thought there was more bad than good. I watched the news every single night and believed the world was falling apart.
As I age, and hopefully get wiser, things have changed. I don't believe the world is falling apart, I don't watch the news on a daily basis, I don't focus on the negative and I truly believe there is more good in this world than bad.
If I have half a glass of wine left, I have A LOT OF WINE left in my cup.
If you tell me that at 13.2, I'm over halfway there, I still know that half left is A LOT OF MILES to go. Instead of motivating me, it reminds me just how far I still have to run.
I love running. Literally love it, but 26.2 miles is a long way to go no matter how many times you have completed it. Even 1.2 miles at the end of a marathon can feel like an eternity if it's not your day.
So tell me does knowing you are half way there motivate you? Or not?
More From Mile Posts
Funny Running Memes For Marathoners
50 Life Lessons Learned On The Run