I Ran The Same Run After Different Amounts Of Sleep—Here's What Happened
How exactly does sleep effect how we run? One runner decided to find out.
Heading out the door? Read this article on the new Outside+ app available now on iOS devices for members! Download the app.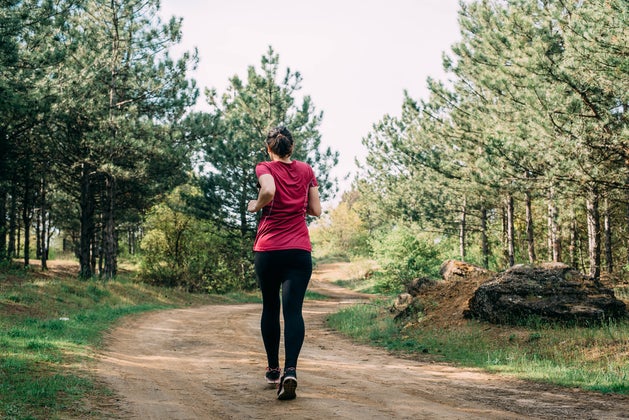 Sleep. We know we need it, we know we should get more of it, we know all the endless benefits from getting enough. And yet, many of us are guilty of prioritizing everything else over getting a solid snooze. It's understandable—our lives are crazy busy and sometimes it feels like there's no way around skimping on sleep to finish the daily to-do list. You probably know that long-term sleep deprivation can contribute to more serious health issues, but even one night of poor rest can lead to overeating, inability to focus, and an overall bad mood. Even worse, it can result in a really bad run. Don't believe me? I recently tracked the same 4-mile run after three very different nights' sleep and am here to share the bleary-eyed results with you.
After up-every-hour sleep…
The sleep: After an up-every-hour night with a sick toddler, I woke up feeling like a zombie. Three cups of coffee barely helped and I went through my day in a grumpy haze.
The run: My normally easy run around my neighborhood felt like a round of American Ninja Warrior. I was breathing hard, sweating profusely, and cursed my way up every hill (one of which I may have just given up on and walked). My muscles also felt sore from the start—probably because my lack of sleep didn't allow for any recovery time from my workout yesterday? I got home a good ten minutes later than I usually do and collapsed on the floor.
The recovery: After lying dramatically on the floor for a bit, I got up and did feel a little more alive—I guess all that talk about exercise giving you an energy boost has some truth to it. The effect was short-lived though, and I felt a little sore after a run that I usually feel fine from.
The takeaway: Although I was glad I made myself go for a run because it did perk me up temporarily, it almost didn't feel worth it for how unenjoyable it was. I also noticed the mental effect that a bad sleep had on my running; I had no willpower or focus when I needed to psych myself up to push harder.
After six hours of sleep…
The sleep: I had a pretty typical night's sleep for me—6ish hours before an early morning wake-up call from my son.
The run: More of the usual—I was yawning a little before I went out in the afternoon, but I still ran at my usual moderate pace. It wasn't particularly hard or easy, and I came home feeling pretty energized.
The recovery: Again, I felt about the same as I always do. No muscle soreness and enough pep in my step to power through the rest of the afternoon.
The takeaway: I know that I don't get enough sleep to function at my best, but my body is used to what I get and allows me to churn out a decently satisfied run. I have noticed that if I avoid running during the mid-afternoon slump or at least have a caffeinated drink beforehand, my performance is usually a little better than it was today.
After 9 hours of sleep…
The sleep: In what can only be called a miracle, I got to sleep in today and logged close to nine hours. Somehow I still feel like I could sleep another nine hours, but I definitely feel better than I usually do. Bring on the day!
The run: I savor a cup of coffee and breakfast before hitting the road. It feels like a completely different run—borderline effortless and completely enjoyable. I ran noticeably faster than usual without actually noticing it—that never happens.
The recovery: No problems here. I felt great afterwards and for the rest of the day.
The takeaway: Sleep is a powerful thing. The coffee and the sunshine played their parts but there's no getting around the fact that getting serious sleep translated into the best run of the bunch. I feel like I could easily set a PR with regular runs like this one. Now if only I could figure out how to get this much sleep every day…