3 Tips For Runners To Get The Silkiest Shave
Smooth skin makes you go faster—less drag, right?
Heading out the door? Read this article on the new Outside+ app available now on iOS devices for members! Download the app.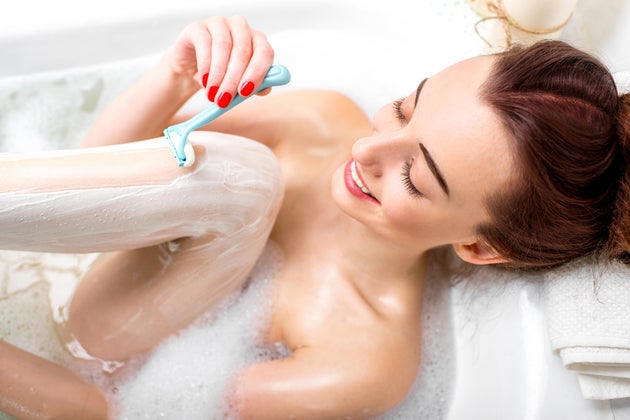 An unintentional streak of stubble on the side of your calf? This grooming problem isn't the end of the world, but can be annoying. When time is at a premium, streamline your self-care routine with best practices from the pros. These simplified strategies will keep your skin in top shape for race season and beyond.
Smooth skin makes you go faster (less drag, right?) and feel more properly groomed. But ingrown hairs and razor burn? Not so much. Avoid the drama with these shaving tips from Pamela Zupkosky, principal scientist at Gillette's research and development division in Boston.
Bathe before you shave.
"Although women's hair is finer than men's, it's still about as tough as copper wire of the same thickness. Hydrating the hair with warm water makes it up to 60 percent easier to cut," says Zupkosky. Wash thoroughly to remove oil, perspiration and product residue, then shave at the tail end of your shower, so your hair has had time to soften—and don't forget the shaving cream! It lubricates better (and is less drying) than soap or shower gel.
Use the right razor.
The freebie double-blade disposables your gym stocks in its locker room will do in a pinch, but you'll always get a closer shave—with less time and irritation—from a quad- or quintuple-blade razor. That's because a sharper, multi-blade razor shaves clean the first time, reducing the need for go-overs. For tricky areas, like the bikini line and underarms, gently pull skin taut, so there are fewer creases where hair can hide, then shave in whatever direction feels best.
Maintain.
The trick to avoiding ingrown hairs is being gentle with the razor and shaving regularly (don't waffle between shaving and waxing—choose one and stick to it). Exfoliation helps, so use your body puff or exfoliating gloves a few times each week, and keep your skin supple by following up with moisturizer.
Change the blade cartridge, or replace your disposable, at the first sign of dullness. Most women find that will be after 10 uses.