This Roasted Sweet Potato Pie Is The Perfect Holiday Dessert
America's Test Kitchen took their Roasted Sweet Potato Pie and got the ultrasmooth dessert down to 16g of sugar in time for the holidays.
Heading out the door? Read this article on the new Outside+ app available now on iOS devices for members! Download the app.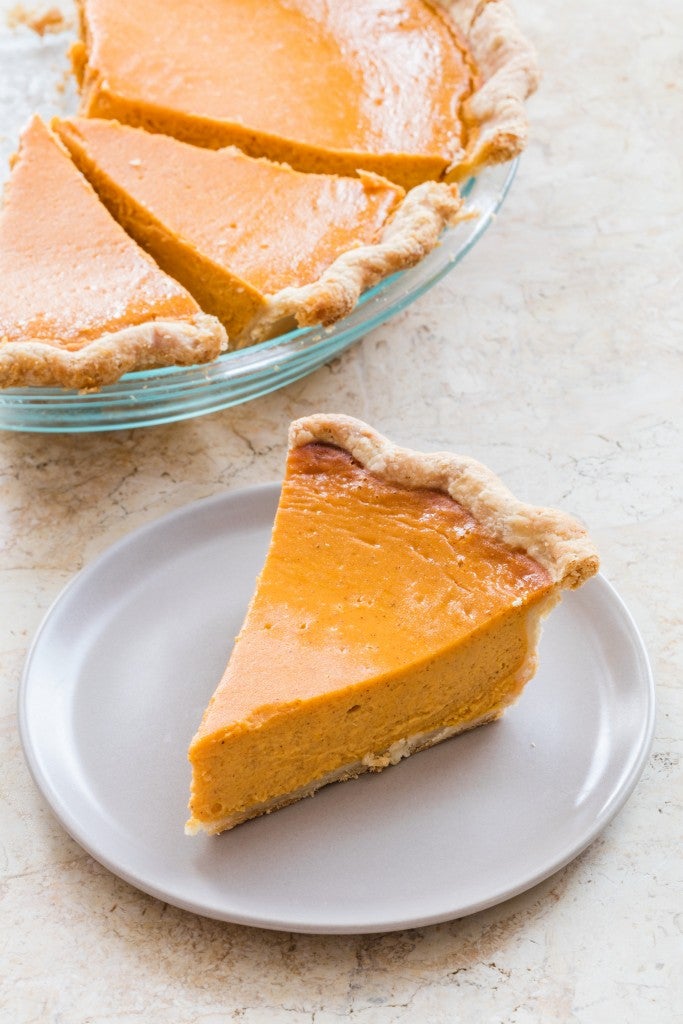 *This recipe appears in the Naturally Sweet cookbook from America's Test Kitchen
We set out to create a luscious, silky-smooth sweet potato pie that would be naturally sweetened and contain much less sugar than our traditional recipe. We wondered whether the sweetness of the potatoes alone would be enough to carry our pie. We tested a variety of potato preparation methods and techniques, from deeply roasting the potatoes in the oven, both whole and in slices, to simply steaming them in the microwave, and found that tasters preferred the richness of the whole roasted potatoes.
But even with the best cooking method figured out, we couldn't overcome the potatoes' inherent savory qualities. We still wanted our pie to be a sweet and decadent treat, so we decided to add a small amount of honey to the filling. Wanting to complement but not overwhelm the flavor of the roasted potatoes, we tested varying amounts of honey and found that a mere 5 tablespoons was enough to create a satisfyingly sweet filling.
To boost the filling's flavor further, we used cinnamon and nutmeg, which we bloomed in butter to bring out their flavors. A hefty amount of vanilla and bit of bourbon gave our pie a beautifully nuanced flavor profile. Some sour cream provided subtle tang, and combining all of our ingredients in the food processor ensured an ultrasmooth filling. Rich with warm spice notes, creamy and custardy, sweet but not over the top, this pie was perfectly balanced.
Roasted Sweet Potato Pie Recipe
Serves 8
Ingredients: 
1 ¾ pounds sweet potatoes (about 3 potatoes), scrubbed
4 tablespoons unsalted butter
¾ teaspoon ground cinnamon
¼ teaspoon ground nutmeg
½ teaspoon salt
1 cup sour cream
3 large eggs plus 2 large yolks
5 tablespoons honey
2 tablespoons bourbon
1 tablespoon vanilla extract
1 recipe All-Butter Pie Crust, baked and cooled
Directions:
Adjust oven rack to middle position and heat oven to 425 degrees. Arrange potatoes on aluminum foil–lined baking sheet and bake until tip of knife slips easily into potato center, 40 to 50 minutes. Halve potatoes lengthwise to expose flesh and let cool slightly, about 15 minutes. Reduce oven temperature to 350 degrees.
Melt butter with cinnamon and nutmeg in microwave, 15 to 30 seconds. Scoop flesh from baked potatoes into bowl of food processor. Add salt and process until smooth, about 1 minute, scraping down bowl as needed. Add spiced butter, sour cream, eggs and yolks, honey, bourbon, and vanilla and process until smooth, about 1 minute, scraping down bowl as needed.
Pour potato mixture into cooled pie crust. Set pie on baking sheet and bake until filling is set around edges but center registers 165 degrees and jiggles slightly when pie is shaken, 40 to 45 minutes, rotating sheet halfway through baking. Let pie cool completely on wire rack, about 2 hours. Serve.
Before: 37 grams sugar → After: 16 grams sugar