Nutrition Tips from The Biggest Loser's Jen Widerstrom
Looking to drop a few lbs? Who better to offer tips than the new "The Biggest Loser" trainer Jen Widerstrom?
Heading out the door? Read this article on the new Outside+ app available now on iOS devices for members! Download the app.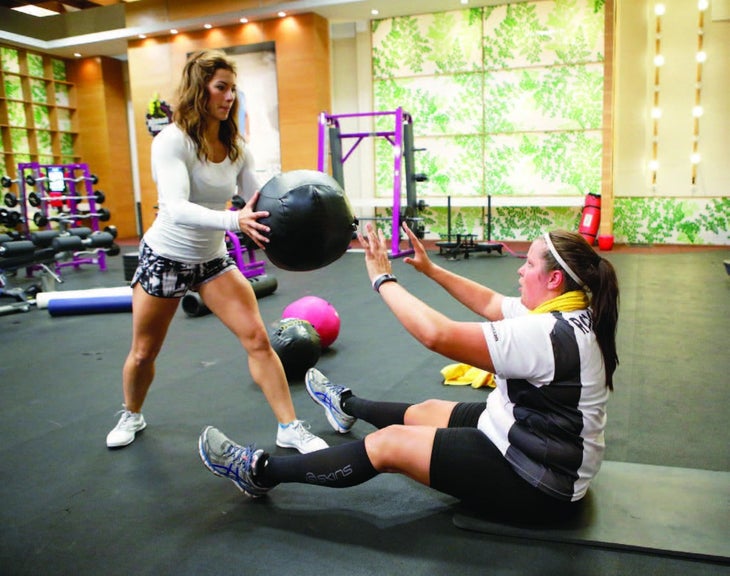 When a group of overweight former athletes showed up for this season of NBC's "The Biggest Loser," they were greeted by a fresh face. While trainer Jen Widerstrom is new to the famous ranch, the 32-year-old from Chicago has a long-standing family history of battling weight issues. The coach of the white team now not only pushes the contestants in the gym, but she also helps them making healthy choices in the kitchen. The trainer took a break from her busy schedule to share her top tips with WR. Widerstrom says, "These rules, I've tried them on first—that's how I know they work."
Don't go into any meal starving.
"Sometimes we wait too long to eat," Widerstrom says. "Your ability to man-age portions, and frankly just choices, goes down the drain."
Eat healthy snacks throughout the day.
"I start every week with 12 boiled eggs," says the trainer, who recommends choosing snacks that pack flavor. Widerstrom's favorite packaged snacks: Trader Joe's coconut-covered cashews and wasabi peas
Choose appropriate portions.
"Have a conscious connection with food," she says. "You have to have a healthy consideration of what are the portions that make sense." While it can be tough to gauge how much is too much, focusing on ratios is an easy way to measure. Use your plate as a pie chart: 70 to 80 percent of the food should be grown—vegetable, fruits and seeds—and 20 to 30 percent can be from an animal source—dairy, meat and fish.
Related: Healthy Baked Ziti Recipe
Eat unlimited veggies.
Don't limit the produce. "It's a great way to get tons of micronutrients into your blood, into your body, into your skin, into your muscle."
PRO TIP: Make veggies more interesting by roasting. Chop brussels sprouts or kale leaves and lightly roast in a hot oven.
Pause 60 minutes after each meal.
This is a trick Widerstrom told her contestants. "Put the portions on your plate that make sense, sit down, eat the meal. If in an hour, you're like, Whoa, I'm ravenous, I need to eat more, well then that's okay, eat more, but nine times out of 10 you're not going to still be hungry," she says. "Give yourself a little time to digest."
Take algae.
Widerstrom is a big proponent of protein-rich chlorella and spirulina. She eats the two kinds of algae every day to get more energy and detoxify the body.
Try: NatureBuilt Chlorella Spirulina Tablets, $37, watershed.net
Related: Weight Loss Running Plan
Don't shy away from fat.
"It lubricates your system," says Widerstrom, who suggests healthy fats from salmon, nuts and avocado.
Refuel after a workout.
To retain muscle, plan meals within 30 minutes of your workout. Widerstrom says protein is critical, especially if you're in your late 30s or older (when losing muscle tissue becomes an issue). A 4- to 6-ounce fillet is an appropriate portion—pair it with 5 to 7 ounces of carbohydrates to get everything your body needs.
Fuel cravings with nutritious choices.
If you have a sweet tooth, try frozen grapes. Instead of pizza, melt some cheese on crackers. "Find flavors you enjoy, like Parmesan cheese, like a barbecue or wing sauce, stuff like that, that comes with a powerful taste and not a lot of calories," she says.
HEALTHY SWAP: Instead of gravy, dip roast chicken in a fancy mustard.
Eat upon rising and at night too.
To keep your metabolism going, Widerstrom says to eat when you get up. And forget the "avoid late-night eating" rule. If you have dinner at 6 p.m. but then you're up till midnight, that's another six hours! Once you add sleep time, your body is going too long without food. Have a snack at 8:30 or 9 p.m. It will keep your body in calorie-burning mode and help you sleep better.
Related: Weight Loss Fact or Fiction