Here's Proof That There's Not A One-Size-Fits-All Diet For Runners
We all have a different relationship with food, and that's totally okay.
Heading out the door? Read this article on the new Outside+ app available now on iOS devices for members! Download the app.
Running and food are different sides of the same coin. Whether it's a half marathon or just a fun run around town, energy out needs energy in.
For some runners, the two occupy equal amounts of mental space. Take Janae Jacobs of Hungry Runner Girl, for example. She spends as much time blogging about her running times as the last meal she ate. Or Carilyn Johnson, an ultrarunner and four-time member of Team USA, includes a list of recipes on her website that are both healthy and tasty. Want to eat cake? She'll tell you how.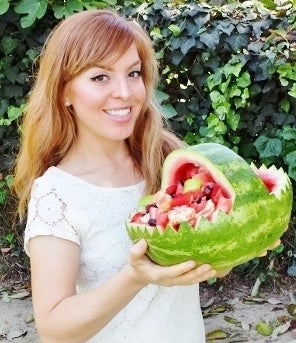 For Monica Olivas (pictured above), who describes herself as a Hispanic redhead from Southern California, food and running are inextricably intertwined. She will happily talk to you about her relationship with both of them—but food came first and still does.
"I love to eat and I love to run and I love to talk about it," she said of her blog, Run Eat Repeat.
But that love of eating is what introduced her to the sport. Crash diets and binge eating made her miserable. Looking to lose weight and get fit, she started walking but got bored pretty quickly. Running just clicked. She started her blog while training for a marathon to document it.
"I could eat anything, really," Olivas joked, "but I try to fuel myself properly."
Olivas also says a runner's relationship with food "is super important because you need proper fuel to be a good runner. Knowing your body and what kind of nutrition it needs can be the difference between a good one and a bad run. It's important to have a healthy relationship with food and your body because those two things work together to keep you going."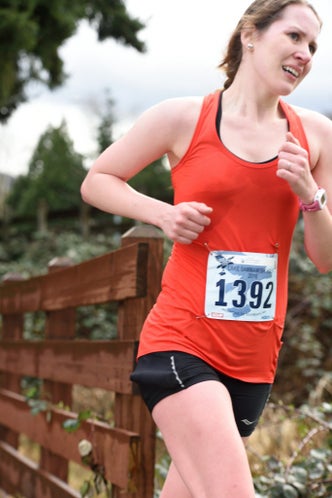 Laura Norris (pictured above) of Seattle agrees with Olivas when it comes to running and cooking. What began as a hobby became a passion. Norris blogs about both on This Runner's Recipes. Leaving the world of academia behind, she is now a certified running coach helping others to train. Food plays a big part.
"I've been working with athletes teaching the value of food and not demonizing it," she said. "Fat and carbs are not bad. I try to teach the benefits of good food for their goals."
For Norris, a runner's relationship with food "relates to their other relationships in life; if you can indulge and enjoy a good meal with your family and friends, you are in a much healthier place in terms of general health and in your running than if you count every calorie and restrict 'bad' foods for the sheer sake of losing weight to run faster."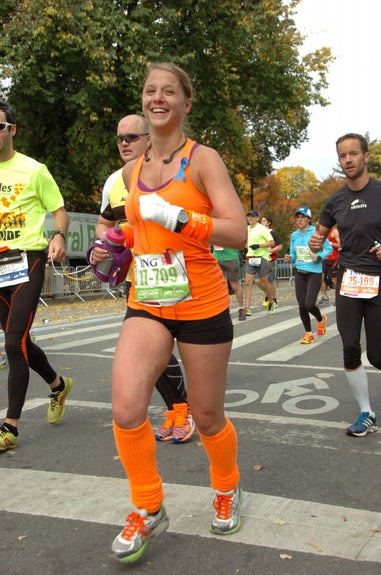 The relationship between food and running is a little different for New Jerseyan Ali Feller Cristiano (pictured above), who blogs on Ali on the Run.
"I'm someone who just loves food," she explained. "I love tasting it, trying it and generally exploring the world via food."
There's one small problem: she has Crohn's Disease. Falling under the medical umbrella of inflammatory bowel disease, Crohn's is a chronic condition that affects the gastrointestinal tract. Certain foods cannot be digested well and cause problems. For Ali, that food is corn.
RELATED: Three Truths About Gluten You May Not Know
"I ate a whole bunch of corn before the Brooklyn Half Marathon in 2011 and spent the entire second half of the race running from one port-a-potty to the next" she said. "It was miserable, and I haven't had a bite of corn since then."
She also avoids foods that cause bloating like green leafy vegetables. Forget the broccoli. But filet mignon and a baked potato? Bring it on!
"I definitely prefer running on an empty stomach though," she continued. "I've learned that it doesn't matter what other people do, or what their pre-race or pre-run meals are. I've found what seems to work for me, and that's all that matters."
Cristiano adds, "The relationship between input and output is so easy to measure: put good things into your body, and you'll get a stronger showing on the run because of it."
From a different perspective, when Anne Mauney trains, she gets super hungry. As a marathoner, crossfitter, and registered dietician in Northern Virginia, fueling up before and after a run is essential. She even has a niche program in conjunction with a local running coach. For someone who is training, getting a diet plan from a fellow runner makes a huge difference.
But Mauney has worked with some runners who have a skewed view of eating. It's not an eating disorder—it's disordered eating. Restricting calories to an extreme and avoiding certain food groups entirely, like fats and carbohydrates. Excessive exercise beyond the normal training program as a "purge" for eating. Overuse of laxatives. These are just some of the symptoms of a runner with unhealthy food issues.
RELATED: What Is Diet Quality And Why Does It Matter?
Mauney, who blogs about nutrition on her site FANNEtastic Food, says that runners who do this think running light means running better. "Running light is a myth," she explained. "It's not adequately fueling. You can end up getting injured."
She goes on to stress the importance of a runner's relationship with food: "It will make or break their running! Fueling up adequately will make the difference between a great race/run and a disaster."
The National Eating Disorder Association cites the "female athlete triad" which includes disordered eating, lack of menstruation and osteoporosis. When athletes exercise to such an extreme and don't eat appropriately, they are harming themselves. As Mauney puts it, dieting simply doesn't work if you're also training for a race. The two goals are in conflict and you can't do both at the same time.
"I also think that fueling well is key in training and racing well," said Megan Harrington of The Runner's Kitchen, "So as a runner, I think it's natural to be interested in food preparation and consumption."
Harrington, who lives in Saratoga Springs, first started blogging about running with recipes several years ago. She is expecting her first child.
"I've always had a healthy relationship with food and that hasn't changed since I've become pregnant," she said. "I try to eat healthy, whole foods most of the time. Healthy foods are obviously best for training and racing purposes, but there's room for everything in a balanced diet."
Some runners may have a bad relationship with food, but most have a good one. When runners aren't running, they're in the kitchen—and perhaps blogging about it.