Mile Posts: Treadmill Long Run Tips
Make the most of your treadmill long runs with these 7 tips.
Heading out the door? Read this article on the new Outside+ app available now on iOS devices for members! Download the app.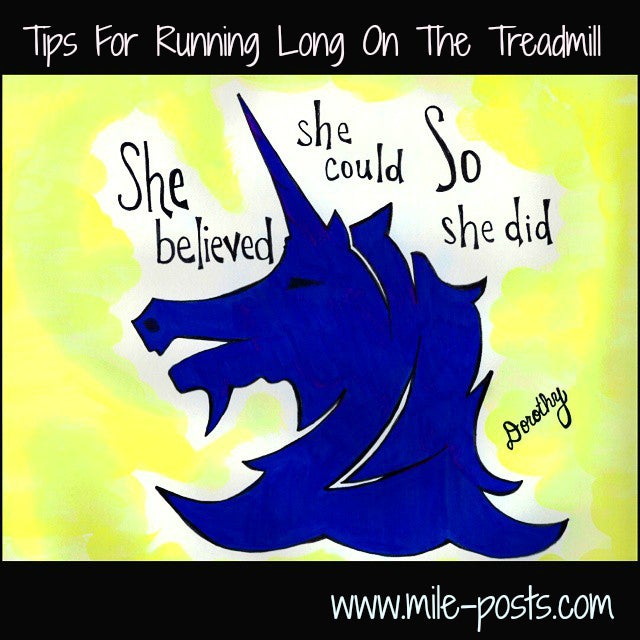 I'm at the point in training where I'm questioning why I signed up to run a spring marathon. I'm tired of being cold. Despite my house being a lovely 71 degrees, I walk around wearing a hat and finger-less gloves.
The thought of running 18 miles outside this weekend is enough to make me want to curl up into a ball and possibly shed a tear. I'm one of those people who is either always cold or crazy hot. These extremes make it really hard to dress during the winter because I sweat – a lot – even when I feel like I'm freezing.
Right about now, the treadmill seem like an enticing option.
Last weekend I ran 17 miles for my long run leading up to Boston Marathon. 17 miles on the treadmill. Was it boring? Yes. Am I glad I ran inside? Yes.
I know runners who just LOVE the treadmill. I'm not one of those people. Leading up to one of my marathons, I ran a 30 mile long run…..on my treadmill. It's a tool to me. A tool that I use in the winter, when the going feels personally tough.
Here are my tips for running long on the treadmill:
Quit the negative self talk: Is it fun to run long runs on the treadmill? Not for most of us. That doesn't mean we should defeat ourselves before we even start by telling ourselves how terrible it's going to be. Before every longer run on the treadmill, I literally talk to myself. "You can do this Dorothy. You will be fine. This is not hard. This is a run on a machine."
Dwell on the positives: Once you have kicked the negative self talk to the curb, start thinking about the positives about running on the treadmill. I dwell on the fact that I am not cold. There is a bathroom 10 feet away. I can watch a movie or catch up on a tv show. And I can listen to music without wearing headphones.
Accept that you will likely be bored at some point: I often get bored on long runs when I am alone, which is very often. The treadmill isn't any different. I simply focus on it more when I am running to nowhere. Accept that long runs are long, often hard, and sometimes boring. Then move on to other thoughts.
Start slow: This can mean a variety of paces for me, depending on the day. Last week starting slow was starting so slow that I felt like I may be able to speed walk faster. This made the first 5 or so miles go by in a flash because I wasn't struggling in the beginning. Other times it can mean starting out at the slowest end of my training zone that cycle, which is usually very different from my crazy-slow-maybe-I-could-speed-walk-faster pace
Vary the pace: Start slow, then speed up. If you get tired, slow down to the point that it feels like you are easily running, then slowly pick the pace back up. If even running slowly feels extra hard, then really push the pace for a couple of minutes so that when you slow it back down, it feels easy. You don't run the same pace every moment of every mile outside, even if you are pretty good at keeping your splits consistent. Mixing it up also can help distract your mind from the monotony of the treadmill.
Don't run at an incline or if you do – vary the incline: I don't run at an incline. I've read countless studies and I understand all the various arguments for and against it. I run outside enough that I'm not concerned about my treadmill run being similar to an outdoor run. A treadmill run is a treadmill run, and an outdoor run is an outdoor run. They are different. I wouldn't run 16, 18, 20 miles and beyond at a constant incline while running outside, so why would I do it inside. (As a coach I believe it leads to injuries, but that's a discussion for another day.) If you don't agree and like to use the incline, mix it up during the run.
How bad do you want it?: I ask myself this on almost every treadmill run. It's mind over matter most days. Some days my mind wins, like the time in January when I was supposed to run 14 miles and I quit after 1 mile. I didn't run a long run that weekend. I still have a bitter taste in my mouth about it. The key for me is making sure that MOST days my mind wins and I finish the run. I don't like winter training but I do like running spring marathons. Today I want that finish badl. Tomorrow might be another story, but today I want it bad enough to run long on the treadmill.