Mile Posts: How To Ditch Race Day Nerves & Run A Successful Marathon
Don't get nerves get the best of your next race!
Heading out the door? Read this article on the new Outside+ app available now on iOS devices for members! Download the app.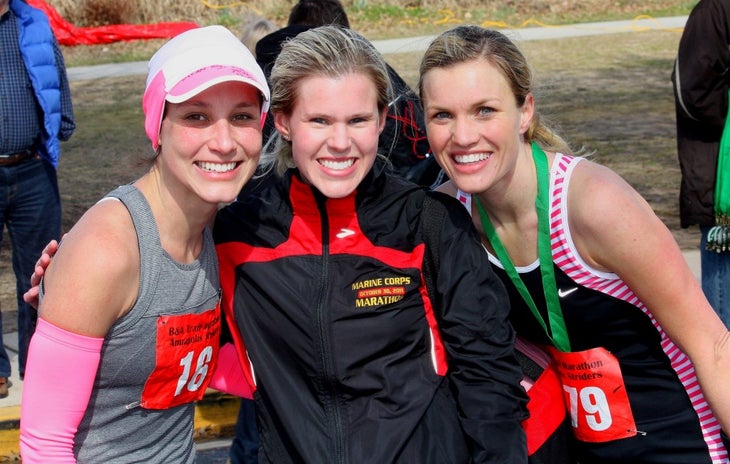 Today I hop on a plane and fly to Denver for my first race of my favorite season – marathon season!!
I'll be running the Rock 'N' Roll Denver half marathon on Sunday as my last longish run before Marine Corps Marathon. One would think after 27 marathons and too-many-to-count races of shorter distances that I wouldn't be nervous, but I am. I tell myself I'm running for fun (truthfully I am) but still have that twisting feeling in my stomach today. The excitement, coupled with the distance, gets me every time.
There have been a few races where my nerves got the best of me that morning and contributed to a less than stellar effort. I've learned that the most important time to believe in yourself is on race day. You can not allow doubt to creep in. Here are some of my tips for moving past the nerves and ditching them before starting your 26.2 journey.
Accept that nerves are normal, not a sign that you aren't prepared.

 Being nervous is not going to help you run a better race. Accept the feeling and then consciously let it go.

Believe that you have done the best that you could do to train for the race, given your particular circumstances.

 Now is not the time to dwell on missed workouts or paces you didn't hit.

Trust that your training will come together.

 Even if a part of you does not believe this to be true, you need to convince your mind that everything is going to come together perfectly.

Know that if you let your mind defeat you, your body will follow suit.

 If your mind believes you are tired, then the body is going to accept that and slow down. Not exactly what you want if you are aiming for a time goal.
Once I follow those four steps to ditch my pre-race nerves, I play a game with myself to keep my mind in check during the race.
Don't think of the race as 26.2 miles. For me that number is completely overwhelming. 26.2 miles! That is more than I drive almost every day of my life?! The trick is to break it down into manageable numbers.
I think about going to run a nice and easy 10K. At the 10K mark, I think to myself "Okay you are already finished with 6.2 miles. It's only 3.8 miles until you complete a 10 miler. Lets speed up a little."
At the 10 mile mark, I think "Wow this is going great (even if it's not). Only 3.1 miles till you finish a half marathon." At the 13.1 mile marker, I throw a little party in my head. "You just ran a half marathon lalalalalala."
At the half I completely start over. "Let's go for a 6.9 mile run, Dorothy. You can run 6.9 miles even on a bad day. A day when you are tired and the kids kept you up all night."
When I hit mile 20 – BOOM BABY! Now it's time to run a fast 10K. They key at the end is NOT to think about the last 20 miles you just ran. Convince yourself you just showed up to the race and you are going to run a 10K. A 10K is nothing when you have run 20 mile training runs on a random Saturday or Sunday, right? I mean, I bet once or twice you even ran a long run hungover or on no sleep….you can do this.
While playing this game in my head – I tell myself over and over – WOW this is so much fun. WOW you aren't in any pain. This is easy. Anything positive and nothing negative. There are times where  I feel like crap and am not having fun, but if I allow my mind to believe it, it is game over. Usually I can talk myself through these low points and get to a high point, where I actually do feel good and remember how much I love running. Then before I know it, and not a moment too soon, the race is over. I'm getting a medal hung around my neck. At that exact moment all the training, nerves and pain were well worth it.
I'll be at the Rock N Roll Denver Expo in the Mazda booth from 1 – 4pm Friday and 1-4pm Saturday. Come say hi if you are racing!!!