Make Breakfast Special With These Easy And Delicious Muffins
A healthy take on muffins that use some of our favorite breakfast items.
Heading out the door? Read this article on the new Outside+ app available now on iOS devices for members! Download the app.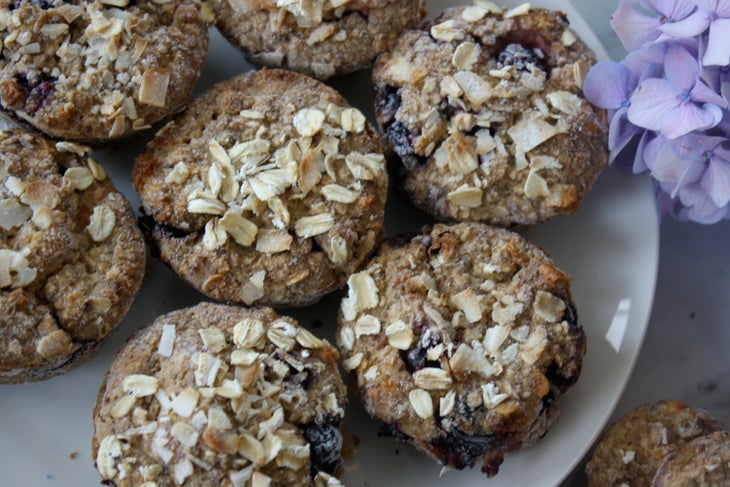 *Courtesy of Running On Veggies
You know when you make something and it comes out great, but you have no idea what you put in it? Well, that's exactly what happened to me with this recipe. It was a rainy afternoon and I had leftover dates so I thought this would be a good opportunity to try out a new recipe. I wanted to try to make a muffin or loaf that did not have bananas. Sometimes I feel like all healthy desserts and baked goods always have bananas. I do agree that they offer moisture, sweetness and give a great texture to baked goods. But I just felt like challenging myself to aim for that same great texture and taste without the bananas.
Since I made these muffins on a whim, I just kept adding things and didn't feel pressure to write down what I was doing.  I just made them, packed them up, and gave them out to friends and family. Then I started to get phone calls and text messages. "What's the recipe?"  "These are amazing!" Just my luck! So recipe-round-two had to happen. But it's ok – you can never have too many muffins in the freezer! They make great gifts and I always make it a point to bring something with me whenever I visit people. And who doesn't love blueberry muffins with chopped up apricots! Yum.
The second time around they came out just as good, if not better. I used dried figs instead of apricots but either one works fine. Orange juice provides natural sweetness and really compliments the blueberries. OJ in the AM in the form of a muffin…perfection.
OJ Blueberry Breakfast Muffins
4 cups old fashion oats
4 tablespoons chia seeds
2 teaspoons cinnamon
2 teaspoons baking powder
3 cups unsweetened almond milk
1 cup orange juice
1 cup pitted dates (soaked in warm water to soften)
2 tablespoons almond butter
1 tablespoon pure vanilla extract
1 1/2 cup fresh or frozen blueberries
1/2 cup chopped apricots (any dried fruit works here)
Directions:
1. Preheat oven to 350 degrees.
2. In a food processor, combine oats, chia seeds, cinnamon and baking powder until a flour forms.
3. Add almond milk, orange juice, pitted dates, almond butter and vanilla extract to the food process0r. Puree till smooth.
4. Transfer to a large bowl and fold in blueberries  and apricots. Using an ice cream scooper or tablespoon place batter into muffin trays that are sprayed with non-stick spray. Yields about 14 muffins.
5. Bake at 350 for around 30-35 minutes or until tooth pick comes out clean.