How To Prevent A Pre-Race Panic Attack
Here's how to stay calm when pre-race nerves threaten to derail your day.
Heading out the door? Read this article on the new Outside+ app available now on iOS devices for members! Download the app.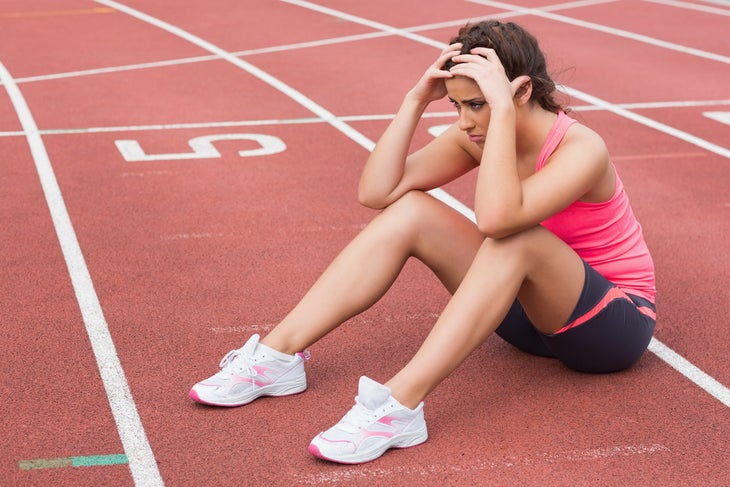 For some people, race day nerves go way beyond a few butterflies. Experiencing a panic attack, especially while running, can be a very scary experience. Here are a few ways you can calm down when you feel anxiety strike, as well as a few ways to prevent an attack.
Auto-Refocus
Hit "reset" when anxiety strikes by following sports psychologist Kay Porter's technique:
1. Blink rapidly for five seconds.
2. Squeeze eyes shut then open them extra-wide three or four times.
3. Inhale deeply through your nose, then "sigh it out" through your mouth, repeat three times.
4. Hold up your finger and move it slowly from side to side in front of you, tracking it with your eyes and without moving your head. Repeat slowly three times.
Fueling Attacks
Insufficient nutrition or hydration can result in nausea, lightheadedness, feeling hot or having chills, says Dr. Kay Porter, Eugene, Ore.–based sports psychologist and member of the U.S. Olympic Committee Sport Psychology Registry. "These [symptoms] may look like panic attacks, but are actually low blood sugar and dehydration," says the 11-time marathoner. Your mind may then respond in an anxious way, increasing the potential for real anxiety. Keep fluids and electrolytes topped up. Even outside of race day, eat a balanced diet with sufficient calories.