Stress Can Be Good for You–Here's How
Studies past and present have shown that one's approach to stress determines whether or not that stress is considered healthy or unhealthy.
Heading out the door? Read this article on the new Outside+ app available now on iOS devices for members! Download the app.
–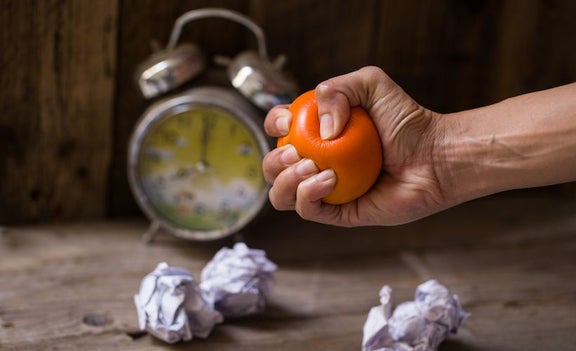 It's All About Perception
While standing at the start line of a race, you're likely to hear your heart pounding out of your chest and into your ears as you sweat all over, desperately trying to control your breathing by inhaling and exhaling as slowly as possible. You focus on each breath as if it's your last. Months of hard training are all coming down to this one race, on this one day, where fear and anxiety threaten to overcome you.
If you have ever experienced a race start like the one just described, how did that stress response make you feel? Was good or bad? Your answer could save your life.
According to Kelly McGonigal, the health psychologist and woman behind How to Make Stress Your Friend (one of the most popular TED talks recorded), experiencing and dealing with stress is only bad for your health if you believe it is.
The study McGonigal refers to in her famous talk from 2013 tracked 30,000 adults over an eight-year period and asked them only two questions: How much stress have you experienced in the last year? and Do you believe stress is harmful? Researchers then used public death records to find out who amongst the responders had died by the end of the study. Those who experienced high levels of stress had a 43 percent increased risk of death–but only if they believed stress to be bad for their health. Those who experienced a lot of stress but did not view it as harmful to their health were no more likely to die; in fact, of all the respondents, they had the lowest risk of death (even lower than those who reported low stress levels).
"The researchers estimated that over the eight years they were tracking deaths, 182,000 Americans died prematurely–not from stress, but from the belief that stress is bad for you."
Wow.
If you change your mind about stress, you can change your body's reaction to it. McGonigal suggests, "When you choose to view your stress response as helpful, you create the biology of courage." The biology of courage. Doesn't that sound like something every runner needs? Here's how to get it:
Turn signs of not coping well with pressure (like sweating, rapid heartbeat and heavy breathing) into positives. Instead of being "stressed out," be "energized." Think of these signs as your body physically preparing you to meet the challenge ahead.
Think of each stress response as helpful. Sweat cools your skin, a rapid heartbeat creates more blood flow and heavy breathing allows for more oxygen to be taken in–oxygen that is needed for the event that's causing these symptoms (like a race).
Send positive thoughts to your brain. This is my body rising to the challenge and My body is telling me it's ready are both good phrases to use. When you begin thinking this way, your body is more likely to believe you!
Take some time to listen to McGonigal's talk (or read the transcript) and start saving your life, one stress response at a time.
Related:
The Truth About How Stress Can Impact Weight Loss
8 Activities To Do At Home That Relieve Stress