3 Remedies That Will Help Heal Your Dry Winter Skin
Dry skin does not have to be a part of winter runner. Try these three tips to keep your skin healthy and protected throughout the season.
Heading out the door? Read this article on the new Outside+ app available now on iOS devices for members! Download the app.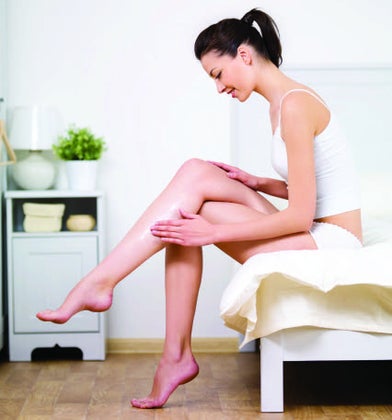 The cold temps and icy conditions that come with winter training call for adjustments in your running routine—and your skincare regimen. Even if you're up for bounding through the snowy streets, your skin may be less game. Cracking, itching, peeling and even bleeding are a few common issues that come from exposing your epidermis to the elements—and they all trace to one root cause: dryness.
"Because there is loss of moisture to the exposed areas of the skin during the winter months, the skin chaps and chafes," says Z. Paul Lorenc, M.D., of Lorenc SkinFit MediSpa in New York City. But getting glowing skin and running your regular 5-mile loop don't have to be mutually exclusive.When it comes to dry skin on your face, hands and feet, an ounce of prevention is worth a pound of cure.
RX #1: Take Care From Head to Toe
"The biggest problem that causes a trickle-down effect is dehydration," says Lorenc. "If the body isn't hydrated, the skin is not likely to be absorbing the moisture it needs." Even though the chilly weather may not make you feel as thirsty, aim to have your fluid intake be equal to how much liquid to that of the hottest days of August. The next step is to lather on the product. "Protect the skin by applying moisturizers two or three times more than usual," says Kenneth Mark, M.D., a board-certified cosmetic dermatologist.
It's best to moisturize immediately before you head out on a run to create a barrier between the elements and your skin. Try Aquaphor Healing Ointment ($9, drugstores), a favorite of downhill skiers. Mark adds, "Wearing physical barriers also helps."
However, it's important to match your coverage to the temperature outside, as piling on winter accessories can have the opposite effect. Lorenc explains, "If runners bundle up too much or do not wear clothing that allows moisture to escape, bacteria may form and fungal infections can occur." The solution? Invest in running-specific hats, gloves and buffs, which wick moisture while keeping you warm. Or try a tube-like scarf that can be worn as a hood, or pushed down and used as a collar.
RX #2: Practice Sun Safety
"When there is snow on the ground [runners] are exposed to the sun's rays twice: once from direct exposure and the second time from the reflection from the snow," says Mark. "So the use of sunscreen is so much more important in the winter." Although you may use a facial moisturizer with an SPF, it's most likely not enough protection for prolonged sun exposure. Instead, opt for a heavier formula that will also protect against frostbite, like Mission SPF 30 No Sting Sunscreen Face Stick ($8, missionathletecare.com), which is designed to go the distance no matter how much you sweat.
RX #3: Love Your Lips
To protect lips, stop licking them as you run! "It is important to not only use an emollient-rich lip balm, but also one that has a sunscreen with a high SPF," Lorenc says. "And use it generously." Stash a tube in the pocket of your running jacket for easy reapplication—extending the balm from the upper lip to the area under your nose to protect that skin from painful flaking. ChapStick Hydration Lock ($3, drugstores) contains nourishing ingredients like vitamin E, to keep lips hydrated for a full eight hours (longer than a marathon!).