How Changing Your Shoe Can Decrease Foot Pain
After battling leukemia and other hardships, one runner is not letting a painful toe slow her down.
Heading out the door? Read this article on the new Outside+ app available now on iOS devices for members! Download the app.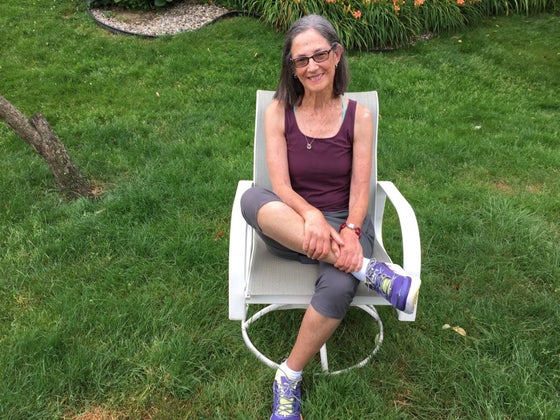 I ran through leukemia, plantar fasciitis and a stress fracture, and now I'm being stymied by a stupid toe. It's my right big toe, which, deceptively, doesn't hurt when I run but which acts up when I stop. At age 61, I have had my share of running, and some people say, "Why keep pushing? Do other things, it might be time to stop." But I am determined to keep trying, and here is why.
When in New York, where I grew up, until recently I ran around the Central Park Reservoir, problems swept away in the stream of runners. After a hard day when living in Brookline, Mass., I went right out the door to run the path along the Charles River, watching the boats on the water, usually six miles or so, but I could also do 10 miles if I seriously needed to work something out; one time it was even a cure for severe menstrual cramps. Later, there were hilly loops near my house in Western Massachusetts, just three-to-five before going to work at my newspaper job, five-to-seven on weekends.
Most importantly, running saved my life by leading me to the discovery that I had leukemia, while I was still strong in other ways. After a bone marrow transplant, I ran a few more 10Ks and even a 10-miler after I had relapsed twice and recovered from a fourth bone marrow transplant and life-threatening complications.
For runners, the word 'just' has many meanings. "How far did you run?" I would ask my friend, Diane, who had run a marathon. "Just nine miles," she might say. My longest race was 'just' a half marathon; as a divorced mother with primary custody of three children, I didn't have time to train for a full.
But I was committed to getting in my run, a complement to my tennis game, both helping me figure things out or let things go in different ways; concentrate on the scenery, concentrate on the ball. Now I ask, "Is it too much to want to run just three or four miles?"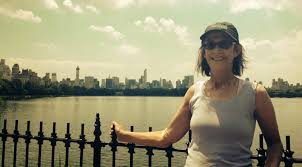 Seven years after my last transplant, I am in good shape, playing tennis about four times a week with a USTA team and others. My toe doesn't bother me after tennis—probably because the footfall varies—but after running it is a different story.
An X-ray revealed arthritis and a bone spur. Pain and stiffness in the big toe is most likely due to a condition called hallux rigidus, or the less involved level that I have, hallux limitus.
Colleen Brough, a physical therapist who is director of the Columbia RunLab, says it is not the most common injury.
"But that doesn't take away from the impact on runners or make it any less relevant," says the assistant Professor of Rehabilitation and Regenerative Medicine at Columbia University Medical Center.
She often sees older runners who have been told to give it up, but, she says,
"Probably 99 percent who are told to stop running don't have to stop running."
She understands why we want to keep going.
"The benefits are really astounding," she says. "It gives us a chance to feel like we're flying, that moment where you're nowhere else and experiencing nature, the beauty around you. It's a gift that they don't want to let go of."
Ellen O'Neill, cross country coach at Smith College and co-director of the Gold Medal Running Camp in Hanover, N.H., notes the feeling of being part of a community.
"It's hard for people to give up that whole identity," she says. "It's great for people who thrive on routine and structure. You control everything. And there's the pure physicality of it and the natural endorphins that you get."
A podiatrist gave me a couple of cortisone shots. The physical therapist who cured my plantar fasciitis boosted my soft orthotic to take the weight off my toe. A sports medicine doctor said to try capsaicin cream, but it is made from chili peppers and burned my skin.
None of this really helped, but I am optimistic that my recent change of shoe will do the trick. A friend with a similar problem suggested Hoka One One, a running shoe with a rockered sole that curves up at the toe and forefoot, thereby taking pressure off the toe.
They give me a little bounce. That helps because I never liked the first mile anyway; it is slow going and harder at this point when I'm not running much. For motivation, I picture myself flying up and down those hills again.
If you have the same problem, these exercises can help:
Raise and lower your big toe while keeping the other four down; then reverse,
Perform dorsiflection 10 times,
Do towel curls,
Put your foot across your knee and manually pull your toes back, or any other self mobilization, and
Gentle runners' stretch against a wall with your toe up.
Brough advises an active warm-up before to increase circulation. Then afterwards, ice, preferably with a Dixie cup that you have filled with water; peel down the paper on the ice and rub it all around the toe until it gets numb.
If it does not improve, a change of shoes might be in order. She says those with stiffer soles and rounder bottoms like the Rocker Bottom or my Hoka One One's work for some. In the case of chronic pain or the more severe involvement of hallux rigidus, runners will probably need to consult a doctor.