Are You Getting The Necessary Nutrients?
Every female runner should be getting enough of these 4 essential nutrients.
Heading out the door? Read this article on the new Outside+ app available now on iOS devices for members! Download the app.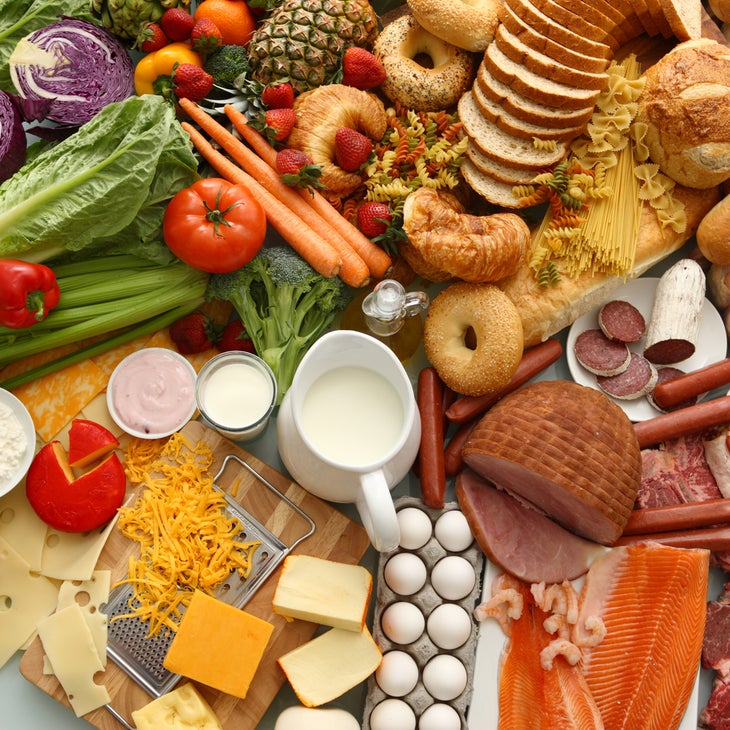 An athlete's body is like an engine. Of course you need plenty of fuel to keep it revving properly—but calories alone aren't enough. Vitamins and minerals function like the nuts, bolts and spark plugs. Nutrients serve to catalyze fuel burning, recovery and muscle repair and rebuilding. Just like an engine missing a nut, your body will start to sputter without them. Check out these key players crucial for the female athlete—and see how you can better fill up your tank.
IRON
The fatigue fighter
Iron plays a key role in energy metabolism, as it helps carry oxygen to working muscles during exercise. In fact, many muscle enzymes require iron compounds in order to use oxygen at a cellular level.
RISK: If you're a female athlete, you have a 22 to 25 percent chance of being iron deficient and a 6 percent likelihood of being anemic. Foot strike and mild gastrointestinal bleeding during running put you at a slight risk for iron loss—but menstruation is the biggest culprit. Too little iron can cause fatigue and shortness of breath. Too much iron, however, can decrease zinc absorption.
REQUIREMENT: 18mg for women ages 19 to 50; 8mg for women 50-plus
FOOD SOURCES: Animal iron (heme) is the sort of iron best absorbed by your body and can be enjoyed in lean red meat, poultry and fish. Plant iron (nonheme) is found in whole grains, fortified cereals, dried peas and beans, apricots and raisins.
SHOULD YOU SUPPLEMENT? Never self-diagnose low iron! A simple blood test will provide appropriate results. Make sure your general practitioner tests your iron levels at your annual check-up. If you choose to supplement, recheck levels in three months.
CALCIUM
The bone builder
A key nutrient involved in the constant process of bone breakdown and rebuilding, calcium also circulates in the blood and is involved in muscle contraction.
RISK: Calcium is an electrolyte lost in sweat—so runners lose a lot of it. Inadequate calcium intake leads to low bone mass or osteopenia, which can develop into dangerously low bone mass or osteoporosis, making you more susceptible to fractures.
REQUIREMENT: 1,000mg daily
FOOD SOURCES: Milk, yogurt and cheese are concentrated sources, while dark leafy greens, bok choy, dried beans and figs also work well.
SHOULD YOU SUPPLEMENT? Evaluate your calcium intake and supplement as needed with the well-absorbed calcium citrate to reach 1,000mg daily.
VITAMIN D
The helper hormone
This hormone vitamin is essential for calcium absorption—but it also plays a role in optimizing muscle function, controlling inflammation and supporting the immune system.
RISK: Low blood vitamin D levels are linked with poor bone health and a weak immune system. About two-thirds of the population is estimated to have a vitamin D deficiency or insufficiency—so chances are you could use some more.
REQUIREMENT: 1,000 IU daily or more to correct low blood levels
FOOD SOURCES: We are wired to make vitamin D from the sun—so sunscreen, while great for preventing skin cancer, inhibits D absorption. The vitamin can also be found naturally in fatty fish, such as salmon, egg yolks and fortified foods like milk.
SHOULD YOU SUPPLEMENT? Get your vitamin D levels checked by a doctor, and supplement to reach a healthy level.
PHYTONUTRIENTS
The plant powerhouses
These are not vitamins or minerals per se, but natural plant chemicals are essential for good health. They act as antioxidants to enhance immune function, protect against cancer and control inflammation.
RISK: Some runners subscribe to the idea that running regularly means you can eat whatever you want—but this isn't what your body would tell you. A lack of phytonutrients can lead to increased risk of disease and poor recovery from exercise.
REQUIREMENT: Aim for six to 10 servings daily of fruits and vegetables combined, and three servings of whole grains.
FOOD SOURCES: Fruits, vegetables and whole grains all have phytonutrients. Great sources are often colorful: blueberries, blackberries, red cabbage, mangoes, sweet potatoes, winter squash, red grapes, broccoli and Brussels sprouts.
SHOULD YOU SUPPLEMENT? Sure, there are plant powders you can add to your smoothie, but it's best to go for the real thing.