A Few Great Reasons To Run Today
If your lacking motivation, these 3 benefits of running should push you out the door.
Heading out the door? Read this article on the new Outside+ app available now on iOS devices for members! Download the app.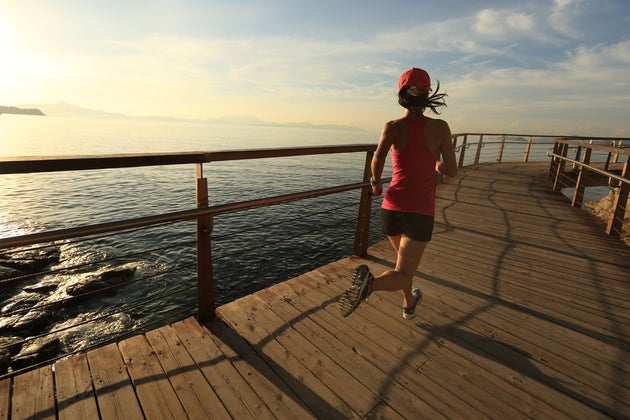 Every runner has a different reason for why they lace up their sneakers each day. Many runners hit the road to train for an upcoming marathon, half marathon or even a 5K. But others get out for the simple enjoyment and satisfaction of a casual run. To non-runners, the mere thought of running for reasons such as gratification or pleasure doesn't seem to make much sense. So what is the impulse and rationale behind every step of a "fun run?"
1) Stress Release: Running is one of the greatest ways to escape the stresses of our everyday lives. In fact, it enhances your overall health. According to the Mayo Clinic, a nonprofit medical practice and research group, running boosts endorphins in your body. Endorphins are morphine-like chemicals that our bodies produce during physical activity. They help to reduce pain while provoking positive feelings within the body. They are often referred to as your brain's "feel good" chemicals. Going for a casual run causes our stress level to decrease as our "feel good" chemicals increase. When we run, our bodies also innately get into a rhythm or flow with each step we take. This rhythm helps to alleviate stress and relax the mind. Above of all, you simply feel alive in these moments. There's no better feeling than that!
Related: 7 Simple Stress-Busting Techniques
2) Physical Appearance: Many people tie up their laces each day for a desired appearance. Running can be one of the most effective ways to lose weight. It's a fast way to burn calories and get rid of that extra fat. It helps to tone the lower part of your body especially your legs, hips, calves and glutes. Not only does running have a positive effect on your appearance but according to orthopedic surgeon Dr. Darren Tay, running improves your heart condition, strengthens bone structure, slows down aging, and stimulates the brain.
3) Feel Good About Yourself: Sometimes the mentality behind a jog is simply to feel good about yourself. Maybe it's the validation before you dive into that last piece of chocolate cake, leaving yourself thinking, "Well I ran 5 miles today." Or perhaps it's satisfying to hit the roads while half the world is still asleep. You're one step ahead of the game. Your attitude to run might comes from the confidence you feel in that black dress during a night out with your girl friends. Whatever your motive is, running makes you feel good.
Every one runs for a different reason. Whatever that reason may be, love what you do!