9 Great Tips For First Time Marathoners
This advice will leave you ready to cover 26.2 miles with confidence!
Heading out the door? Read this article on the new Outside+ app available now on iOS devices for members! Download the app.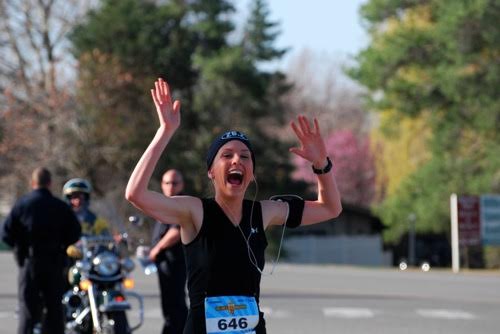 I am by no means a marathon expert but I was an expert at making a lot of mistakes during my first marathon. My first 26.2 was the Salt Lake City Marathon back in to 2010. I really had no idea what I was doing. I didn't take in any fuel during the race because I didn't know that was eating during a race was even a thing. I wore a brand new pair of running shoes the day of the marathon, which wouldn't be so bad except they were racing flats. I had never worn a pair of racing flats until the day I ran my first 26.2 miles. The blisters were pretty bad by mile 15. As you can tell, I made a few big mistakes during my first marathon but even with those mistakes, I became hooked on the 26.2 mile distance. I signed up for my next one within a few hours of crossing the finish line.
I wanted to share a few of my tips for a first time marathoner and hopefully help you to enjoy the experience as much as possible.
Throw any time goals out the window. You only have one first marathon. I think the goal of that first marathon should be completion, not a time on the clock! You will have plenty of chances at future marathons to crush those time goals. Enjoy the experience as much as possible and take it all in!
When race day nerves set in remember a few things. A little bit of nervousness is completely normal—we ALL experience it! I like to think that some nerves help me to do even better on race day. Look over your training. Think about how you accomplished those tough workouts and trust in them to get you to that finish line. The more we visualize and expect success, the more likely it is to happen!
Be your own biggest cheerleader. It is so easy to get down on ourselves when the going gets tough. Being negative will not do any good. Smile, pat yourself on the back, talk to yourself about how awesome you are for running A MARATHON!!!!! Move forward.
Avoid flying and dying as much as possible! I still have to work on this one. It is very easy to go out blazing fast because of the adrenaline of race day. It is easy to get caught up in going the pace of the people around you. But stick to your own pace. I would much rather finish a race strong because I held back in the beginning than hate the last 10k of the marathon because I went out like a bullet for those first few miles and used up all of my energy!
Start drinking and fueling early on. During your training runs practice what fuel works best for you and stick with it. Don't wait until you feel thirsty or you feel a drop in your energy to eat or drink. I usually take a gu at miles 7, 15 and 21, which that works great for me.  I start taking in liquids at the first aid station and usually switch off between water and gatorade at each aid station. Walking through the aid stations to drink will make it so you drink more and spill all over yourself less.
Don't wear a brand new TYPE of running shoes like I did. Stick to what works for your feet. I usually buy a pair of my favorite type of running shoes (the PureFlows) two weeks before the race and put in about 20-30 miles on them before race day. This way they are a little worn in but they still feel new and extra cushioned. The same goes for clothing!
Practice the race course during some of your long runs if you can! This will help you physically and mentally to be prepared on race day.
Take the taper seriously! Follow your plan. One more extra long run or hard workout will not improve your marathon time. The best thing you can do for those last two weeks before race day is rest, let your body recover and stick to cutting back your mileage and speed gradually leading up to race day.
Figure out what motivates you and do it! Maybe it is a list of mantras that will help you when the going gets tough. You could ask your family and friends to be at different points along the course that you feel like you might need a little extra support and smiles. Put all of your favorite songs on a playlist for the race. Have a reward set up for the end of your race. Dedicate each mile to someone important in your life. Come up with what you think will motivate you to keep moving forward and do it!