7 Fraudulent Foods Posing as Healthy Nutrition!
Don't be fooled! These bad-for-you foods are masters of disguise.
Heading out the door? Read this article on the new Outside+ app available now on iOS devices for members! Download the app.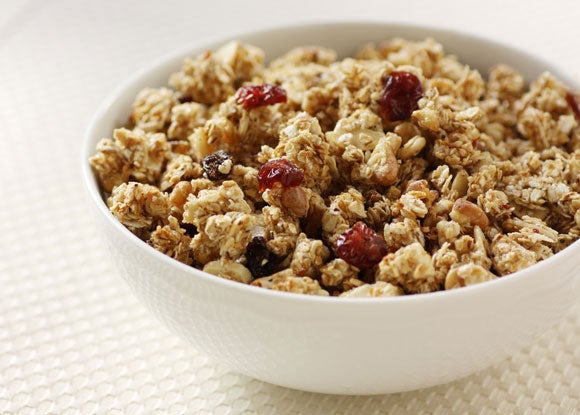 Unless you've never heard the term "nutrition label," you know that potato chips, candy corn and chocolate pudding pies aren't exactly part of a balanced diet. But even the savviest of shoppers can fall prey to con artists: the countless unhealthy foods lurking in the aisles masquerading as nutritious options. We've sussed out many of the worst offenders—and found smart alternatives that truly deliver the goods.
Granola
Despite a healthy reputation, most packaged granolas contain a surprising amount of sugar, fat and calories. As little as half a cup can deliver more than 250 calories—most of us eat more than twice that and then pour on the milk.
YOUR MOVE: For the most part, you'll be better served by cooking up a batch of hot cereal like plain oatmeal or brown rice farina for breakfast. You'll take in about half the calories while loading up on cholesterol-busting fi ber. If you crave crunchy granola, make your own and control the sugar and oil.
Diet Soda
Research suggests that calorie-free sodas are not making us thin. One study from the University of Texas discovered that the waistlines of people who drank two or more diet sodas a day experienced waist circumference increases that were 500 percent greater than those who went without the beverages. What's more, the long-term impacts of faux sweeteners are still largely unknown.
YOUR MOVE: If you're thirsty for something other than humdrum water, reach for flavored seltzer. Providing fizz and zing, most brands are free of calories and chemicals. Or try tangy coconut water, which is low in sugar and pumped full of potassium for improved muscle functioning.
Blueberry Greek Yogurt
Protein-rich and deliciously creamy, Greek-style yogurts are all the rage. But spoon up too much of the fruit-flavored versions and your waistline could suffer some unexpected repercussions. That's because along with the fruit comes added sweeteners that can bump up the calories to 50 percent more than the plain variety.
YOUR MOVE: To keep sugar and fat calories in check, stick with plain Greek yogurt with a fat level of 2 percent or less. If you crave sweetness, simply stir in your own fresh fruits.
Iceberg Lettuce
All veggies are worthy, right? Iceberg isn't bad for you, per se—but it is a waste of time. Made up of mostly water, iceberg lettuce pales, so to speak, in comparison to many other vegetables in the produce aisle in terms of antioxidants, fiber, and vitamins.
YOUR MOVE: A good rule of thumb is that the darker the green, the healthier it is for you. Leafy greens like kale, Swiss chard and spinach are among the most nutrient dense options in the grocery store. Add them to your salad or sandwich instead.
Nonfat Salad Dressing
Scientists at Purdue University discovered that some fat is necessary for the optimal absorption of antioxidants in vegetables. The study found that consuming raw veggies with 3 grams (a little less than a teaspoon) of oil helps your body access more of the natural nutrients. Not to mention the majority of fat-free dressings are pumped full of sugar, sodium and preservatives.
YOUR MOVE: At stores, look for vinaigrettes with a short ingredient list containing wholesome items like olive oil, herbs and vinegar. Drizzle the dressing sparingly and enjoy every bite.
Multigrain Bread
It sounds wholesome enough, but the dirty little secret of many breads labeled "multigrain" is that they are made primarily with white flour. If you fall for this label lingo, you could be taking in a surprising amount of refi ned sugars that can lead to flagging energy levels and a heightened risk for diabetes.
YOUR MOVE: Check the order of ingredients. The first item in your loaf should be "whole-wheat flour" or "rye flour." If one of the first ingredients is a sweetener or if there are fewer than 2 grams of fiber per serving, take a pass.
Reduced-Fat Peanut Butter
Don't fall for the low-fat hype! Two tablespoons of reduced-fat creamy peanut butter has about 180 calories, only 10 calories less than the original. Why? Most brands stir in extra sugar to make up for the flavor that is lost when the fat is stripped away.
YOUR MOVE: Processed sugar is never preferable. Don't fear naturally-occurring peanut fat—it's the heart-healthy kind that keeps your cholesterol numbers in check. Ideally, look for brands that list peanuts as the sole ingredient.