3 Steps To Help You Set Goals For Your Next Race
There's more to racing than a PR. Here are some steps to follow to set goals for your upcoming race that align with why you signed up.
Heading out the door? Read this article on the new Outside+ app available now on iOS devices for members! Download the app.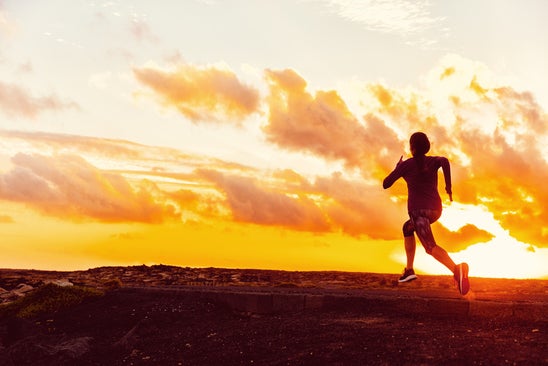 I set goals for most races I run, but I am usually only setting out to PR in a couple big races each year. I used to have a hard time coming up with race goals that aren't a PR, but over the past couple years, I've used races for a variety of purposes and thus, I have some practice in setting goals that are about more than PRs.
Step One
When I think about my goals for races, I go back and think about why I signed up for that particular race. Was it all about a fun race-cation? Or is the race a part of my training plan and just a practice run? Or maybe I just wanted the bling (ahem, I can't be the only one, right?). Whatever the reason, that is my first step when thinking of goals.
Step Two
After I think about my reason for picking that particular race, I look at how that reason dovetails with where I am in training (or even if I'm in training at all—I sometimes race in my off seasons).
Step Three
Finally, I give myself a reality check. What will I be happy with? Because even though a PR isn't the goal, I still always want to run a race that I'm proud of.
I'll give an example of how this played out for me recently. A couple of weeks ago, I raced a half marathon. I signed up for the race awhile back and it was a planned girls weekend. A group of us rented a house and headed to the beach to race. My purpose was a fun weekend getaway—so I knew that I wasn't going to be setting out to PR. Then I thought about my training, as this race was coming right before I was getting back into formal training. So essentially, the race was serving as a jumping-off point for half marathon training for me. I wanted to see where I was starting from without training specifically for this particular race.
Based on all of that, I knew that I would be happy with a sub-2 race. I felt that time would set me up for a good training cycle and was probably a good indication of my current fitness level. I went, had a wonderful weekend with girlfriends and ran a 1:57:31, and was very happy with the whole experience.
Use your goals to be realistic and purposeful and set yourself up for success!