Beat the Heat: Our Guide To Summer Essentials for Runners
It's time to embrace the heady days of summer running. We asked runners and coaches about their go-to essentials for the long days and the long runs that go with them.
Heading out the door? Read this article on the new Outside+ app available now on iOS devices for members! Download the app.
With summer running here, we're here to help runners narrow down the endless resources, gear, and nutrition. We consulted runners and coaches asking them to share some of their personal favorites to take on the road—from snacks to sunscreen to shoes for sun-filled running days.
Read on to see their selections and check out our guide to staying safe while running in the heat.
RELATED: How To Stay Safe While Running in the Heat
Summer Running Essentials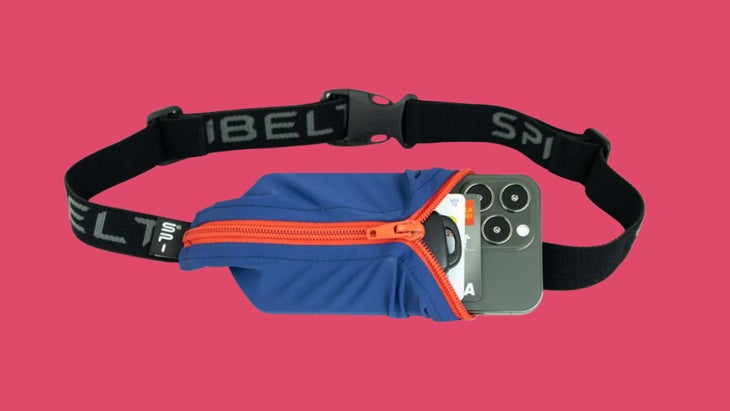 SPI Belt | $27
Marathoner and running influencer Lauren Thomas swears by this versatile, lightweight belt for runs in the Texas heat. "I started using it during my training for the Austin Marathon last February, and it has become a staple ever since," she says. "It's incredibly convenient, allowing me to carry my essentials like keys, phone and energy gels without hindering my movement." Its stretchy pocket expands to accommodate various items securely, ensuring they don't bounce or shift during runs. "Whether I'm doing a short sprint or a long-distance race, it keeps my valuables safe and easily accessible," she adds.
The Low Down: Hands free storage for when there are just not enough pockets in your shorts.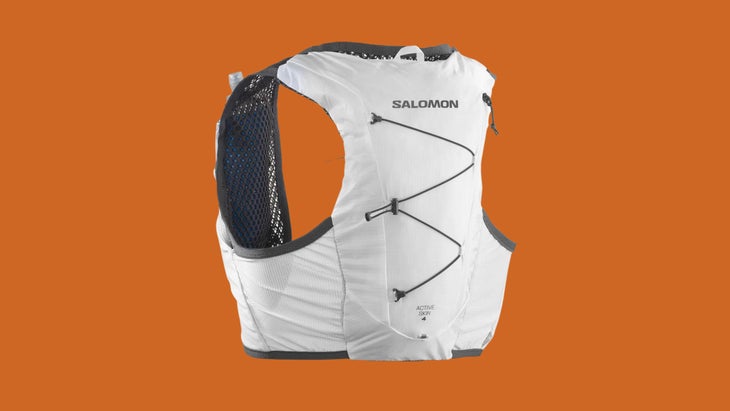 Salomon Active Skin 4 Hydration Vest | $100
Running coach and author of Breakthrough Women's Running Neely Gracey takes a hydration vest with her to replenish fluids if she's running for over an hour. "I like it because I can use the electrolyte mix that works for me, versus being forced to use what's on a race course that may or may not agree with my tummy," she says. "Plus, I can ensure I get 30 oz instead of sipping and spilling cups. The vest carries my phone and gels too."
The Low Down: When the run is long, and the water options are limited, a vest is the way to go. Double bonus, there are pockets you don't have to second guess all you want to take with you. Load it up, pack it up. Run!
RELATED: Neely Gracey Sets One-Mile Stroller Run World Record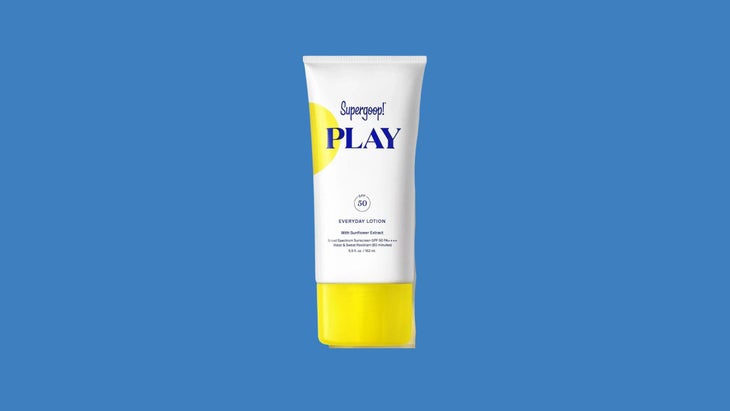 Supergoop! PLAY Everyday Lotion SPF 50 with Sunflower Extract | $12-$68
This one's a must for scorching summer weather. "A few years ago, I started seeing the physical wear on my face from years of neglecting SPF, so I started researching the best sports sunscreens and found PLAY," explains strength and running coach Mary Johnson. "The smell is light and inoffensive, so it's easy to layer on daily. Most importantly, when you sweat, it doesn't make your eyes sting, which is absolutely imperative for an active sunscreen."
The Low Down: Smooth and light—two words not usually associated with sunscreen built for athletes. It's a refreshing, and a high SPF, cream to add in to the constant rotation of sun protection.
RELATED: Best Sunscreens For Runners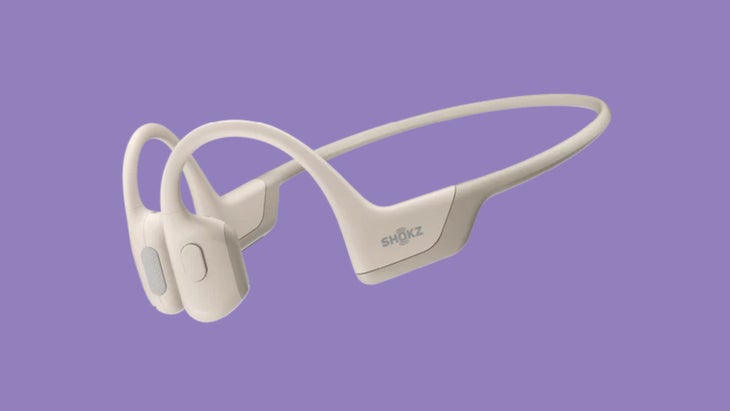 Shokz Open Run Pro Headphones | $180
Shokz have an open ear bone conduction design to help you be aware of your surroundings and stay safe. "I love having my headphones for running," says running coach and influencer Kim Clark. "They're a great training partner for speed workouts and also help me to chill out on easy runs."
The Low Down: When you start to sweat, you'll never have to try to get an ear bud to stay in place ever again.  Added bonus, you can also hear the world around you.
RELATED: Kim Clark Shares Coaching Advice For Runners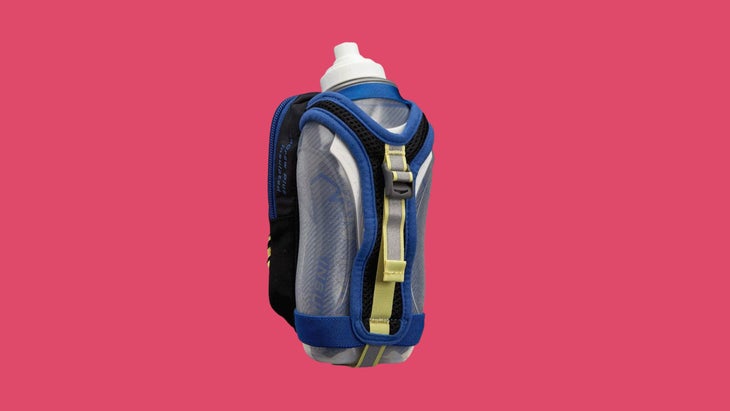 Nathan SpeedDraw Plus Insulated Flask, Handheld Running Water Bottle | $35
Take fluids on the go while running with this lightweight water bottle. "Not only does it hold my water, but it also has a little backpack for my gels," says running and strength conditioning coach Victoria Sekely. "I used it first when I was marathon training last year, and it's a necessity for long runs."
The Low Down: A bottle with a pocket for gels. Water + Food = A long run, fueled.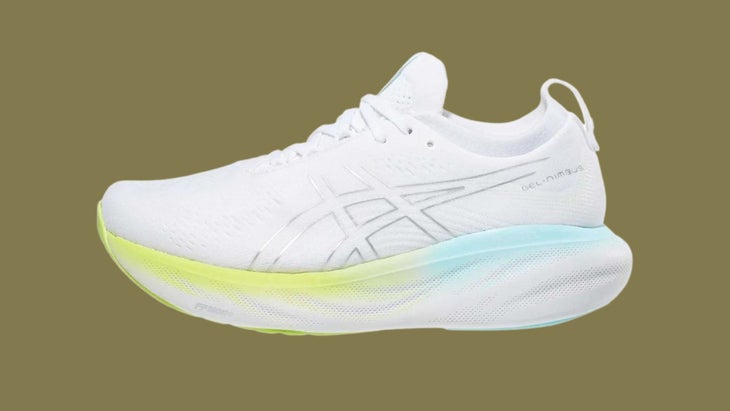 ASICS GEL Nimbus 25 Running Shoes | $160
"I started using this model just a few months ago, and I haven't looked back since," says Thomas. "These shoes offer exceptional cushioning and support, making them perfect for long summer runs on various terrains." The Gel Nimbus 25 incorporates innovative technologies that absorb impact and provide a responsive bounce, reducing strain on joints. "The breathable upper material ensures proper ventilation, preventing my feet from overheating during my long runs. They're super comfortable and durable," Thomas adds.
The Low Down: Long training runs in summer are for logging the miles and banking the time on the legs. No race shoes needed. The GEL Nimbus is set up to be cruising with you.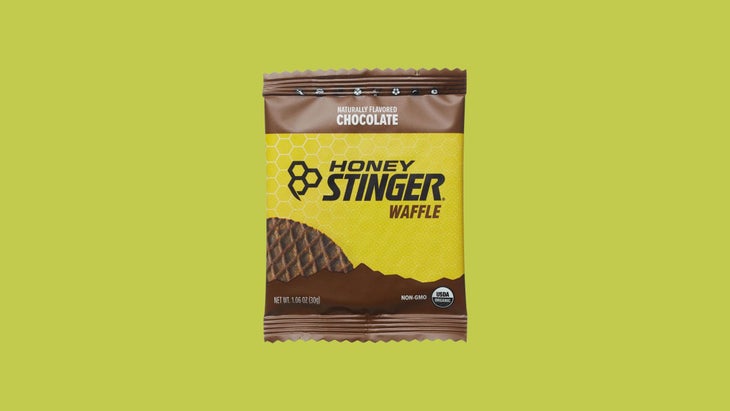 Honey Stinger Waffles | $19/12-pack
"When it's warm, I feel like my appetite can be off. To ensure I get in fuel ahead of a race, the Honey Stinger waffle is perfect for me," says Gracey. "It's light, easy on the stomach, tasty and gives me energy all while not being too much to handle on a hot day. This has become a favorite of the athletes I coach as well."
The Low Down: Small, easily consumable. When the thought of a banana gives you the heebie jeebies, pack a waffle.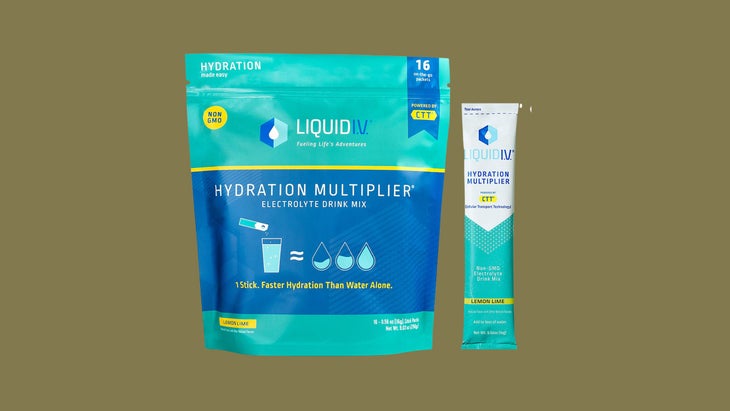 "It's really important to replenish electrolytes in the summer," says Johnson. "LIV's flavors are intense, and each packet offers 500mg of sodium, which is a lot." She finds that a packet a day (or two if it's extra hot) helps her body recover quicker. Her favorite flavors: strawberry lemonade, grape and apple pie.
The Low Down: Summer training days are a good time to try out an alternative to your go-to hydration tabs. if you think you might need more electrolytes, this is a higher sodium than other alternatives, so try out to see if it works for you in hotter conditions (Nuun tabs, for example, deliver 300g of sodium).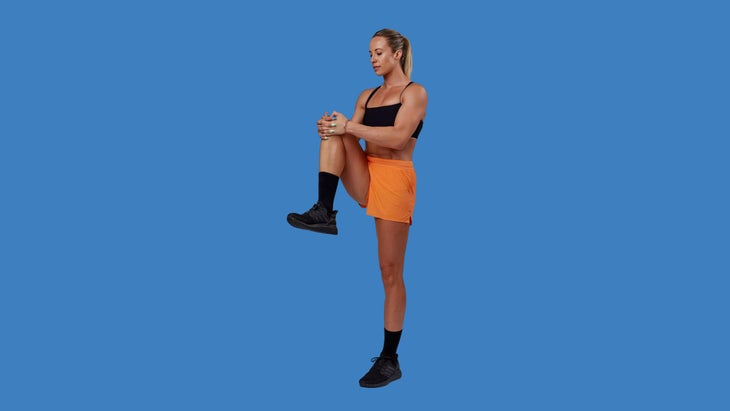 LSKD UltraAir Lined Performance Shorts | $90
"I discovered these shorts when I was looking for something super lightweight, and they have exceeded my expectations," says Thomas. The strategic ventilation panels promote airflow, preventing discomfort and allowing unrestricted movement. "It has an adjustable waistband and causes minimal chafing so that I can stay fully focused on my run," she asserts.
The Low Down: When it's too hot to care, you need shorts that can go the distance. There is light, then there is super-light. These shorts are the latter.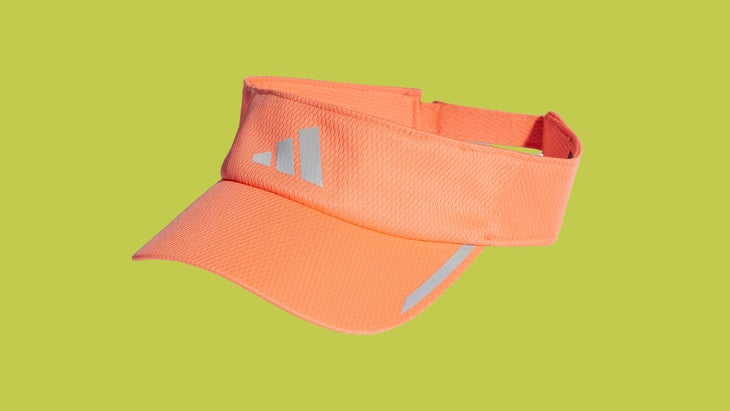 Adidas Aeroready Running Visor | $20
Did you know squinting expends energy? "If you're going running for a while, a visor is the way to go," Gracey recommends. "Especially if there is precipitation forecasted, I opt for a visor over sunglasses to set me up for success in inclement weather conditions."
The Low Down: The hat vs. visor great debate is polarizing. If you're solidly in camp visor, this is a good choice for you.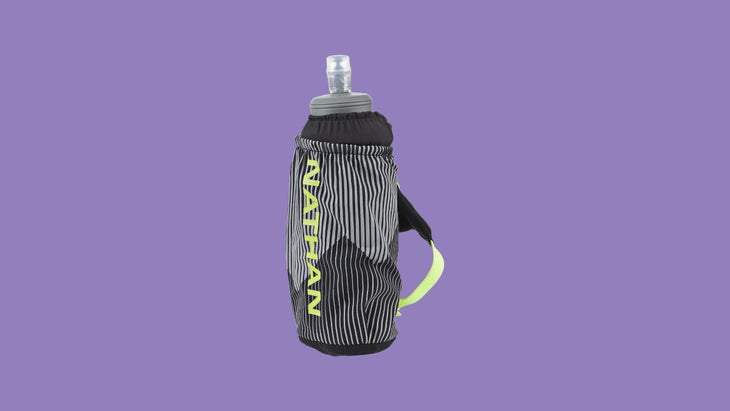 Nathan ExoDraw 18 oz Handheld | $55
"I used to be such a baby about carrying fluids until a few summers ago, when it became physically impossible to run without them," Johnson admits. "I bought this 18 oz handheld and its 14 oz partner, and they changed my life." The bottle is lightweight, and as you drink, it flattens down, so it's easy to tuck in your shorts or sports bra if you're sick of carrying it.
The Low Down: What you carry in your hand is personal – especially on long runs. If you want the bottle to 'disappear' as it deflates, this is the water carrier for you.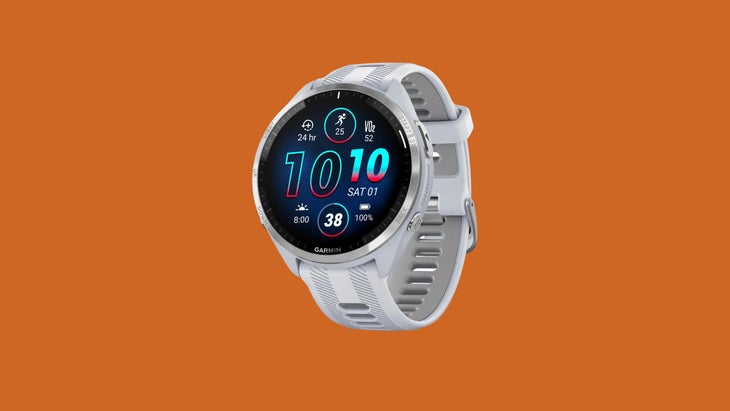 Garmin Forerunner 965 Watch | $600
Analyzing your running technique is key in becoming a stronger athlete. "This advanced GPS running watch provides invaluable insights into my training and race data," says Thomas. "It helps me stay on track, make data-driven decisions and continuously improve my running performance." The technology has precise tracking capabilities; you can monitor pace, distance and heart-rate.
The Low Down: For any marathon runner, data geek, and/or those just wanting to have all their data pulling from one device, the Forerunner 965 is a worthy, long-term investment.
RELATED: Read our Full Review of the Garmin Forerunner 965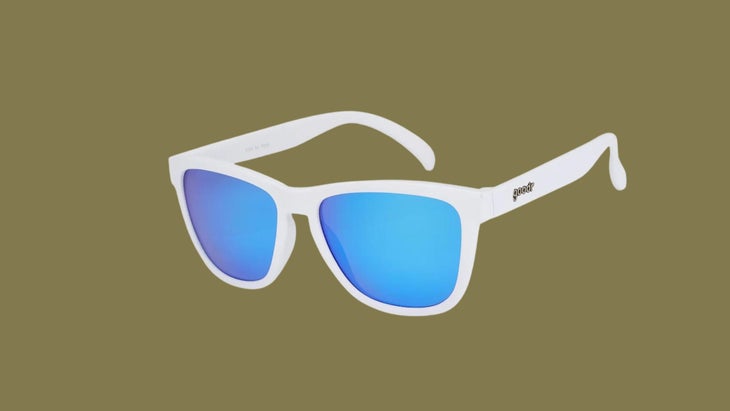 Goodr Sunglasses | $25
Say hello to the shade. "These are my go-to sunnies for all occasions," says Gracey. "The Goodr's don't bounce, come in a bazillion different styles and colors, and work well both on and off the run. I have eight different pairs and love matching them to my outfits."
The Low Down: At $25 a pair, you can afford to take advantage of their wide range of colors to match your shoes, your outfits, or your mood.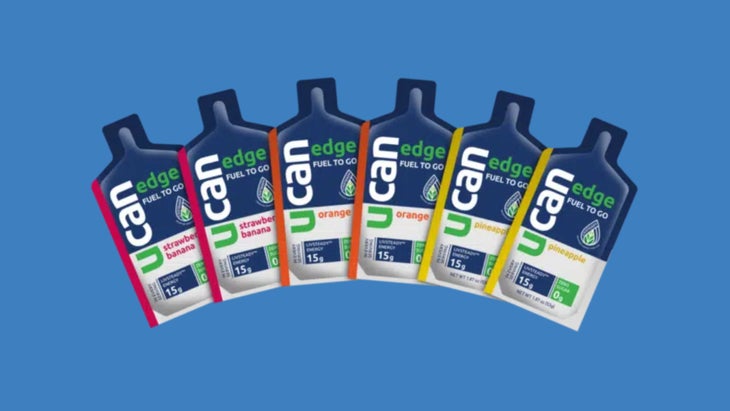 Unlike traditional gels, UCAN Gel Edges utilize a slow-release carbohydrate technology that provides a sustained and steady energy supply without causing spikes or crashes. "I can maintain a consistent energy level throughout the race and avoid the usual energy fluctuations associated with other gel products," Thomas asserts. "The gels are also easy to consume, gentle on the stomach and have a pleasant taste."
The Low Down: For those with a delicate stomachs in the heat, the starch-like consistency of the UCAN gels could be a gut-saver.