Expert Answers All Of Your Running Shoes Questions
Jill and Tim Murphy of Fleet Feet Sports advise on which running shoes are the best match for every surface runners encounter.
Heading out the door? Read this article on the new Outside+ app available now on iOS devices for members! Download the app.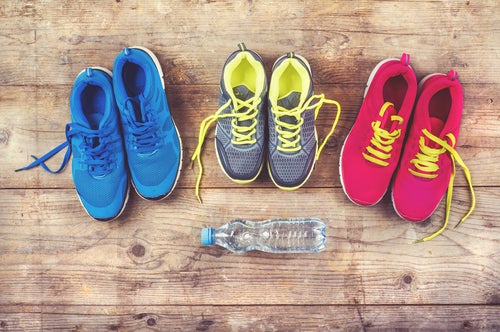 Wherever and whenever you run, there is bound to be a specific shoe that'll fit your needs. From track to trails and beaches to bricks, there are shoes tailor-made for each of these surfaces and more–but do you need them? We asked running shoe specialty store owners Jill and Tim Murphy of Fleet Feet Sports in Longmeadow, Conn., to answer our questions.
Related: The Top Trail Running Shoes To Invest In
The Best Shoes To Wear While Running On…
Grass
"Due to the fact that you'll endure less impact on grass, you can go with a shoe with less cushioning. However, because of the uneven nature of grassy areas, you should wear a shoe with the appropriate level of support for your needs (i.e. if you're fit for insoles or supportive shoes, you will definitely need the support). Any pronation that your body normally displays will show up even more on grass. A less flexible upper might also be a good idea since your foot is going to move more laterally. A more rigid upper may help control that movement a little better. Finally, you may want a shoe with more traction, like a trail shoe."
Asphalt
"Most prefer shoes with higher cushioning for asphalt and concrete. The cushioning will dissipate some of the impact and will result in a smoother ride."
Sand
"Packed sand is a great surface to run on because it's soft but not too unstable, while soft sand can be murder on your ankles. The type of shoe you use on sand will depend on the firmness of the sand, but because all sand is unstable, it is especially important to wear shoes and insoles that match the level of support your body needs. If you're running on packed sand, you're probably safe in a moderately cushioned shoe with whatever support you've been fit for. But on soft sand, due to the lack of stability underfoot, you're going to want to have a more rigid upper with some support underfoot so that your foot doesn't move too much in the shoe. The goal here is to not overwork your foot. If your foot (and body) are naturally strong, you'll need less support."
Trails
"Again, the best shoe will depend on the type of trail you're on. If you're on a hard-packed trail, you can safely use a moderately cushioned shoe with just a moderate level of traction underfoot. Loosely packed trails will require a more aggressive outsole so that they can help keep you from slipping on rocky or muddy parts."
If you only have or can afford to have one type of running shoe, what would it be? How bad is it to just have one pair?
"A moderately cushioned shoe will work on most surfaces. However, it is important to note that the 'best' shoe for any one person depends on that person. There is no one best brand, nor is their one best shoe. It's of the utmost importance to get properly fitted for shoes, which is what we do at Fleet Feet Sports.
"A good fitter, at a minimum, will look at your bare feet to check for things like blisters, bunions and calluses; they'll measure the arch of each foot, both weighted and unweighted; they'll watch you walk or run; and they'll carefully consider the natural shape of your feet. The fitter can then offer two or three pairs of shoes and inserts that match the level of support your body needs and that also match your natural foot shape. If you can only afford one shoe, the one you're matched with is the one to wear!"
Is it important to rotate running shoes regardless of terrain?
"Rotating running shoes will extend the life of your shoes and will keep your body from adapting too quickly to any one shoe. Because it can take up to 48 hours for the cushioning in a pair of shoes to completely rebound, it's recommended that you not wear the same shoes on consecutive days."
Should the average runner have racing flats?
"Probably not. Racing flats are really only necessary for elites who are concerned with shaving every possible second off their times. Racing flats are lighter and more responsive, resulting in less time in contact with the ground, but they're also less supportive and much less cushioned–and often more narrow. Runners should only use racing flats if they can be fitted to match the support needs and foot shape of the runner."
Related:
Why Running Shoes Should Only Be Worn While Running
How Swapping From Road To Trail Shoes Changed My Running