Best Running Shoes for Women with Flat Feet
Whether you have flexible or rigid flat feet, here's how to find the best shoe models for comfortable miles.
Heading out the door? Read this article on the new Outside+ app available now on iOS devices for members! Download the app.
Not all feet are created equal, and if you're someone with flat feet, the type of flat foot you have will determine which types of shoes are best for you.
"Some runners' feet have high arches when they're lying down but that flatten out when they stand up," says Mark Plaatjes, world champion marathoner and owner of Boulder, Colorado's In Motion Rehabilitation and In Motion Running store. "Others have truly flat feet, whether they're lying down or standing up."
For that reason, says Plaatjes, who treats many of Boulder's elite runners for various injuries, says that the "wet test" of getting your foot wet and stepping on concrete to see if your footprint shows your entire foot against the ground isn't accurate in identifying truly flat feet versus arches that collapse under the weight of standing.
Runners who have feet with high arches when they're lying down, which then become flat when they stand up, have what's called "flexible flatfoot," or "flexible pes planus," according to an article in Harvard Medical School's Harvard Health Publishing. Runners with these types of feet benefit from shoes that correct overpronation, and shoes that have significant arch support built into them.
But runners with feet that are truly flat whether the person is lying down and not putting any weight on their feet, and when they stand up (called "rigid flatfoot" or "rigid pes planus") should shop for shoes with a flat "last," or, interior shape. And the ideal shoes for runners with truly flat feet shouldn't have a curved, or tapered shape to them, explains Plaatjes. Rather, they should have a straight shape so that they don't force a curve onto a flat, straight foot.
To know which type of flat feet you have, and therefore, what types of shoes you should shop for, you can do the wet test. But first, unweight your feet and look at their shape. If your arch is pronounced when you're seated or lying down, shop for stability shoes or shoes with ample arch support (like the first four listed below). If your foot is flat whether you're lying down or standing, shop for straight-lasted neutral shoes, or straight-lasted shoes that provide stability without a pronounced interior arch (see the second batch of four below).
Of course, your best bet is heading into a specialty running shoe store and having a knowledgeable salesperson look at your feet, suggest a few shoes for you, and watch you run in them on a treadmill while you assess what's the most comfortable. But to be informed before you go, start with these eight of the best running shoes for women with flat feet.
RELATED: What You Need to Know About Buying Running Shoes in 2022
Best Running Shoes for Women with "Flexible" Flat Feet (arched feet when unweighted, flat when weighted)
1. New Balance Fresh Foam 860v12 | $135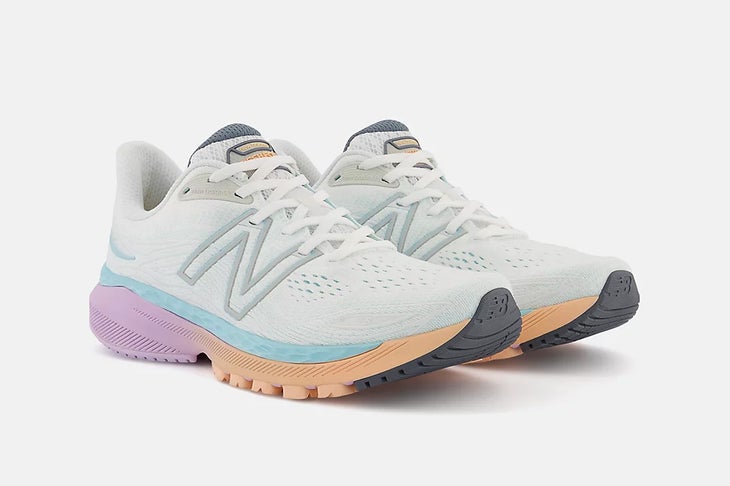 A layer of New Balance's lively Fresh Foam, a lightweight, highly responsive compound found in their racier models, sits on top of standard EVA to make up the majority of the midsole of this daily trainer. The arch side, however, features a section of dense foam that forms a medial post to control pronation. The guidance can help those with collapsing arches run comfortably. (Weight: 9 ounces)
2. Asics Gel Kayano Lite | $160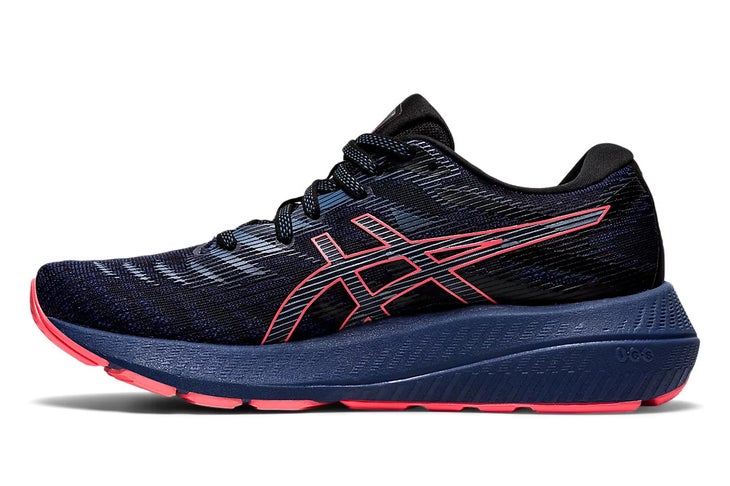 A wide platform—a midsole that flares out to an outsole silhouette that's significantly wider than the foot—makes this comfortable shoe structurally stable. It's effective at controlling pronation. Bonus: Much of the upper is made with recycled materials, the foam cushioning is made from organically derived materials, and the shoe is engineered for gender specificity. (Weight: 8.6 ounces)
3. Hoka Arahi 5 | $130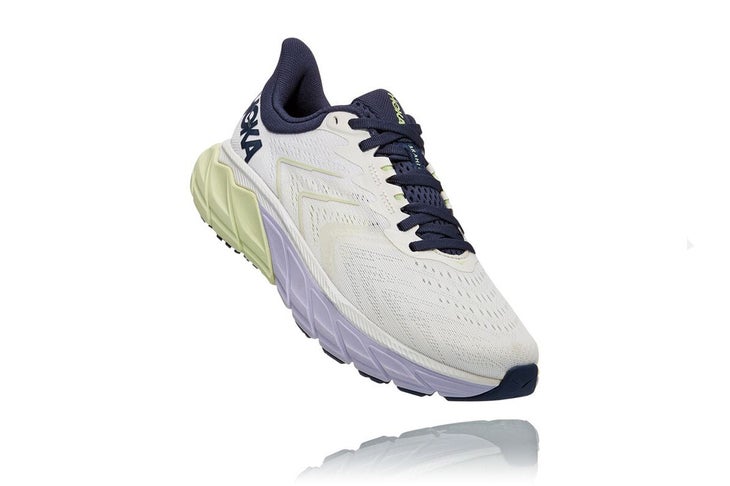 With 27mm of foam under the heel and 22mm under the forefoot, the Arahi 5s might not be the most massively cushioned Hokas available (the women's Bondi 7 has 31mm, 27mm). But this shoe offers a great combination of support and cush in a surprisingly lightweight package. A structured heel cup helps guide feet through a smooth gait. (Weight: 7.8 ounces)
4. Nike Air Zoom Vomero 16 | $150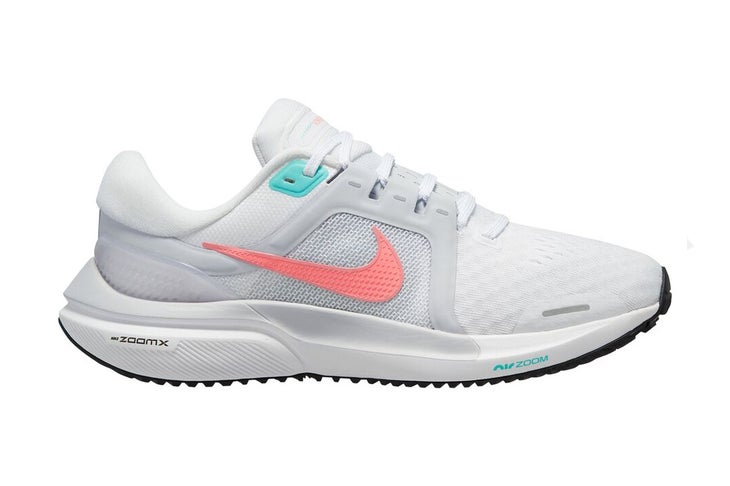 While the Vomero is, technically, a neutral shoe, an external heel clip helps guide feet through each stride and makes the shoe inherently stable. Also, a tug of the laces engages and band of material that pulls securely around the arch, making a fallen arch feel supported. Lively cushioning (Nike ZoomX) and Zoom Air under the forefoot make this a comfy shoe for long runs. (Weight: 9.1 ounces)
Best Running Shoes for Women with "Rigid" Flat Feet (flat feet whether weighted or unweighted)
1. Brooks Dyad 11 | $130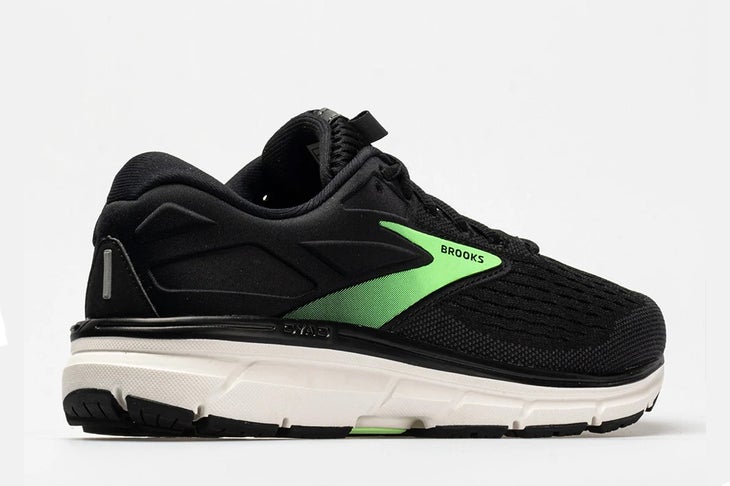 This well-cushioned shoe is built with a generous fit and a straight last. Cushioning "pods" that extend from beneath the insole, through the midsole, and to the outsole create ground contact under the arch to keep flat-footed runners comfortable. The Dyad comes in medium, wide, and extra wide. (Weight: 10.7 ounces)
2. Saucony Echelon 8 | $130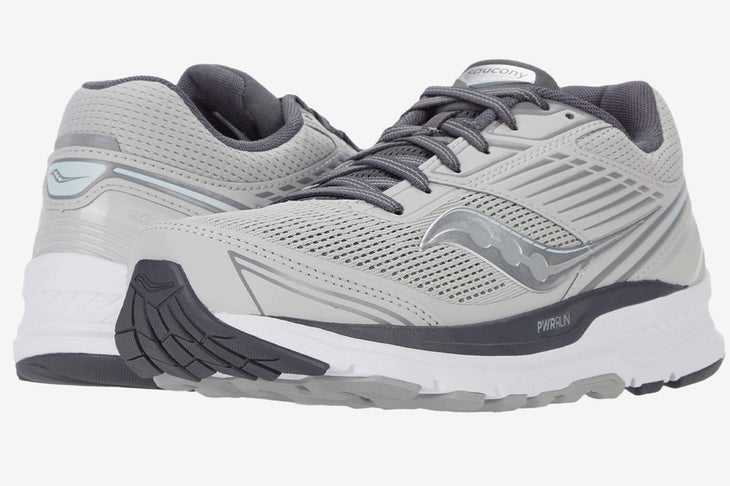 This neutral running shoe has a notably wide base—and no tapered shape at the midfoot, as opposed to the shape of most shoes—that accommodates flat, wide feet and creates a stable feel. Plus, the Echelon is built with enough interior room to accommodate over-the-counter or custom orthotics. (Weight: 10.8 ounces)
3. New Balance 940v4 | $140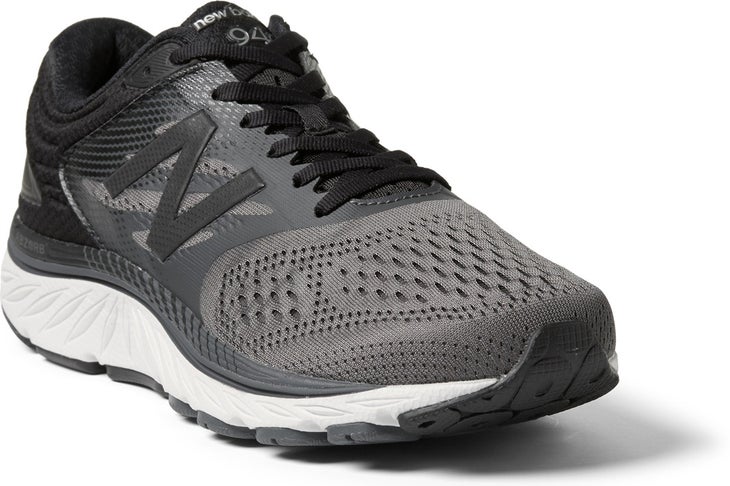 Some runners with rigid flatfeet may still be most comfortable in shoes that offer stability. The New Balance 940's medial post made out of dense foam and a hard plastic "T-beam" sandwiched in the midsole make this shoe a stable, torsionally rigid choice, but it has a wide, flat interior fit to remain comfortable for flat feet. (Weight: 11 ounces)
4. Altra Paradigm 6 | $160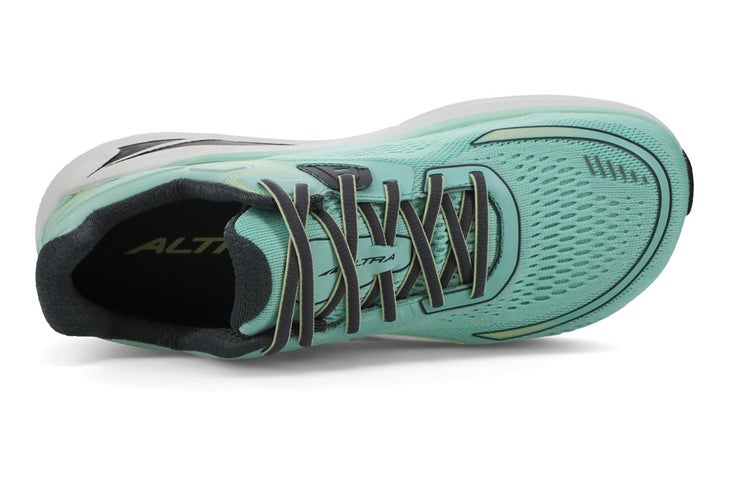 Like the New Balance 940, the Altra Paradigm 6 offers flatfooted runners a stable shoe but with an interior fit that works doesn't force an arch. This is a maximally cushioned shoe with Altra's zero drop stack height—the heel cushioning and forefoot cushioning are equal to each other, while most other shoes have more cush under the heel. And like all Altras, this shoe's interior is made to allow full toe splay while holding the heel securely. (Weight: 9.3 ounces)