See Nike's New Self-Lacing Shoe In Action
The shoes sense when you've put the shoe on your foot, so we are definitely going back to the future.
Heading out the door? Read this article on the new Outside+ app available now on iOS devices for members! Download the app.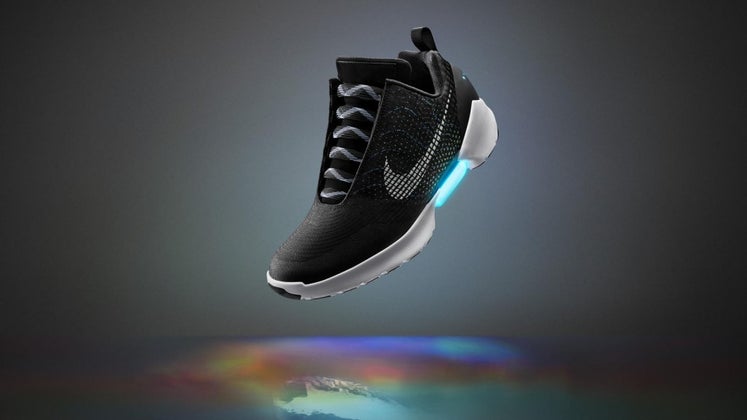 Nike has an answer for everything.
Did you know that the average American spends five hours per year lacing their shoes? Just kidding—that's just a guess. But if you're sensitive about that time you waste tying and untying, Nike just launched a product for you.
Marty McFly fans might remember this technology from the 1985 science-fiction-comedy classic "Back to the Future," but what once was the stuff of filmmakers' imaginations is now reality in the form of the HyperAdapt Trainer 1.0, which debuted on March 16 at the Nike Innovation Summit in New York, N.Y. Nike CEO Mark Parker said in a statement: "We started creating something for fiction and we turned it into fact, inventing a new technology that will benefit all athletes."
Related: Nike Will Release Self-Lacing Shoe From Back To The Future
When you slip your foot into the shoe, a sensor in the heel informs the sneaker's fit so that the sides of the upper come together to hug your foot in Goldielocks-like fit. One runner who tried it noted that the sensation was similar to a blood pressure cuff. If you want a looser or tighter fit, small buttons near the tongue allows you to adjust.
Sure, self-lacing shoes are cool, but they probably won't change your sneaker experience dramatically once you have them on. However, Nike shoe designer Tinker Hatfield says that this technology will open the door to a completely new way of thinking about footwear. He envisions sensors in the shoe that would allow the upper to expand or contract in response to what your foot needs that second. (Think: mile 10 in a half marathon, when your shoes that felt perfectly snug at mile 1 now seem unbearably constrictive.)
Related: Nike Just Launched A Game-Changing Shoe With A Funky Cuff
Hatfield says, "Innovation at Nike is not about dreaming of tomorrow. It's about accelerating toward it. We're able to anticipate the needs of athletes because we know them better than anybody. Sometimes we deliver a reality before others have even begun to imagine it."
Nike says the HyperAdapt Trainer 1.0 will be available for purchase at the end of the year for the 2016 holiday season. If you're interested in being an early adopter, you can download the new Nike+ app which launches in June; for the initial HyperAdapt release, only app users will be allowed to buy these futuristic kicks.