7 Podcasts Worth Listening To On The Run
Including one from two cover runners!
Heading out the door? Read this article on the new Outside+ app available now on iOS devices for members! Download the app.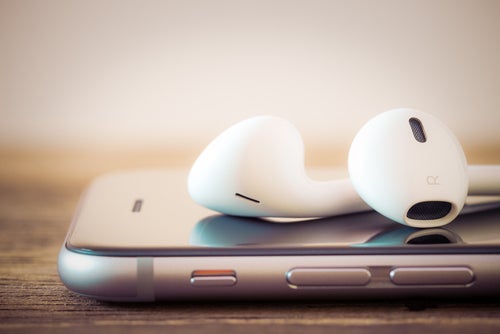 Published in part originally on Competitor.com
If you're in the market for something to listen to on your next run, we are here to recommend some of the best podcasts out there for runners. Warning: These may make you want to run a few extra miles so you can get some more episodes in.
I'll Have Another with Lindsay Hein
As of writing, runner Lindsay Hein has 65 episodes of her podcast 'I'll Have Another,' where she chats with friends, athletes, entrepreneurs and more. There are some key episodes runners will love—such as episode 40 featuring Alysia Montano, episode 33 with Shalane Flanagan and Elyse Kopecky, episode 29 with Competitor Group's own VP of Media, Jessie Sebor, and episode 11 with Sara Hall, to name a few—and for those not directly about running, you'll still learn a thing or two.
Related: Shalane Flanagan Announces First Race Since Injury
This podcast comes to you from Austin, Texas, home of Rogue Running. Rogue has become a staple in Austin's large running community, serving as a store and training hub for athletes of all levels, from beginner to elite. The podcast is hosted by Rogue founder and coach Steve Sisson (who has also coached athletes at The University of Texas) and coach Chris McClung. They discuss everything from training principles to doping to mental strategy and more. You'll get a lot of wisdom out of their years of experience and feel like you're sitting and chatting with friends thanks to their laid-back vibe.
Our own cover runner Kelly Roberts added podcasting to her repertoire earlier this year, offering short anecdotes about what she's learned so far in life. Each episode tends to run around 20 minutes, perfect for a quick run around the block. It brings to life her very honest, real Instagram posts that resonate with so many, and she hopes to open it up to more guests in the future. And, rumor has it she's working on a second podcast in the future!
Ali Feller, known for her running blog and openness about her Crohn's Disease, also joined the podcast world earlier this year. She has the perfect voice and demeanor to host a show about not only her life, but also the lives of other notable people in health and fitness. Recently she interviewed Natalie Morales for an episode, and she has had her own husband on the show for a couple episodes as well to discuss life as a significant other to someone with a chronic illness. She's always upbeat and a joy to listen to on the run!
For those of you looking to cut the BS out of your life and get real on some things, Real Talk Radio is for you. This podcast now has 11 seasons (as of writing) and a loyal following. Hosted by Nicole Antionette, you'll get some great insight into everything in your life, not just your running, and get clear about what you want. Episodes that runners will especially enjoy include her talk with Jason Fitzgerald in season one, Kate Grace's season one episode, her talk with Joel Runyon in season three, Matt Frazier's season four episode, her chat with Sarah Robinson in season six and the discussion with Nick Symmonds in season eight, to name a few highlights. Nicole is great at reminding you that we are all real people who make mistakes and can learn from the messy, gritty things that we experience to come out of it all on the other end with a real sigh of relief.
It's likely that you've come across this podcast before, but this is a reminder to return to it if you've taken a break or pick it up if you're in the market for a new listen. These conversations—Rich points out they are not interviews—are eye-opening and feature some real heavy-hitters in the world of sport and well, life in general. Right now there are almost 300 episodes at your disposal, featuring everyone from IRONMAN great Mark Allen to Travis Barker to Arianna Huffington to the legendary Dean Karnazes. As you can see, there is quite the variety, keeping you engaged and learning from various perspectives the whole way through.
Related: Ultrarunner Dean Karnazes Runs For Diplomacy
You don't just have to be a trail runner to love this podcast. Runners from every level will learn a lot about performance, rules of the trail and the mindset needed for top performance from giving this a listen. If you are strictly a road runner, however, let us warn you that you may find yourself wanting to run an ultra after listening to even just a handful of episodes, so be prepared to get the super-long-distance running bug.