An Ode To The Perfect "Tenny Shooz"—Or Running Shoes
One runner decided to trade in her tennis shoes, but it took a while to find her perfect fit.
Heading out the door? Read this article on the new Outside+ app available now on iOS devices for members! Download the app.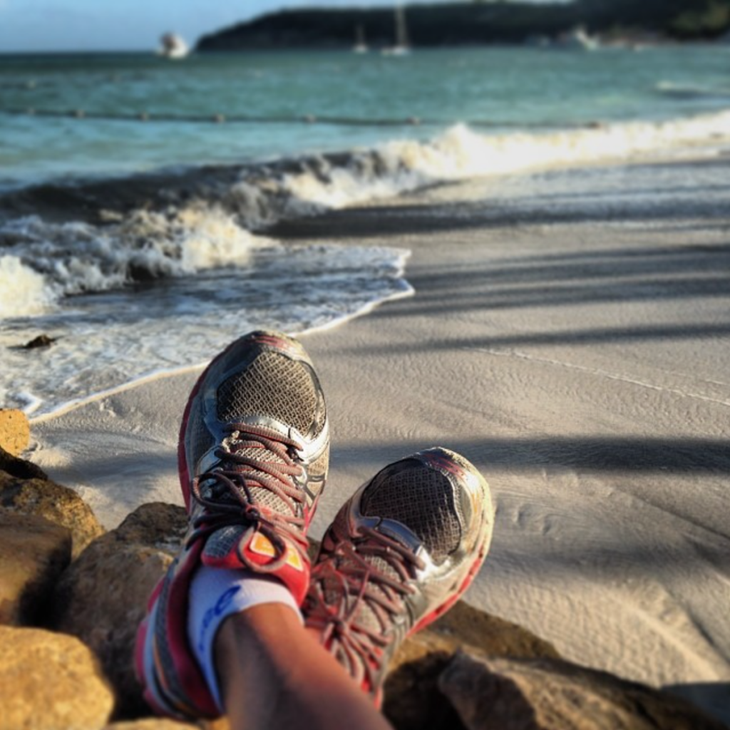 In my childhood days growing up on the Caribbean Island of Dominica—the Nature Island—all sports shoes were referred to as tennis shoes—or "tenny-shooz," rather. That meant you walked, ran, hiked, played netball, basketball and every other type of ball in that one, all-purpose pair of tenny-shooz. Unsurprisingly, the concept of being properly fitted for running shoes was quite foreign to me. In fact, it wasn't until my late 20s, when I had finished my first 10K that I decided to put aside the tenny-shooz—two-year-old cross-trainers, in this case—and invested in shoes actually meant for running.
And so, while I was on a work trip to Boston, I went to a specialty store, ran on the treadmill as the store assistant watched and mulled over my pronation, and obediently bought the pair of Brooks that he suggested. Yet for the 4 months that I used those shoes, my runs would end with a strange, shooting pain in my hips that persisted for days post-run. Rest made little difference, so being the hypochondriac that I am, I decided to see an orthopedic physician. She took x-rays, contorted my legs left and right and concluded, "No structural damage…but I'll have you do some PT."
It was that physical therapist—bless his soul—who determined that the shoes I was running in were completely wrong for my pronation. Somehow my very neutral gait had been interpreted as hyper pronation at the specialty store. I thought back to my prior months of pain. I was fuming. It was after that unfortunate experience that I was introduced to an ASICS shoe. This time I did my fitting at a running store in Brooklyn, my neighborhood at the time. I had been inside once or twice to buy some neon-colored socks here, flashy running tights there, but my first "real" purchase at that store were my ASICS. And it was so worth it.
Related: A Love Letter To Your Favorite Black Leggings
The store assistant watched me run…and I held my breath, suppressing the alarm bells starting to sound in my head. Without any hint from me about my previous running-shoe-fitting disaster, he immediately and correctly assessed me as having neutral pronation. His recommendation was the hottest-selling neutral shoe at the store: the ASICS Gel-Nimbus 12.
I liked the feel of this shoe, the blue and silver color palette and the unusual diagonal lacing—which surely had more benefit than just aesthetics! But it was when I ran outside and I felt like I was running on marshmallows—without the sticky feel, of course—that I knew this was the start of something special. In the following days, after my hips felt, well, just fine, I was hooked. Fast forward five years, three marathons, six half marathons and thousands of training miles and my Gel Nimbuses have been there every step.
Run DMC's ode to tenny-shooz was forever codified in their rap song, "My Adidas." As I get ready to replace my current pair after the Kingston City Run Half Marathon in Jamaica that was on March 13, I thought it only fitting (pun intended) to borrow from Run DMC…
we make a mean team, my Gel Nimbus and me
we run around together, run forever
and we won't be mad when worn in bad weather
My Gel Nimbus…
What tenny-shooz do you run in?
Janelle Prevost is a consummate corporate career woman and sometimes health enthusiast (except when there is a bag of Cheetos in sight). She enjoys sharing her stories of running trials and triumphs.