These Two Women Will Represent Refugees Around the World at the Tokyo Olympics
With an estimated 82.4 million refugees worldwide, these two women heading to the Olympics want to inspire hope for all of them.
Heading out the door? Read this article on the new Outside+ app available now on iOS devices for members! Download the app.
Every athlete who makes it to the Olympics arrives with their own history, challenges, dreams, and feelings about the people they represent on the world stage.
At the Tokyo Olympics, two of the women lining up on the track will not be representing a country—they will be representing the Refugee Olympic Team instead. Their perspective and their dreams are colored by having to flee their home country and adapt to life somewhere else.
Rose Nathike Lokonyen and Anjelina Nadai Lohalith are the only women selected in athletics for this year's Refugee Olympic Team. Lokonyen will run the 800 meters and Lohalith will run the 1500 meters.
"I'm not just doing this for myself only. I represent 80 million refugees all over the world," Lohalith says. She hopes her participation at the Olympics will "open a way for someone like me."
Both Lohalith and Lokonyen also competed as part of the first-ever Refugee Olympic Team at the 2016 Olympics. They have been training with world champion marathoner Tegla Loroupe at the Tegla Loroupe Sport and Training Centre in Ngong, near Nairobi, Kenya.
RELATED: In Kenya, 8 Women are Chasing Olympic Dreams and Spots on the Olympic Refugee Team
It's been a difficult year for the roughly 20 athletes who have been training in Ngong. Like everyone else, they had their routines derailed by COVID-19 closures. Unlike most, this meant they had to leave their training center for about 10 months and return to a refugee camp, which was not conducive to training. Given the disruption, Lokonyen says making her second Olympic team is her greatest achievement.
Both Lokonyen and Lohalith fled war-torn South Sudan when they were around eight years old and settled at the Kakuma refugee camp in Kenya. They both ran in a 10k organized by the Tegla Loroupe Peace Foundation in 2015, where their talent was evident, and then they started training with Loroupe, who has built this program to give refuge to refugees and to nurture their talent.
At the Rio Olympics, Lokonyen served as the team's flag bearer. Rather than a country's flag, she carried the Olympic flag. "When we entered into Maracanã stadium with the whole nation and [International Olympic Committee] President Tomas Bach cheering for the Team Refugee, then we felt that we are human beings, like others," she says. "Because whatever that human being can do, also a refugee person can do. Because that's just a status, and no one chooses to be a refugee."
After Rio, Lokonyen represented the Athlete Refugee Team at the 2019 World Relays Championships in Yokohama, Japan, and earlier this year, she was named a high profile supporter of UNHCR, the UN Refugee Agency. She sees sport as a way to inspire others and promote peace.
She hopes to encourage young refugees in particular. "They've got so many talents, and they don't have that chance," Lokonyen says. "We are giving hope to the refugees, especially to the girls."
Since the 2016 Olympics, Lohalith has competed at the 2017 IAAF World Championships in London as part of the World Athletics refugee team. She also attended the One Young World Summit in Ottawa, a global forum for youth leaders to discuss global issues.
Lohalith also became a mother: Her son is now 3 years old. "I'm so proud to be a mother. In fact, he motivated me a lot," she says. She thinks about working extra hard so that he will be able to live a comfortable life and not endure the hardship that she has, she says.
She arrived at Kakuma with her aunt in 2002. She has not been able to reunite with her parents, but she hopes to after Tokyo.
Lohalith feels a responsibility to help encourage upcoming generations. They may need someone to support them or serve as a mentor, she says. "Always in life, you need to have someone who can direct you on where you are going."
Bringing the Refugee Olympic Team Together
Loroupe has been working to encourage and empower people through sport for many years. After seeing athletic potential at refugee camps, she petitioned the International Olympic Committee to create a refugee team for the Rio Olympics. That team consisted of 10 athletes. Loroupe served as the team's Chef de Mission, a role she maintains with the current team.
This year, the Refugee Olympic Team includes 29 athletes across 12 sports. Along with athletics, they will compete in badminton, boxing, canoeing, cycling, judo, karate, shooting, swimming, taekwondo, weightlifting, and wrestling. Five men were selected in athletics, two of whom train at the Tegla Loroupe Sport and Training Centre.
The refugee team members' home countries include Afghanistan, Cameroon, Democratic Republic of Congo, Republic of Congo, Eritrea, Iran, Iraq, South Sudan, Sudan, Syria, and Venezuela.
"Now we are 29, and we want to get to know each other and also encourage each other," Lohalith says. She appreciates that the experience allows her and her fellow athletes to interact with and compete with people from around the world.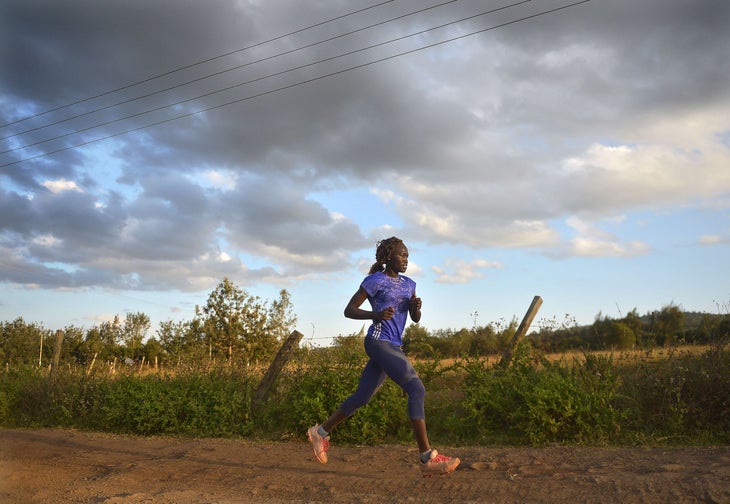 Training at Ngong
The women at Ngong normally wake up at 5:30 a.m. and start training at 6. Then they eat a balanced breakfast, which often includes tea and chapati (a type of bread).
The athletes grow their own food at the center. Lokonyen says her favorite meal is ugali, which is somewhat like polenta or a thick porridge.
Their second training session is around 10 a.m., which might include some stretching to work on their flexibility, some drills, and some speed work. They also do strength training in the gym on site, and they sometimes have evening runs as well. Lately, they've been focusing a lot on speed work, Lohalith says.
Since the training center reopened, the athletes have competed at some races in Kenya, and they have made some notable improvements in their times.
Most of the athletes at Ngong were not selected to compete at the Olympics. But, Lohalith says, "They should never lose hope . . . because the Olympics is not the only games that we can participate in." In sport, "you don't just compete once," she says. It's more of a lifetime pursuit.
Lokonyen and Lohalith are featured in the documentary RUN: The Athlete Refugee Team Story, which follows several of the runners Loroupe has taken under her wing.
At Tokyo, Lohalith says, "I know the competition might be so tough, but I will not fear. I will take it." After all the challenges the past year has brought, she says, "I will be ready to compete."
RELATED: How to Watch the Tokyo Olympics