How Paralympian Kym Crosby Gets it Done
The 100- and 400-meter athlete will be representing Team USA again at the Paralympic Games.
Heading out the door? Read this article on the new Outside+ app available now on iOS devices for members! Download the app.
Kym Crosby, 28, will be joining Team USA in the Paralympic Games, taking place August 24 to September 5, for the second time. Before the trials, she only had a hunch: "I feel like this year, I'm so ready to go and I'm so ready to go way faster than I've ever gone before," she said. Running in the 100 meters and 400 meters, she competes under the T13 classification for a visual impairment caused by her albinism.
While the pandemic was hard, Crosby was grateful for the time to rest her body and prepare for big goals: "Having this pandemic happen, it was kind of a blessing in disguise because my body got to rest and recover from that long season in 2019." And she has been putting in some real work to get ready. Here's how she gets it done.
A Day in the Life
Crosby's time is centered on two things: Training, or recovering from training. Mondays, Wednesdays, and Fridays are dedicated to lifting with drills and maybe a bike session thrown in. "Tuesday, Thursday, Saturday are harder workouts, but they don't last as long," she says. "It takes, at most, a couple of hours, and those are the intense interval training that we'll do."
What about free afternoons? "For the most part, it's just trying to recover, so anything that I can do on my own to get myself prepared to come back the next day," she says. That could mean going on a walk, jumping on the bike to get her blood flowing and the lactic acid out of her muscles, resting in NormaTecs, a contrast bath, or icing. "Any recovery tools that I need to do to get me ready to go."
Sundays are all about doing nothing—and embracing it.
RELATED: 8 Post-Run Recovery Tools That Are Seriously Magical
Her Support Team
"I wholeheartedly believe that it takes a community to get to where I'm at and where I want to be," says Crosby. But she leans the most on her husband, Erik Hightower, a two-time Paralympic wheelchair racer, and her mother, Pauline Crosby.
"They can get me out of my head if I need to get out of my head before a competition or if I've had a bad day at practice," she says.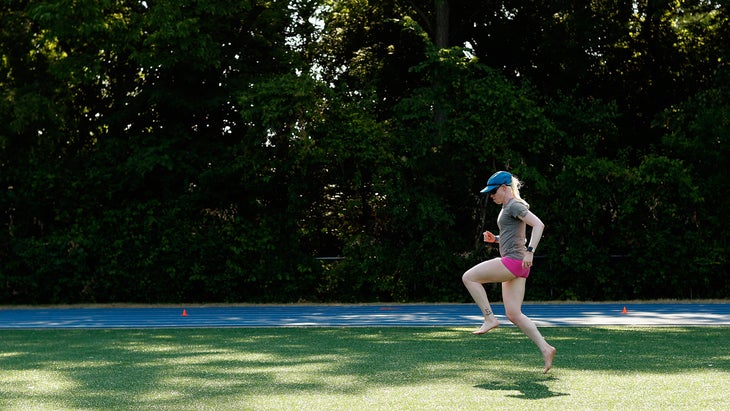 Pushing Herself
For Para athletes, there is a clear sense of less visibility than able-body athletes. Crosby wants fans to understand that Para athletes train just as hard and give just as much. "We are parallel to the Olympics," she says. "We compete at the same level as Olympians. The only difference is that we have a physical impairment. We still train just as hard, if not harder, than Olympians do. And we have the same goals as them."
For as much as she pushes herself and she sees her team pushing themselves, she'd like to see more recognition of that in America. "We want to be treated as the hard-working athletes that we are," she says.
RELATED: There's No Hill Tatyana McFadden Can't Climb
Her Mantra
"Limited sight, limitless dreams." Since she started running track in high school, Crosby has found ways, with the help of coaches, to accommodate her 20/400 vision: Looking down while she runs, she can see the contrast of the lines, but if the track is faded or the colors don't have enough contrast, she'll run in lane one, where she can see the rail on the inside. And her dreams are truly limitless. "I'm shooting for gold in Tokyo," she says—especially in the 100 meters, but she'd be thrilled to just get on the podium in the 400 meters.
In the future, she'd like to be a coach and mentor. "I want to be the person that was there for me through my career. I want to be a coach, and not just be a coach for track athletes, but if anybody in life is trying to better themselves and get healthier," she says.