You're Jealous Of Another Runner?
Turn the green monster into a golden champion who loves her own accomplishments.
Heading out the door? Read this article on the new Outside+ app available now on iOS devices for members! Download the app.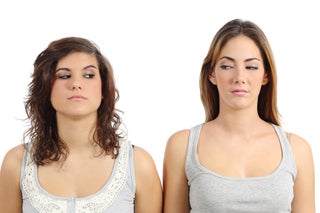 So I have this friend. She's just an acquaintance really, someone I see more on social media than in real life. And that's kind of the problem. This friend is a fellow new mom, so of course I'm constantly checking out pictures of her baby and worrying that her kid is a better sleeper or more advanced or has cuter dimples than mine does.
But worse than that, this friend is a fellow runner. She has her GPS linked to Facebook, so I was constantly seeing her daily runs posted in my feed. I saw pictures of her running a weekend race pushing her baby in a jogging stroller. But what I was seeing most often was what I wasn't doing. Her workouts were kicking my workouts' butt, and that often left me feeling more deflated than the tires in my own stroller. I would feel great about managing to fit a half-hour jog into a hectic day only to see my pal post that she ran six miles before I was even out of my pajamas. Some days when I only had 20 minutes to exercise, it didn't even seem worth it because I knew it wouldn't come close to whatever my aerobic arch-enemy accomplished that day. Real talk? I was straight-up jealous.
Related: Runners' Thoughts When Getting Back Into Shape
I know I'm not alone here (right?!). It's human nature to feel jealous of something we want but don't have, and that includes our fitness ambitions. But too much jealousy will stop you from ever reaching your goals, so it's crucial to manage your feelings. Whether you're borderline obsessed like I was, or just checking out the pace of the girl on the next treadmill, here are a couple tips to turn the green into gold:
Compare and contrast
At first I thought my jealousy was all about the fact that my friend's workout was better, faster or longer than mine. But it really ran deeper than that. I was jealous that she had both the child care and the room in her schedule for a long trip to the gym, while I was lacking a babysitter and the time for leisurely exercise. I was jealous that she was logging a lot of miles when I was still trying to get back into the swing of running after stopping during pregnancy. Eventually I realized it wasn't fair to myself to compare us when our circumstances were different, and I was able to cut myself a little slack. Before you beat yourself up over the girl who keeps smoking you in races or lapping you at the track, remind yourself that you likely have very different lives that allow for very different training schedules. You're doing the best that you can.
Motivation, not agitation
In a perfect world, the person who's bringing you down would just jog right off the face of the earth. But in the real world, you're going to run into her somewhere, whether it's online or in line for a treadmill. Not to sound too turn-that-frown-upside-down, but jealousy can be a really good thing when it motivates you to do better. Instead of letting another person's accomplishments eat away at you, figure out what steps you could take to attain them too. For me, this meant committing to slowly adding a little more distance to my runs every week to be on par with my pal.
See the big picture
One night after finishing a strength-training DVD at home, I was perusing Facebook and saw you-know-who had posted the stats about yet another run. At first I was annoyed that she had gotten in some cardio when I hadn't, but then it occurred to me that she never seems to brag about any cross-training. I may still be working on building up my running again, but I'm proud that I've kept my routine well-rounded in the meantime. I'm not saying you need to look for faults in the person you've been admiring; rather, recognize what else you've achieved and know that you'll reach your other goals too.
Focus on the feeling
Recently on one of the first really warm days of the season, I went for a hike with my family. Later that afternoon, I took my son out in the stroller for a jog around the neighborhood. At the end of the day, I was so aware of how great I felt, both physically and mentally. My legs felt sore, my shoulders burned and my core felt tight, but all in the best way possible. The endorphins were flowing, and I felt strong and accomplished. It was such a great feeling, one that I had been missing in large part because I was too busy focusing on someone else. When you run, try to take a minute to realize how awesome you feel. The more you focus on that, the easier it will be to let go of some of your jealousy.
I'd be lying if I said it never irks me when my friend posts about some epic run when the only thing epic about my day is the pile of laundry I have to get through. But now I feel pretty great about my own workouts and have shed most of the jealousy. Except about my kid's dimples.
Alison Barsalona is a stay-at-home mom to one baby and one beagle.  She is working on getting her running and fitness groove back and perfecting the art of the jogging stroller.