Victoria Arlen's Incredible Journey From Paralysis To Runner
Childhood illness once paralyzed Victoria Arlen and nearly took her life. Eight years later, she has not only taught herself to walk again—she's also learning to run.
Heading out the door? Read this article on the new Outside+ app available now on iOS devices for members! Download the app.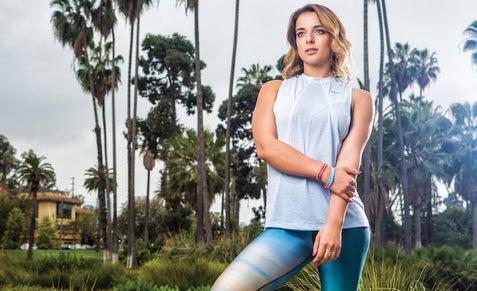 Fighter Mentality
What happens when someone tells Victoria Arlen she cannot do the seemingly impossible? She proves them wrong, of course. The 23-year-old from Exeter, N.H., spent ages 11 through 15 in a vegetative state after contracting transverse myelitis and acute disseminated encephalomyelitis, diseases that attacked her brain and spinal cord and left her paralyzed. Since fighting back to consciousness in 2010, Arlen has dedicated herself to living as full a life as possible, becoming a Paralympic gold medalist, ESPN host and teaching herself to walk—and run—despite grim predictions that she'd never again do either.
Speaking with Women's Running over the phone while shopping for jeans at a mall in Hartford, Conn., Arlen sounds like any typical, ambitious young woman with a busy schedule and a bubbly personality. One week earlier, she was cheerfully posing beneath palm trees and running in spurts for a photographer in Los Angeles' Echo Park, smiling wide and suggesting angles for Instagram "boomies." She's just as likely to be seen modeling for companies like Jockey as she is lounging in a shirt that reads, "Do yoga, eat healthy, put on some gangster rap and handle it." ("It's very Victoria," Arlen says of the shirt's message.) It's easy to momentarily forget who this person is and what she's been through until she casually starts using terms like "vegetative state" and "paralysis." That's when I realize that these words are not only part of her daily vocabulary—they're part of who she is and speak volumes about the person she has become.
Arlen matter-of-factly sharing her story as muffled Top 40s music plays in the background begs the question: How would anyone else handle a fight for survival with the odds stacked against them? Most assume they'd fight as long as necessary to see daylight again, but four years is a long time to spend drifting in and out of consciousness. In Arlen's case, she devised "Face it. Embrace it. Defy it. Conquer it." as her go-to motto and key survival tool. It's humbling to imagine a kid at that age finding the strength in themselves to pull through that kind of experience. "Being only 11 when I got sick, it was just straight-up curiosity," Arlen says of her survival mindset. "I had so much I still wanted to do, so much I hadn't achieved yet. I wanted to live, and I wanted to be able to thank my family and live the life I had imagined. I didn't want to go out lying in a hospital bed."
Then-11-year-old Arlen hadn't yet driven a car, worn high-heeled shoes or earned a spot on a USA Olympic team, all things she wanted to experience. A competitive athlete even then, Arlen and the small army of doctors behind her recovery give the determination she learned by playing sports credit for her ability to bounce back. "Having that competitive mindset helped me tremendously," Arlen says. "A lot of doctors would say, 'She's just fighting. She's a fighter.' That's how I was brought up: You work toward something and you fight for it."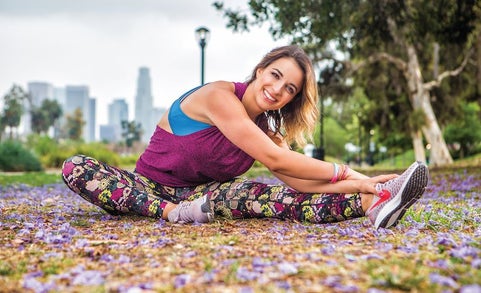 Arlen's introduction to running was through field hockey, one of the many sports that she and her three brothers embraced. As a triplet surrounded by sporty brothers and athletically inclined parents, Arlen was like a kid in a candy shop, eager to try any sporting opportunity that came her way. "My mom had to reel me in because I would just want to do field hockey, hockey, competitive dance, swimming," Arlen says. Her mother's influence as a former Division 1 swimmer for University of New Hampshire and Arlen's own affinity for the water made swimming her favorite activity. "My brothers were always at the hockey rink with my dad, and I would be at the pool," Arlen says. "It was a huge part of my life. I told my mom I wanted to be an Olympic gold medalist."
Arlen's concept of competition changed when she landed in the hospital. "It was ultimately a whole different competition: a competition of surviving," Arlen says. With her prognosis dim and future uncertain, Arlen's family remained steadfast, sticking by her side and motivating her to return to them. "My family is the wind beneath my wings and always has been. I didn't want to leave them," Arlen says. "I had too much I wanted to say to them. I just wanted to thank them."
Arlen's faith was another strong motivator in the fight for her life. She recalls praying for long periods of time as a child, responding to an early obligation she felt to contribute in a positive way to the world around her. "My mom would try to put me to bed, and I'd say, 'Mommy, Mommy, we've got to change the world! How can we help people?' My prayers were literally an hour long every night." That resolve only strengthened when Arlen suddenly found herself in need of help. Though unable to communicate for years while in her vegetative state, Arlen was able to hear what was going on around her for most of that time. "I created a very hefty bucket list and made a deal with God: 'Okay, if I get a second chance, not only am I going to use it for good, but I'm going to use it to change the world, help others and make every moment count.'"
It's not unusual among those who experience a life-changing event as traumatic as Arlen's to feel a responsibility to harness life and do good for others. This has in Arlen's case materialized in the Victoria's Victory Foundation, an organization that offers financial support through scholarships and grants to 
mobility-impaired individuals striving, as Arlen did, to overcome the physical or mental challenges standing in their way. "There are other Victorias out there," Arlen says. "There are other people who are going through something and need a little hope."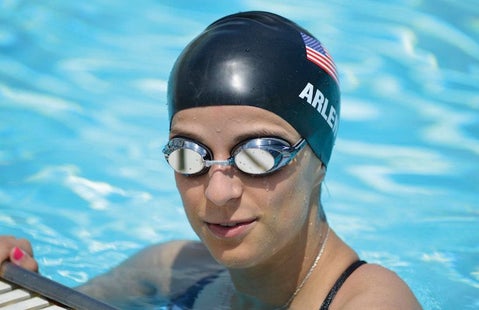 Eight years since she emerged from her vegetative state, Arlen has become the ambassador of her very own brand, trademarking the motto she invented to get through what she calls "my darkest period" and lending her name to the foundation she launched in simultaneous efforts to make a difference. The progress Arlen has made as an athlete and career professional is a more personal example of how she's making good on her second chance, but it too has impacts felt far beyond her. In 2012, Arlen joined Team USA at the Paralympic Games in London, swimming her way to three silver medals and the gold she'd dreamed about as a kid. Shortly after, Arlen became determined to leave her wheelchair behind and enlisted the help of physical therapy teams at the Project Walk recovery center, first traveling across the country to San Diego, Calif., for treatment before her parents invested in the launch of a new facility near her birthplace in Boston, Mass. In the spring of 2016, Arlen began walking again, and just over a year later, her mobility had improved well enough for her to be a serious competitor on the 25th season of Dancing with the Stars.
Arlen's transformation from paralyzed child to Paralympic teenager took yet another turn when she accepted a role as one of ESPN's youngest on-air talents at 21. Her experience as a Paralympian gave her a unique perspective from which to report on events like the Special Olympics World Games and the Invictus Games, enabling her to relate to the competing athletes on personal and professional levels that most other reporters could not. "I get what this means to [the athletes]; I've been there before," Arlen says. "And I know what it's like to have a microphone in your face."
Being thrust into the spotlight first as a survivor and later as a gold medalist gave Arlen a deeper appreciation for the truth and an understanding of why athletes like her want their stories told correctly—especially since errors continue to pop up in public portrayals of her story. An internet search for details of Arlen's illness and paralysis reveals a murky, contradicting timeline, and even the "coma" terminology that several sources use is incorrect. "It was a four-year vegetative state," Arlen clarifies. "There's a significant difference. There were some articles that said I was paralyzed from the ages of 11 to 24. I'm 23, and I was paralyzed from 11 to 21. Those are the [details] that I want to be correct. That's why I wrote my book—to be like, 'This is me. This is my story.'"
Arlen's forthcoming memoir, Locked In: The Will to Survive and the Resolve to Live, expected out at the end of August, was Arlen's foray into the long-form writing world—and another item she can now check off her bucket list. The book features a foreword written by her Dancing with the Stars partner, Valentin Chmerkovskiy, who, like Arlen, was in the midst of his own book-writing process while they appeared together on the show. "Writing my book was the hardest thing," Arlen says. "I would take swimming for hours on end or running a marathon, as much as my legs would kill me, over writing my book. It's one thing to physically go through it, but when you emotionally go through it, it's a whole other ball game." Even so, Arlen reignited a passion for storytelling as she wrote, something she first discovered while reporting for ESPN. The storyteller role is another responsibility she gladly accepts, aware of the sensitivity needed to discover and share previously untold narratives. "A responsibility that goes for anyone in this world is to be a good role model, tell meaningful stories and inspire the next generation to want to be good. That should be [everyone's] motivation: to aspire to inspire and be a good role model."
Locked In is a testament to how far Arlen has come in the last 12 years, a reminder that Arlen herself seems to appreciate. Constantly on the go, traveling for work or to visit with family (Arlen and her mother have a deal: They won't go longer than two weeks without seeing each other in person), Arlen appears from the outside to take everything in stride, quick with a smile for those who don't know her well and determinedly positive across her social media channels. It's difficult to gauge what lies beneath the surface of her cheery exterior—and maybe she really does exude confidence and happiness 100 percent of the time. If not, she doesn't want the public to know, although she is comfortable explaining a select few bumps from her road to recovery, even if those too are shared enthusiastically.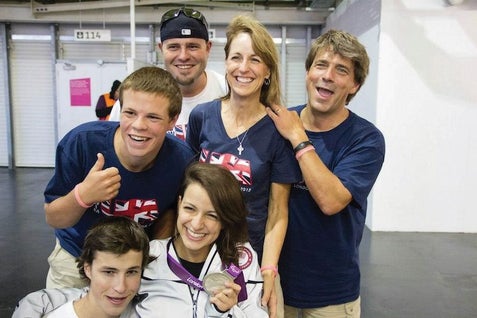 The struggle Arlen faced during her return to running is one of the bumpy topics she's eager to discuss. "I looked like a galloping baby giraffe," Arlen jokes of her early attempts. "I can't feel my legs, so I really am just going in my head, Left, right! Left, right! Left, right! High knees!" She's been working with her team of trainers since she began walking to build leg strength and improve her leg response speed. On location with the photographer in Los Angeles, "They [WR's editor-in-chief] told me to think about stepping on lava," Arlen recalls. "That has made such a difference when I run."
Though she's focusing on sprint workouts while fine-tuning her running mechanics, Arlen has far larger goals where running is concerned. "I do want to run a marathon one day. Because I was paralyzed, I have to be a little kind to my legs," Arlen says. "Once again, I do not recommend being paralyzed for 10 years." The bucket list she created while drifting in and out of consciousness years ago also includes winning an Academy Award in the style of Meryl Streep or Sandra Bullock ("[They] can turn on the funny but also create these characters that just mesmerize you and pull you in."), continuing to build her charitable foundation and identifying "productive and impactful" creative projects with which she can collaborate. "Every night when I put my head on the pillow, [I want to] know that I've made a difference. That's really my goal every day."
The same fighter mentality that helped her survive and pushed her to Paralympic wins on the world stage is what drives Arlen to continue pushing and challenging herself. Would a gold-medal swim have been possible without first enduring life-threatening illnesses? Possibly. Would the Victoria's Victory Foundation exist without Arlen's elevated profile as a Paralympian? It's hard to say. Arlen, for one, isn't questioning any of it. "I have been given this miracle, and I want to use that to help other people find [their own] miracle, whatever that may look like," Arlen says. "If I can make a difference in one person's life or use what I've been blessed with to give to others, then that is a huge thing off my list."
Related:
Sneak Peek: Inside Our August 2018 Issue
An Aggressive Neurological Disorder Didn't Stop This Mother Runner
She Suffered A Gnarly Injury But Fought Her Way Back To Running