Tracksmith Launches Varsity Club Program to Support Collegiate Athletes
New name, image, and likeness program aims to aid athletes hoping to transition to the next level of competition
Heading out the door? Read this article on the new Outside+ app available now on iOS devices for members! Download the app.
In an ever-evolving world of athlete support models, and in light of landmark 2021 NCAA legislation allowing college athletes to be compensated for endorsing products, many running brands are getting on board the name, image and likeness (NIL) deal train, which allows them to monetize their own personal brand while endorsing a brand's products or services.
Tracksmith has a novel proposition with its newly announced Varsity Club program, which will provide support and development opportunities to college track and field and cross-country athletes who are hoping to transition to the next level of competition after graduating. Members will receive a Tracksmith gear stipend and mentorship from Tracksmith's Amateur Support Program athletes throughout the year, and will travel to Europe for training and competition at the end of their 2024 collegiate seasons, a perk they likely wouldn't get from their college programs alone, says Nick Willis, Tracksmith's global community manager and program director for Varsity Club.
In addition to allowing athletes to obtain gear and earn a small amount of money, these programs also aim to help aspiring professional runners navigate the transition from post-collegiate running, which, for many athletes, doesn't necessarily mean a full-fledged sponsorship contract immediately upon graduating. Molly Sughroue, 28, an elite middle-distance runner based in the Denver area, who joined Tracksmith's Amateur Support Program in 2022, notes that while she was fortunate to find a group of women who were also unsponsored and trying to find their way, this is something she could have used when she graduated from Oklahoma State University in 2019.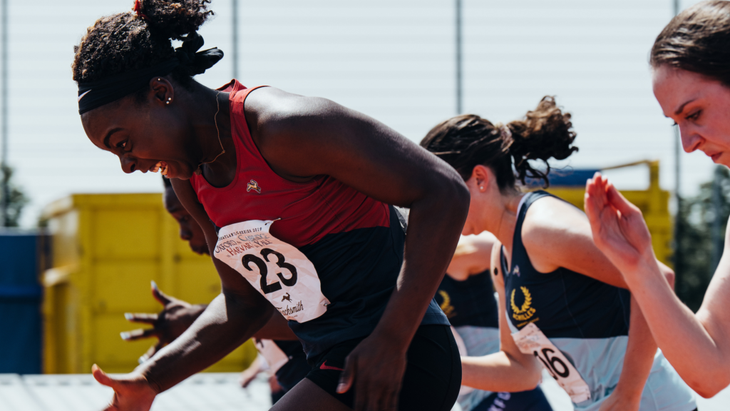 "Even though I didn't end up with a professional contract, I felt like I had unfinished business on the track and I wanted to keep going," Sughroue says. "I was really lucky to have that group of women to help me learn things because I just felt so clueless. Any type of support and guidance, especially right after college, really helps."
Former professional middle-distance runner Mary Cain, who founded the nonprofit Atalanta NYC with the goal to provide athletes the opportunity to be financially supported to train and race while building their professional skills and giving back to the next generation, shared that sentiment.
"Unlike in college, where most programs put athletics first and make it easy for athletes to prioritize their training, it can be harder to find balance with [another different] career and this adjustment can be tough for a lot of people," Cain, who also previously worked as a community manager for Tracksmith, says. "Our sport often romanticizes training 'full-time," and people are used to seeing how post-collegiate running is done from that lens versus having role models who've learned how to balance both their careers and sport."
"With the enjoyment and success that we've had with the amateur support program and how it's helped athletes with post-collegiate running, we realized 'what better way to help prepare them before they get to that point?'" Willis, who is a former professional athlete and five-time Olympian for New Zealand, says. "Now that we have a legal ability to support collegiate athletes, it was an opportunity to get ahead of the game so we can support and equip them, and provide them with experiences and resources so that when they finish with their college eligibility, they're already pre-equipped to handle the challenging space they're entering after college."
What is an NIL Program?
NIL programs allow college athletes to use their name and promote themselves through products and services to earn money. In this instance, they will be able to do so by wearing Tracksmith gear in their everyday lives as college students and athletes, as well as in their own social media posts and platforms, in addition to Tracksmith's social media and other content.
Since 2021, NIL programs have allowed college athletes to partner with brands for sponsorships and other marketing opportunities. NIL programs have also traditionally served as legal protections that allow collegiate athletes to pursue partnerships with brands and other professional domains.
Through the Varsity Club program, which will be made up of 10 selected athletes, Tracksmith will give student-athletes the resources they need to compete at the highest level and the opportunity to gain firsthand experience and learn what it takes to be the best on and off the track. Program benefits include:
The opportunity to travel Europe for a week-long trip including competition, training, and spectating opportunities. Travel, lodging and meals are included.
Gear stipends for Tracksmith apparel, footwear and accessories, as well as access to the latest Tracksmith product introductions and consideration for wear-testing programs.
An assigned mentor from Tracksmith's Amateur Support Program, as well as access to bi-monthly seminars and Q&A sessions with elite athletes, agents, coaches, and media personnel to help with preparation for post-collegiate athletics.
"We want to connect these athletes with all of the important players in the post-collegiate world when it comes to navigating the space on their own," Willis says. "Having been a professional athlete for 15 years, hopefully there are also small elements of my career that I'm able to lean on that they can relate to and ask questions to me as the program director as well."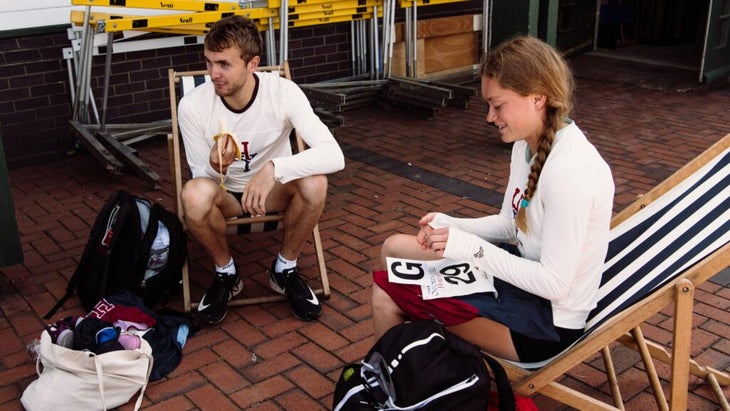 "Willis has been a big help, as I don't have an agent, in getting into races and meets if can, or about other races that should be on our radar," Sughroue adds. "I didn't have anything like that after college. I didn't know how any of that worked at all, so having any sort of mentorship would have been a huge help for me."
"Getting the chance to learn from athletes who balance their training and careers could be really beneficial to young people who plan to balance their running and work," Cain adds. "Here in New York, there are so many post-collegiate clubs where athletes can learn directly from other athletes how they balance sport and work, but it's new to have something where a brand directly supports that mentorship."
Of course, in today's ever-evolving world of social media, young athletes in particular need to keep their own well-being in check when it comes to what they're agreeing to do as part of these sponsorship deals. Cain noted that while it's important for athletes to be celebrated and valued for more than just their performances on the track, it's also key to make sure they receive legal guidance before signing any type of contract.
"The NIL system is still so new and it's really important for athletes to work with true professionals who are only working in their best interests," Cain says. "I believe finding new ways to bring money into the sport is huge, since sponsorship money has been dropping over the years as using social media influencers (both paid and unpaid) have become a bigger strategy for running brands."
Program Requirements
Through the Varsity Club, Tracksmith aims to support athletes as they navigate the transition from collegiate to post-collegiate competition. At the same time, the brand will also ask that selected athletes abide by the following guidelines:
Wearing Tracksmith performance and lifestyle products when appropriate (such as at practice and around campus) and at any non-NCAA competitions
Working with Tracksmith's marketing team to craft authentic and engaging social media posts and other content that feature Tracksmith products to elevate the brand's storytelling and leadership in running culture
Actively participating in events throughout the year to help maintain community and social interaction with their fellow Varsity Club athletes
"We want these athletes to connect together, so these programs will be the drawing point that will bring them together, though hopefully there will be some communication among the athletes throughout the process so that when we make the trip to Europe together, everyone will relationships that have grown so they feel a strong bond and connection as we head over there as a team," Willis says. "Long-term, the real benefits will be from the experience and the knowledge they'll gain from this program and hopefully they'll feel more prepared for life after college afterward."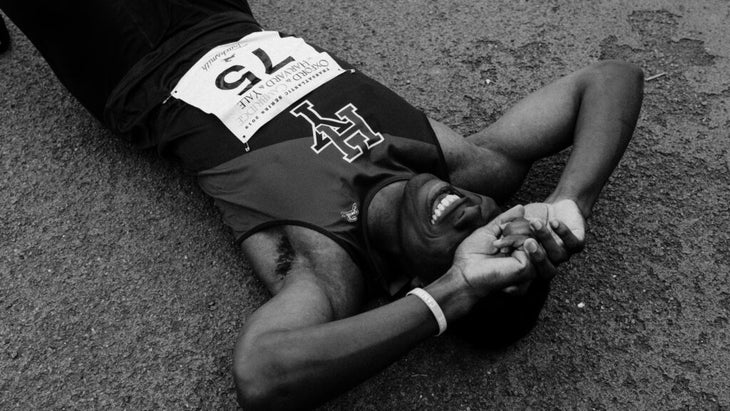 Who Should Apply?
The Tracksmith Varsity Club program is open to current track and field and cross country athletes competing at the national level across all NCAA divisions. Athletes who best demonstrate how the specific offerings of the Varsity Club will further their competitive goals during and after college will be selected. While only American athletes are eligible, Tracksmith encourages athletes of diverse and underrepresented backgrounds to continue to boost representation within the sport. Prospective student-athletes can be at any point in their collegiate career and will have to reapply each year that they wish to continue with the program. Athletes wishing to compete in next year's Olympic Track and Field Trials will have an impact in selection as well, Willis says.
"Being a team player is just as important as performance," Willis says. "In my experience with the Amateur Support Program, those who foster and cultivate an experience with the team together and as a unit make it helpful to have personality types who will get off the couch and walk across the room and introduce themselves and help bring the group together. So if people are able to show that they have their own skillset as well, that's also an attribute we're looking for."
To apply, student-athletes should submit a short video lasting 2 minutes or less sharing why they love competing, their goals for the year, and how the Varsity Club will facilitate their growth as an athlete and future leader of the sport. Applicants are encouraged to be authentic and creative. Video submissions are due Wednesday, Sept. 20 at 11:59 p.m. Eastern Time. Questions about the program or the application process can be sent to community@tracksmith.com.
"You feel like you have to have a sponsorship or a contract to keep running post-collegiately, but that isn't always the case," Sughroue says. "Having a support system is the biggest thing, as well as just giving yourself the time to adjust to a new phase of life.