Two Women Invite You To Join The 13.1 Challenge
Joan Lentini and Tara Yasenchak share the story behind The 13.1 Challenge and explain how runners of all endurance levels can participate.
Heading out the door? Read this article on the new Outside+ app available now on iOS devices for members! Download the app.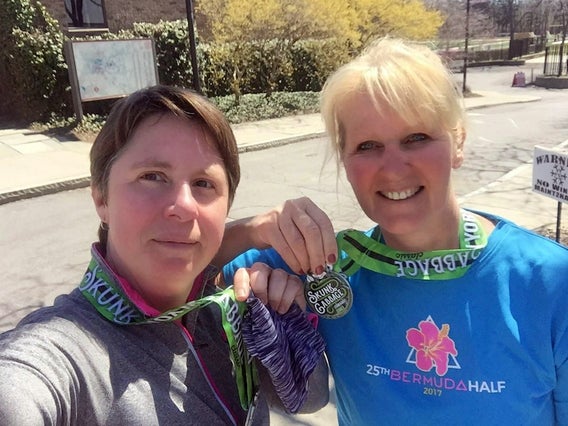 What Is The 13.1 Challenge?
When Joan Lentini, 59, won an award for having the slowest combined time for a female in the Catharine's Gorges Skunk Half Marathon Series (consisting of the Skunk Cabbage, Gorges Ithaca and Catharine Valley races), instead of feeling discouraged she called her running friend Tara Yasenchak, 45, to laugh about her win. Joan's prize consisted of three free entries into the series for the next year. It was then that the 13.1 Challenge was born, a challenge we all may want to join.
Related: Real Runners: I Discovered The Magic Of Running Groups
Joan and Tara had already scheduled three half marathons for 2017. Now Joan had free entries to three more. If they were both going to run six half marathons in one year, why not bump that number up to 13 and volunteer at another? As Joan and Tara started working on logistics, they decided to expand their efforts to invite others to join and give back to their favorite cause, animal rescue, at the same time. Inspired by their Czechoslovakian heritage, they created the Crazy Running Czech Girls Facebook group and created three levels to the challenge:
The Basic involves running 13 5K races.
The Strong is for 13 10K races.
The Mighty is for 13 half marathons.
Each level includes volunteering at a race corresponding to the participant's chosen distance to make up that final 0.1 effort. When the challenge is complete, participants earn a T-shirt and a 13.1 medal, and a donation is made to local animal rescue organizations.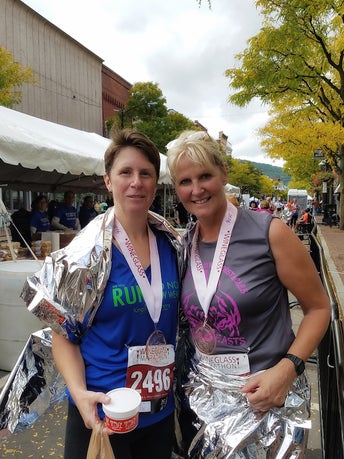 A Shared Love For Animals—And For Running
Joan and Tara first met through their shared love of animals, when Joan answered Tara's dog walker ad for her pet care company. Soon after Tara hired Joan, they became friends and subsequently discovered each other's love for running. Both ladies started running while in college. Joan continued running into her 30s before moving on to cross-country skiing, weightlifting and crew during her 40s. Tara started running in college to stay in shape for competitive volleyball and continued because she likes to eat–a common quality among runners. In addition to racing numerous shorter distances, Tara has completed six marathons and two Dopey Challenges. After Tara and Joan met, Joan got Tara into rowing and they both became master's national rowing champions. Meanwhile, Tara inspired Joan to return to running after a 20-year hiatus. They ran the first ever Gorges Ithaca Half Marathon together and have run it every year since. With Tara's encouragement, Joan finally ran her first full marathon in October 2016: the Wineglass Marathon in Corning, NY.
For the 13.1 Challenge, Joan and Tara designed their racing calendar based on what can be accommodated by their work schedules, race locations and opportunities for even more racing. They often participate in more than one race during their away weekends. "We started this year running the Bermuda Triangle Challenge, a one-mile, a 10K and a half marathon in two and a half days. We are already making plans for our January 2018 multi-race challenge, which is fast becoming a tradition for us," Joan explained. They each train on their own, as they are "independent souls that prefer the solitude of solo training," but usually run the races together unless one of them has a goal to target. Their mutual love for animals and their work in petsitting made it easy to choose local animal rescue organizations as the beneficiary of their fundraising.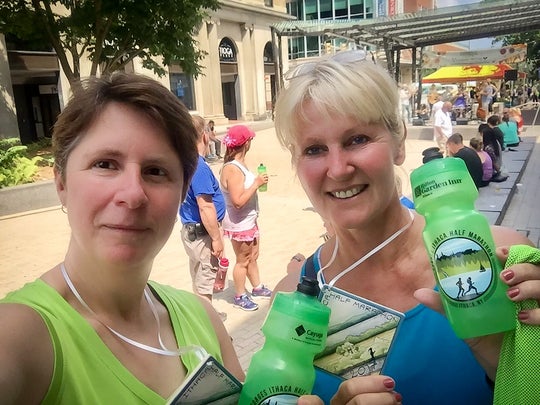 The 13.1 Challenge For All
Joan and Tara's main reason for creating the challenge and Facebook group for other people to join was to inspire others to look for ways to challenge themselves at any age while still having fun. Having the option to join the challenge at the 5K and 10K levels makes the challenge accessible to runners of all levels. "We want to emphasize that we are just regular people who enjoy being active. We are not elite runners, super athletes or very fast runners. We want to encourage other people to show them that anything is possible, that age and ability don't have to limit you. We don't train every day. We train when and how we can in between jobs and family. We both have multiple jobs that keep us going. We often laugh at why we find this fun, but we love doing what we do."
To learn more about the Crazy Running Czech Girls, visit their Facebook page and find the 13.1 Challenge on Eventbrite.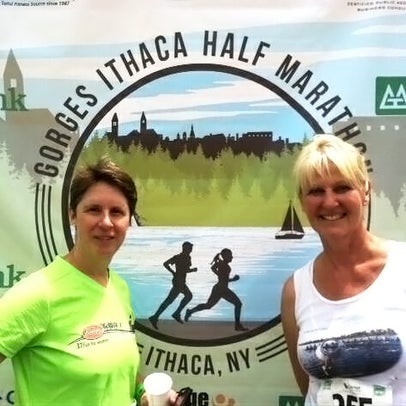 Related:
Study Says Group Runs Can Make You Smarter
Why Running Groups For Moms Are All The Rage