She Suffered A Gnarly Leg Injury But Fought Her Way Back To Running
After she tore ligaments and tendons and broke a bone in her leg, she thought she'd never run again.
Heading out the door? Read this article on the new Outside+ app available now on iOS devices for members! Download the app.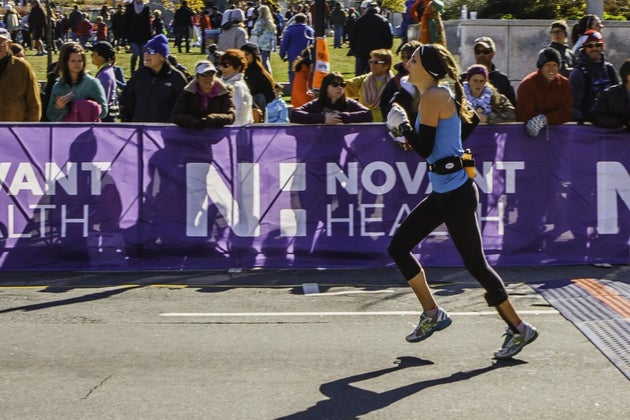 Lisa Victorius
Age: 28
Wallingford, PA

Being pregnant with my first child coupled with summer heat, not to mention having foot drop paralysis, would all be easy excuses not to run, but I won't let anything stop me from getting up and becoming an inspiration to all women out there.
I found a love for running at a very young age. Like many young athletes, I was motivated by my family. It seems like everyone in my family were runners, including my grandfather, parents and my brother. By middle school, I was ready to join the track team. At the time, I was only 4′ 6″ and 97 lbs. so I realized that I wasn't going to go very far trying to throw the shot put. Instead, my coach asked me to join the relay team.
Once in high school, running became a regular part of who I was. So much so, that I began to turn heads on my cross-country and track team and was offered an opportunity to compete on the cross-country and track teams at the University of South Carolina upon graduation.
It wasn't long before I was awarded the Rookie of the Year award as a freshman runner and even had the opportunity to take on a new challenge with the 3,000-meter steeplechase. It turned out I was pretty good, and even surpassed the school record. Just as things were going well for me, the one activity that had always made me feel really good about myself quickly turned a dark corner.
It was a Wednesday morning and I was preparing for the 3,000-meter steeplechase. While jumping over hurdles, I tripped and fell hard and with only 200 meters to go I figured I would jog in, but after taking a few steps I fell. This time, it felt as if my lower leg had been torn off when in reality, it had bent in the wrong direction. As I lay screaming on the track, my coach ran over and called the trainer.
A visit to an orthopedic surgeon and an MRI indicated that I tore my meniscus, my anterior cruciate ligament (ACL) and lateral collateral ligament (LCL), my IT band and hamstring tendon, fractured my tibia and significantly damaged my cartilage. After, I was fit with a temporary cast to immobilize the injured area while I awaited a surgical repair. The one thing that I couldn't understand is why I could not lift up my foot. During surgery, my orthopedic surgeon determined that I had also damaged the nerve to my foot; thankfully it was still intact, which left me with foot drop (a paralysis of the primary muscle that lifts the front part of the foot).
Following this injury, I thought that I would never get back to what I love to do most, the one activity that defined who I was—running. After being in a brace, going through physical therapy and crying myself to sleep many nights thinking I would never run again or even dance at my wedding, I was led to a saving grace.
My orthopedic surgeon introduced me to an orthotist who had fit another woman, with a similar passion for running, with an Allard ToeOFF ankle foot orthosis (AFO). He asked that I try the same orthosis and that was the first time in over eight months that I walked normally. He not only gave me a brace that day, he gave me hope. Three months later, with my new orthosis, I ran my first half marathon with Beth Deloria, the woman he had told me about.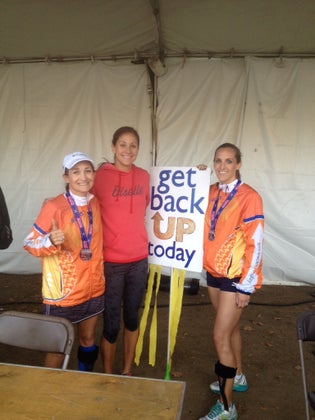 To me, this was my way of saying that I did not let this injury stop me from getting back up. Just participating in this race was a victory. After competing in several additional races following this event, I attempted to qualify for the Boston Marathon and only missed qualifying by two minutes. Two years after competing with Beth in my first half marathon, I was also given the opportunity to join her as a TeamUp—the first and only national group of people with foot drop—co-captain.
Today, I am realizing that nothing can stop me from being the runner, woman and soon-to-be mom that I want to be. I will hopefully instill that same determined spirt in my son.
MY BEST ADVICE: IF YOU WORK REALLY HARD YOU CAN DO ANYTHING. SO DON'T STOP RUNNING!