Starting A Running Blog Can Make You A Better Runner
Sharing your running life with others could have a positive effect on your training.
Heading out the door? Read this article on the new Outside+ app available now on iOS devices for members! Download the app.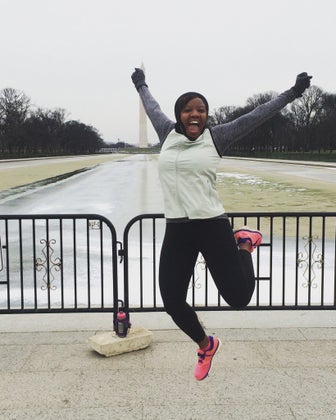 When I first started my blog, I had no idea that I would still be doing it years later or that I would actually enjoy it so much. I think that having a blog has a number of benefits, but what I didn't expect was that having a running blog would actually help make me a better runner. It sounds kind of strange to say that something completely sedentary would help my running, but it's true. Here are s my reasons:
My circle of running friends has grown exponentially. When you start writing a running blog, you meet so.many.runners (both in person and online). Having so many friends who also run helps to keep it interesting. There is always a friend who is running some fun race that is intriguing or trying a new route or doing something fresh and interesting. For me, that helps to keep it fun because I'm not out there doing the same thing day to day. Even if I'm not actually doing all the adventures my friends are, I can live vicariously and get motivated. It encourages me to go find my own!
I'm able to share tips and ask questions. This goes hand in hand with my first reason. When I was considering running back to back marathons, I was able to talk to running friends who had done it and get their advice. When I am curious about a marathon, I can usually talk to people who have actually run it and get their opinion. Having sounding boards for different areas of life is always helpful and running is no different. I appreciate being able to get feedback from the running friends that I've made directly as a result of having a blog.
Since part of being a running blogger is [shocking] blogging about my own training, I am constantly motivated by the fact that I'll be sharing everything. I should say first of all that my running really is self motivated – I like to set goals, reach them and grow to benefit myself. However, if I'm being completely honest, there are definitely times when I've wanted to quit on a run (ahem like this tempo run recently). I thought about what I would write in my training recap. Sometimes that thought is all I need to just stay the course.
I'm definitely not suggesting that everyone start a running blog (however, if that's something you're interested in, I have some tips to get you started here). But having a blog and being a part of a community of runners has definitely been one of the best things that has happened to my running and has helped make me a better runner!