She's Running 3 Marathons In 3 Trimesters Including Boston
The first at 3 months, second at 5 months and the final—Boston—at 7 months pregnant. Incredible!
Heading out the door? Read this article on the new Outside+ app available now on iOS devices for members! Download the app.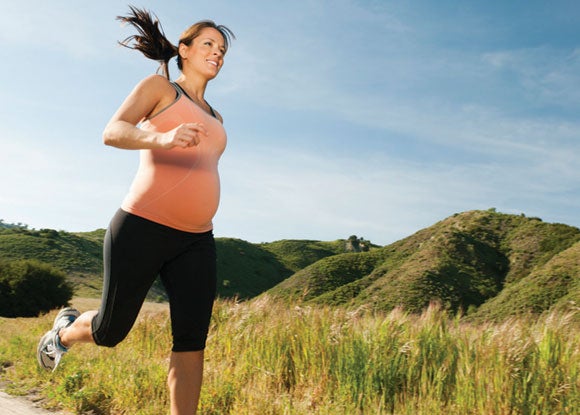 After my husband, running is the love of my life. It is as essential as breathing, as water. When I found out this past October that my husband and I were expecting our first child, I was overcome with pride and happiness. But naturally, my very next thought was, Oh man, but I've been training all summer. I won't get to run Dallas or Austin…AND BOSTON?! I had worked so hard to qualify for Boston the year before and but was deeply saddened to let that dream go until the next year.
Related: The Do's And Don'ts Of Running Through Pregnancy
As the weeks rolled by and turned into months and as Dallas loomed closer and closer, I continued running, slowly putting one foot in front of the other and chasing the miles that taught me to be a stronger woman. It seemed that so many people were telling me to take it easy, to put my feet up and eat whatever my heart desired. And then one day it hit me:
Pregnancy is not an illness. It is not a weakness. My body is able to do something that takes a considerable amount of fortitude. My body was made to carry this child, and my body was made to run.
After the morning sickness passed, I felt empowered and renewed. I started giving Dallas a second thought. I brought it up to my obstetrician (who trains on my team at Rogue Running and is an incredible marathoner) and he assured me that as long as I listened to my body and hydrated and fueled properly, I would be fine to still run Dallas. I did just that on Dec. 13, 2015, at three months pregnant. It was the toughest  race of my life and significantly slower that my pre-pregnancy goal time, but I finished with a 3:53:27. I never stopped and I never walked. I was proud.
Related: This Runner Mama Ran For Two At The Boston Marathon
I immediately set my eyes on the Austin Marathon two months later, on Feb. 14, 2016. Doc cleared me with the same advice to run. And run I did. At this point, I was five months pregnant and had a pretty obvious baby bump. The love and support I received on the course was overwhelming and something I've never experienced. I ran slowly and had more fun than I thought possible. Here I was, doing what I love more than anything in the world and carrying my child. How can I convey the honor I felt? I finished with a 4:23:54. I never stopped and I never walked.
That brings us to Boston, where I will be seven months pregnant. My obstetrician has cleared me to run. He will also be running and will give me a check-up immediately after the race. Lucky me—Boston! To other runners, I do not have to say more than that one word. To everyone else, I say, "Imagine running with tens of thousands of the most passionate people on the planet."
Related: Don't Sell Your Workout Short Based On Your Mom Schedule
Why, though? Why continue to run marathons? It didn't start out as this, but somewhere along the way I realized that I am running for my daughter, who will grow up in a world where media and society might still say that a woman is worth only her appearance. That same world might have her believe that she is second best in strength and value to her male counterpart; a world that encourages self-doubt and perpetuates the stereotype that women are weaker. A world where women are taught to find compliment in the words "pretty" and "thin."
Because of all that, I am running to say to my girl:
Daughter, you breathe fire and you are mighty because you are a woman. You are worth your weight and more in stardust because you are a woman. Women are strong and powerful, and in that strength and power lies our beauty. Live fiercely and bravely, my daughter because you are a woman.
On April 18, 2016, my daughter and I will get our unicorn.