7 Reasons Running In The Spring Is Winning
Every season had its perks and downfalls, but spring seems to have the longest list of pluses when it comes to runner benefits.
Heading out the door? Read this article on the new Outside+ app available now on iOS devices for members! Download the app.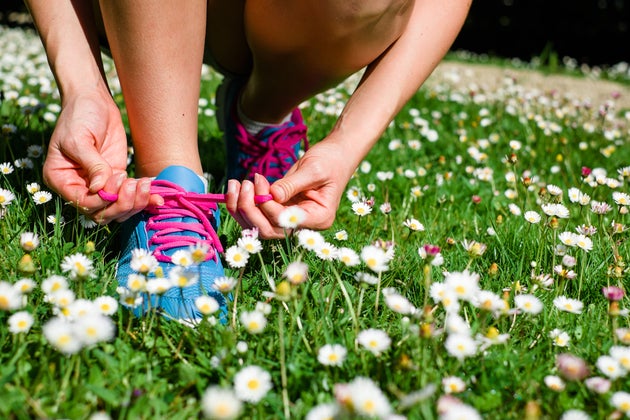 Spring has officially sprung! It's the perfect time for al fresco lunches, planting gardens and serious spring house cleaning. Most importantly though, it's the ideal time to start (or re-start) a running routine. Obviously anytime you commit to working out is awesome, but there are so many perks of spring that make running more enjoyable and easier to stick with. Here are seven reasons you should put on your sneakers this season:
Wonderful Weather
Let's be honest—summer and winter extreme temps can make running less than comfortable, and while fall is nice it can get nippy quickly. Depending on where you live, spring is usually just right—warm enough to convince you to get outside but cool enough to keep you from overheating. And minus the occasional April showers, the sky is usually motivationally sunny every day.
Related: 5 Things I'll Miss About Summer Running
Extra Encouragement
Thanks to the aforementioned fantastic weather, spring is the season when the streets and trails are filled with seasoned runners eager to get their miles in. This is great news for newbies; if you have any questions about your form or concerns about your mileage, there will be plenty of friendly faces to ask at the water fountain or stretching on the sidewalk. And runners are such a welcoming bunch that if one sees you struggling, she'll probably offer to help before you even ask.
Awesome Atmosphere
Sure, fall had its foliage but spring is bursting with flowers, green grass and sunshine. Nothing puts a little pep in your step like hearing birds chirping, smelling freshly cut lawns and admiring the blooming gardens along your route. There's such a feel-good aspect to running in the spring that you can't help but become addicted.
Related: If You Took A Hiatus This Winter, Here's How To Spring Back In
Lots of Light
It may have sucked losing that extra hour of sleep, but daylight savings pays off for new runners. As the days get longer and brighter, you have ample opportunities to get out and get your workout in. Not having enough time is often the reason new runners give up on their workouts, but with the longer days you have no excuse but to get out there at some point.
Food Fest
Along with the great weather, spring brings the start of the fresher, lighter food season. While winter's comfort food may have made it difficult to get off the couch, spring's flavorful salads and grilled meats give you all the fuel you need for your workouts without weighing you down. It's the best time of year to start a running routine without the chance of getting derailed by heavy or holiday food traps (at least until ice cream season starts…).
Fall Finish Lines
If you're just starting out, the idea of running your first race can be daunting. But beginning in spring makes a fall race more than manageable; you'll have plenty of time to get acclimated to running, choose a training plan and complete it well before race day. And just like spring is a great time to start running, fall is a great race season thanks to the cooler temps and countless events.
Abundant Access
In the colder months, snow often limits access to certain trails and ice makes roads dangerous. But come spring, you can safely run anywhere your heart desires. With so many options, there's a route to suit whatever mood you're in.