Despite Shake Up on the Women's Marathon Team, the U.S. Still Brings Loads of Talent to World Champs
Keira D'Amato is a last-minute sub for Molly Seidel ahead of the World Championship Marathon on July 18 in Eugene, Oregon.
Heading out the door? Read this article on the new Outside+ app available now on iOS devices for members! Download the app.
It was a call she didn't want to make. In fact, she waited until the last possible day to do so. But when it happened, word traveled quickly that Molly Seidel had resigned her spot on Team USA for the World Championships Marathon. Had she waited any longer, alternate Keira D'Amato wouldn't have had the chance to take her place.
In an Instagram post Seidel cited a stress reaction in her sacrum as the main reason for withdrawing, not wanting to push it to a full stress fracture. "Continuing to train and race on it would lead to a full fracture, and I'd waste a team spot being unable to race to a level Team USA expects of their athletes," she wrote.
The Olympic bronze medalist also noted that the process for getting a Therapeutic Use Exemption from the US Anti Doping-Agency and World Anti-Doping Agency for her ADHD medication played a factor in stepping back.
RELATED: How Strava Fame Became a Burden for Molly Seidel
D'Amato, the American record holder, joins Sara Hall and Emma Bates to round out the women's marathon team. Here's what you should know about the women heading into the World Championship Marathon on July 18 in Eugene, Oregon.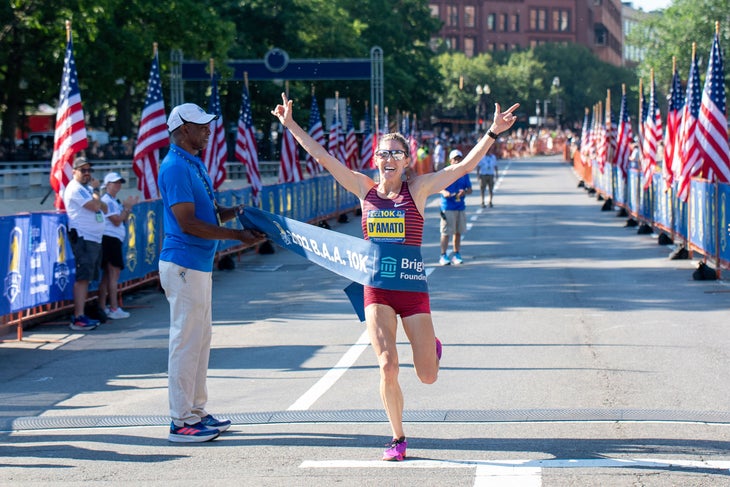 Keira D'Amato has been on a tear, starting the year off on a high with a record-setting run at the Houston Marathon in January. Since then, she's made podium after podium: 2nd place in the USATF 25K championships, 3rd place in the New York Mini 10k, plus an American women's-only race record; and most recently, 1st place in the BAA 10K.
Unlike most of the other women competing in the World Marathon Championships, D'Amato has just over two weeks to prepare in total. When she heard the news she admits running through the gamut of emotions. "With only two weeks until a marathon, I skipped ahead from the grind of marathon training right to the taper–a recipe for success? I guess we will see," she jokes.
Though the conditions of training aren't ideal, D'Amato is feeling healthy and fit and excited for the opportunity. "My husband has proudly been serving our country through the Air Force for almost 20 years now, I am beyond proud to be able to represent our country in my own way," she says.
Seidel, whom D'Amato is stepping in for, has faith that the 37-year-old will represent the U.S. well in her absence. "If there's anyone who could rise to the challenge on this short of notice, it's her," wrote Seidel on Instagram.
Age: 37
Marathon PR: 2:19:12 (Houston Marathon, 2022)
Best Part of Training: Training for something that feels bigger than me is pretty incredible. I mean, it's much easier to dig in the workouts when the going gets tough when you have a carrot like the WORLD CHAMPIONSHIPS on the line!
Worst Part of Training: I love the running part of training. I grind through the other stuff. The pre-hab, strength, mobility, etc., isn't as much fun, but it's necessary to stay healthy.
Best Advice Received (or Given): Being a mother, it's been so interesting listening to what I tell my kids before their sports games, "It's OK to be nervous, that means you care. But all you can do is go out there and do your best… and have as much fun doing it. I love seeing you go after it." It's so simple when I'm chatting with them about it, I've started realizing that's what I needed to hear too.
Pre-Race Superstitions: I'm a woman of routine (I eat the same breakfast every morning), but I try to break all superstitions. I try not to put any weight on things that won't contribute to my success. For a while, I had a "lucky" shirt I'd wear to bed before races. When packing for the Chevron Houston Marathon where I set the American Record in the marathon, I purposely forgot that "lucky" shirt. I felt so much power thinking the shirt didn't matter, my fitness and mindset was most important.
Go-To Summer Jam: I love a good heater. Anything that gets my body moving!
RELATED: Keira D'Amato Recruits Some Impressive Friends to Keep the Fun in Running
---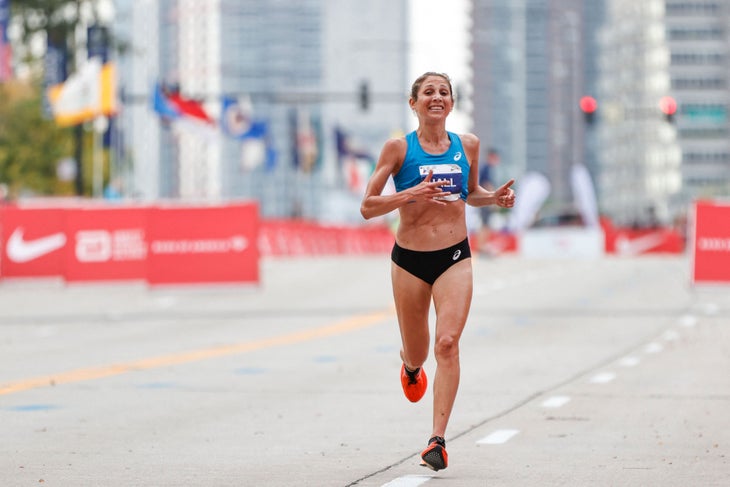 Though she's a veteran of the sport, the 2022 World Champs is the first outdoor team Hall has made. And she is feeling ready for her moment.
"I was running the course the other day and getting flashbacks of past U.S. Nationals [and] missing the world team there at Hayward field and how special and redemptive it is to be able to run the world championships for the first time," she told Women's Running in an email. "Having competed at Hayward field a number of times I'm anticipating the atmosphere to be incredible out there, and to have the hometown cheering for us is going to be amazing."
Hall secured her spot on the team by placing third in the 2021 Chicago Marathon. (According to the USATF selection policy, the top American finisher at the Olympics–Molly Seidel–would automatically make the marathon team. The two remaining spots were determined by order of finish at American World Athletics Platinum Label Marathons–Chicago, Boston, and New York.) In Chicago, Hall overtook D'Amato in 2:27:19 to 2:28:22.
Age: 39
Marathon PR: 2:20:32 (The Marathon Project, 2020)
Best Part of Training: I've really enjoyed this marathon block. I think it's the best my body has ever absorbed marathon training, even though I'm doing a little bit more than I've ever done. That's something I don't take for granted at age 39. I feel so blessed to be able to keep improving and enjoying this sport so much, and feeling hopeful the way my body has responded to this training that it will continue for years to come.
Worst Part of Training: The worst part of this training has been my knee which is still irritated from a hard fall I took in early February. I have a bone bruise in two places and it gets really irritated by the long hard workouts I do as I have a lot of 25-27 mile hard days. At times I wasn't sure I'd be able to make it to the line. But I've got a great team helping me manage it and my therapist John Ball can make the pain completely disappear by getting me to land in the right position, so I'm confident it won't affect my race at all just as it hasn't my workouts.
Best Advice Received: "Don't be greedy," [University of Colorado head coach of track and field] Mark Wetmore. I have a definite propensity to be greedy in training, I'm definitely a "more is better" personality. One of Ryan's biggest roles is keeping my overzealousness in check.
Pre-Race Superstitions: Nope. I like to listen to music that I've listened to in that buildup. It cues my body that this is just like every day I go out there and hammer for hours in training. I don't have to be superhuman, I just have to do what I always do.
Go-To Summer Jam: Lately I'm loving the throwback "Tubthumping" by Chumbwamba which brings me back to my high school cross-country days. I dug it up for the first time as I ran the course in Eugene last weekend, and it brought tears to my eyes thinking of all the disappointment I've overcome in the sport to get to this point where I'm enjoying it so much.
---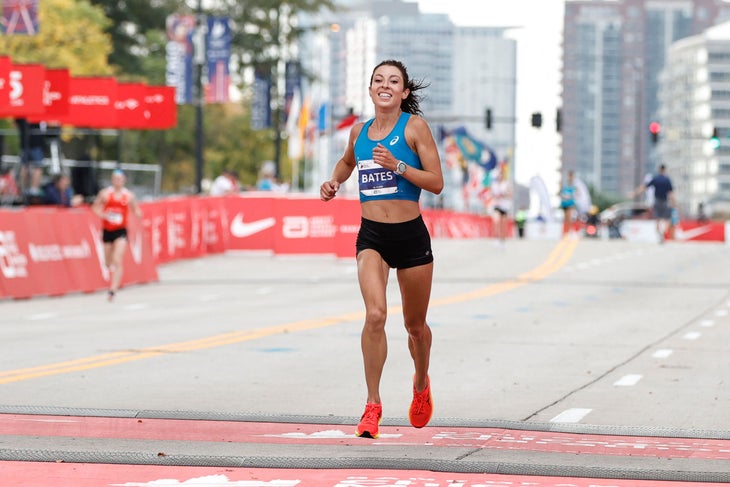 Like Hall, Emma Bates secured her position on the U.S. marathon team for the World Champs at the 2021 Chicago Marathon on October 10. Bates took second place ahead of Hall and behind Kenya's Ruth Chepngetich in 2:24:20.
That performance was her first World Marathon Major podium and a PR. It was also her first chance racing after switching teams and moving to Boulder, Colorado to be coached by Joe Bosshard.
In a post-race interview, Bates pointed to numerous differences she made in her training ahead of Chicago like switching to a 10-day training cycle and training at altitude for the first time, but also that enmeshing herself in a more positive community has really helped her run better. "I don't thrive off of being angry or stressed or sad. Some people can turn that into working hard and use running as a stress reliever or a way to get frustrations out. But for me to run my best I have to be happy and positive and have fun," she told Women's Running at the time.
Since Chicago, Bates has kept her race schedule light and has been vocal on social media about working through some medical challenges, including a bout of COVID-19 in December. It wasn't until a post on June 11 that Bates noted she was finally feeling like herself again. "I am so relieved to be back on track for [World Champs]," she wrote.
Age: 29
Marathon PR: 2:24:20 (Chicago Marathon, 2021)
Bates did not respond to our request for comment for this article.