Truly Faster as a Master: Roberta Groner, 41, Makes U.S. World Championships Marathon Team
She came back to running after a decade away from the sport. A full-time nurse and mother of three boys, she is still making marathon dreams come true.
Heading out the door? Read this article on the new Outside+ app available now on iOS devices for members! Download the app.
Roberta Groner hasn't quite comprehended the fact that come September 27 at the World Championships in Doha, Qatar, she'll be on the starting line wearing an official USA singlet, one of three women chosen to represent the country on global stage.
On Friday, USA Track & Field officials announced the members of the U.S. team, including Groner, Carrie Dimoff, and Kelsey Bruce. The race begins at 11:59 p.m. local time, due to average 100-degree temperatures in the region.
At 41 years old, the honor isn't something Groner ever imagined. But neither is her success at the 26.2-mile distance. She's one of only eight U.S. women who currently have the 2020 Olympic standard, which she achieved by setting a personal best in April at the Rotterdam Marathon, finishing in 2:29:09. This makes her only the third American woman over age 40 to ever break 2:30—the other two are Deena Kastor (2:27:47) and Collen De Reuck (2:28:40), though Groner didn't come through the ranks as a professional runner like they did.
After competing for St. Francis College in western Pennsylvania, Groner took about 10 years away from running. She became a nurse and mother to three boys, who are now 15, 13, and 12 years old.
Gradually she made her way back to consistent training. She took her first shot at the marathon in 2011, finishing Chicago in 3:12:42. Over the next four years, she whittled it down to 2:45:30 at the 2015 New York City Marathon, just off the 2016 Olympic Trials "B" standard of 2:45.
Her breakout performance came at the 2017 California International Marathon, when she took six minutes off her best, placing second in 2:30:38.
Groner, who lives in Ledgewood, New Jersey, talked with Women's Running by phone during her lunch break at work on Friday about what it means to make her first U.S. team and how she fits training around her nursing career and family.
How did you find out you made the team and what were your initial thoughts?
I got an email two weeks ago saying I was chosen. I knew if I was asked, I would want to represent the country because it's an honor. For me, I'm not putting age out there, but I don't know if I'll be as fast two years from now [when the next world championships team is chosen], so it's something I felt that if I was asked, I'd definitely do it. I'm excited to be representing out country.
Did you know who your teammates were going to be?
I didn't know until today. I met them both at CIM in 2017 and that was when my running started coming together for me. I call them my "CIM girls" because I raced with them and we all did New York together in 2018, too. I didn't know, but was very curious who would be going to be my teammates.
When will the training begin?
Training is always there, but we'll probably really start in July for the world championships. [Coach] Steve Magness and I haven't had a chance to talk. We haven't mapped out training just yet, but I think I'll probably do a shorter training cycle—maybe 10 weeks or so.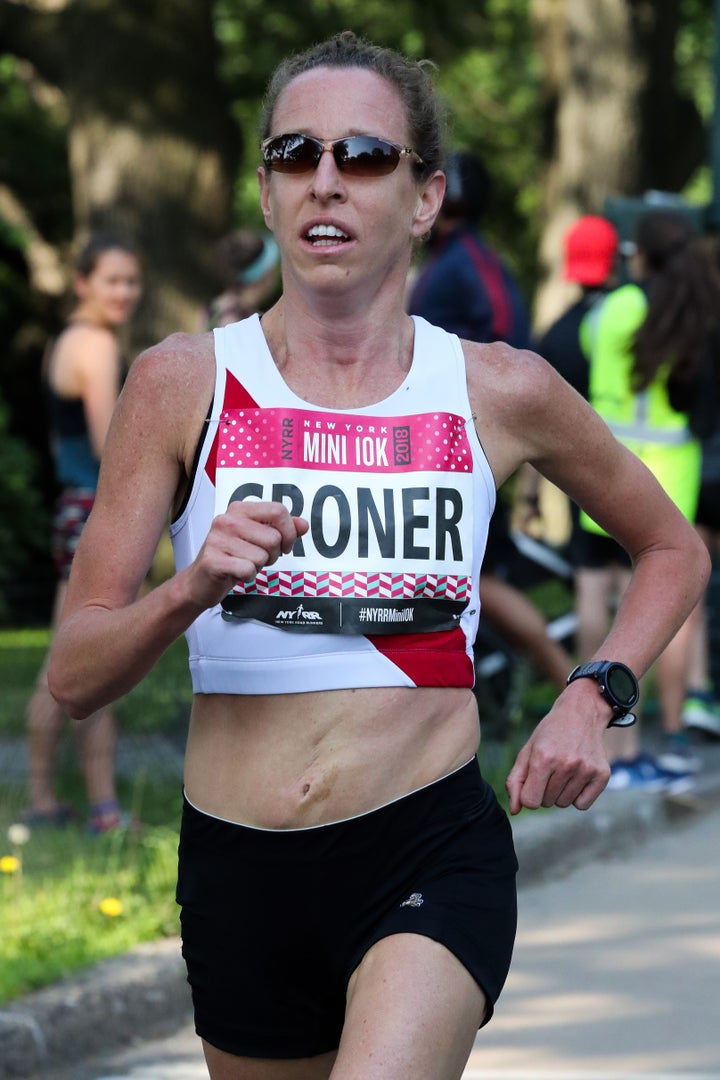 Backing up a little bit from today's world championships news, when did you start to realize that you might have this level of talent at the marathon distance?
Probably 2015 when I ran New York in 2:45:30. After that, everybody said I should try for the Olympic Trials standard [2:45:00], but I didn't feel like it was the right thing to do because the turnaround was too short. Then in 2016, I ran Mohawk Hudson, a smaller marathon in Albany, New York, and I won it. I ran 2:37:54 and that was kind of when things started to click that maybe I had more to give. I got a coach after that. We started working a little more with more mileage and tweaking different workouts. So, 2016 became the year I decided I wanted to qualify for the Trials and, "Hey, I want to get the A standard" [2:37:00].
CIM in 2017 things became more pronounced, but nobody really knew who I was. A lot of times I'd hear things like, "Yeah, but CIM is a downhill course." So then I kind of went with an attitude in 2018 of, "I'm going to run marathon courses that don't have asterisks beside them and see what I can do." In New York I was twelfth and then went to Rotterdam and hit the Olympic standard [2:29:30].
I still feel there's more out there. We all do, I think. Will it ever all click? When you have the right weather and the right everything? Who knows.
I know you don't want to make your age the center of the conversation, but still I think that many women in their 40s really see your story as inspirational. What do you think about that?
I love hearing it. I get a lot of messages on Instagram that they've heard me on a podcast and it resonates or they're inspired. Age is there. Competitively myself as the old girl or the old woman. I want to be on the starting line doing what I'm doing, but I hope my story resonates and gives people inspiration that you never know—you do the work or do whatever you're passionate about and you don't know what's going to happen. I was building over the years, but never had a clear definition of where it was going. I built a good foundation that has led me to where I am today. It's all about just doing the consistent hard work.
A lot of times you're on starting lines with 20somethings. Do you care?
I don't care. I don't think about it. If it's a goal race, I'm there to be competitive with everybody. I'm very grounded and confident. If my training goes well, I know whatever happens is the best that I can do. I know I'm a masters runner, but I usually don't see myself as one.
Did you ever think that one day you'd put the USA uniform on at the world championships?
Honestly I'm still wrapping my head around it a little bit. When it came up, right away I said, "Yes, I'm doing this." The first thing I think about is my children, of course. How awesome is it that they're going to see their mother in the USA [jersey]? I'm going to bring it home and preserve it right away so that my kids and grandkids can keep it. It's not something everybody gets a chance to do.
What did your boys say when you told them about the world championships?
They were super excited—they're really getting into all the lingo and starting understand what the world championships are, like one step down from the Olympics. They asked if they could come with me. I promised that they can come to Atlanta in February for the Olympic Trials, but Qatar might be a little more difficult.
You work as a full-time nurse. What does a typical day look like for you?
I'm in an office setting at a primary care office—it's a large organization with 500 doctors, so I work a standard Monday through Friday, 8-to-5 job, for the past five years now.
When I have the children—I'm divorced—I get up super early to run before they get up for school, and then do my second run at lunchtime. I do the baby wipes and everything at the office to make sure I don't smell [laughing]. I have to do a lot of time management to fit in up to about 98 miles a week. I don't really get to do massages and extra things that a full-time elite runner does. I've talked about maybe doing an altitude stint before the Olympic Trials, but it's hard to do that with a job and the kids.
After Rotterdam, I read a lot of messages on social media assuming there's no way I could be a good mother and what I am doing is selfish. But my kids really encourage me. We were talking about if I had the opportunity to go to altitude for training and one of them said, "Mom, why wouldn't you? It's a once-in-a-lifetime chance, it's four weeks, it's not forever." They get it and they are supportive.