Kellyn Taylor Announced to Join the Ranks of the 2023 TCS New York City Marathon
After recently giving birth, Taylor returns to New York with more confidence than ever.
Photo: Patrick McDermott, Getty
Heading out the door? Read this article on the new Outside+ app available now on iOS devices for members! Download the app.
One second. That's how close marathoner Kellyn Taylor was to Helalia Johannes in the 2021 TCS New York City Marathon. Taylor placed sixth at 02:26:10 while Johannes placed fifth at 02:26:09, a fact that spurs her to take her training more seriously than ever for the 2023 New York City Marathon this November.
Taylor, 37, has many accolades other than her 2021 New York City Marathon time; she placed fourth in the 2016 U.S. Olympic Trials 10,000 meters and subsequently earned a spot as an alternate on team U.S.A. Taylor also set a course record in the 2018 Grandma's Marathon at 2:24:28, placed third in the 2019 Prague Marathon, and is a NREMT (certified) firefighter. Taylor is also sponsored by HOKA NAZElite, where she's in good company with athletes and fellow mothers Aliphine Tuliamuk and Stephanie Bruce.
However, this year has looked a little different for Taylor's training, as she gave birth to a little girl in December 2022. This came six months after she and her husband, Kyle, adopted their son, who they'd been fostering since early 2021. Shortly after, they adopted the boy's little sister, who they'd also been previously fostering. Needless to say, it was a lot of good change, but things got a little busy.
"It was a slowish build back into 2023, but a good one," Taylor says. "I didn't have any issues postpartum and I'm really thankful for that. I was able to cautiously jump back in and haven't had any issues since."
Although she acknowledges how grateful she is to have a calm and slow transition back into racing, Taylor says that it can be mentally taxing to struggle at a sport you once excelled in.
"I think you have to remember that the body takes a long time to remember how to do things at a high level and respect what you put your body through," Taylor says. "Also, everyone's timeline is so different, so you can't compare journeys."
She says her first race postpartum—the 5,000 meters at the Portland Track Festival in early June 2023—was quite a shock to her system. Taylor placed ninth."I definitely didn't feel like a good runner at that moment," she says. 
A few weeks later she ran in the New York Mini 10K and finished eighth at 32:15. Most recently at the end of July, Taylor won the 2023 USATF 7-Mile Championships. Now, she's eager to compete with the best of the best in the 2023 TCS New York City Marathon.
"New York is one of my favorite places to race for obvious reasons," she says. "If you've ever raced there, you know it has the most amazing atmosphere. I mean it's deafening sometimes – your ears ring when you're coming off some of the bridges. "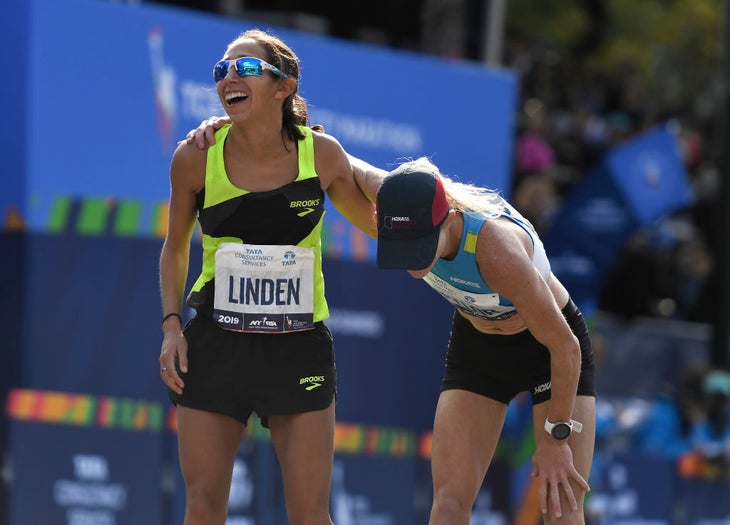 Thinking back on her 2021 New York Marathon, Taylor says she felt horrible and was coming off one of the worst segments of her running career. 
"Nothing felt easy or right," she says. "But going into it, I decided that even though I didn't know what was going to happen, I was there, and was going to try."
However, when the race began, Taylor found herself at the front of the pack and settled in. She was surprised at how natural it felt and, overall, had a great race. The only thing she regrets is not mustering a little bit more to overcome that one second gap between her and fifth place. 
With less than 11 weeks until race day, Taylor says she feels as good as ever. Her biggest challenge is going to be reigning in her urge to catch the leaders in all the excitement of the race, an event that includes 50,000 other runners
"It's important to stay within yourself in those moments, which is really hard to do because you can get excited and want to go faster even though you're only at mile 16," she says. "I think the biggest thing to remember is that it's a marathon, and nobody is going to win at mile 19. They'll win at 26.2." 
She adds that she feels confident about going into this year's race. 
"It's an exciting place to be," Taylor says. "I'm able to go into New York this year and feel like I'm on a more level playing field. Hopefully, I'll be able to mix it up with the big dogs."