How Brittany Charboneau Gets It Done
It took channeling her true, funny self in order for this elite marathoner to get faster. Now she's imparting comedic wisdom on her running community.
Photo: Courtesy Brittany Charboneau
Heading out the door? Read this article on the new Outside+ app available now on iOS devices for members! Download the app.
It's something Brittany Charboneau works toward daily: not letting even the COVID-19 pandemic slow down her rigid routine. She starts every morning with a cup of coffee and a thought-provoking book, followed by a run. Her afternoons are spent checking in with the runners she coaches through Mercuria Running, then some creative time or a nap. Dinner is diligently planned with her dietician. Her evening winds down again with a book.
Charboneau quit her sales and marketing job two years ago to become a professional runner while also pursuing a career in improv and sketch comedy. It sounds like something out of a movie. "I had no grounds to quit [my job] at that point," she says. "I think my PR was like a 2:52, never done any big races, never really done anything big in running. I just knew I could."
She fought tirelessly to make the two dreams come true. She had some wins: In 2017 she won the Denver Colfax Marathon and set a course record. In 2018 she came in sixth place at the L.A. Marathon with a 2:36 finishing time, landing her a ticket to the 2020 U.S. Olympic Marathon Trials. In 2019, she won the Marine Corps Marathon and launched a one-woman comedy show, My Long Distance Relationship with Running.
She was training the way elite runners are supposed to, but the pressure to keep up became intense. Leading up to the 2019 London Marathon, she was no longer having fun. That frustration culminated in a sacroiliac joint injury that prevented her from racing. That's when she realized she had to let her humor take the reins.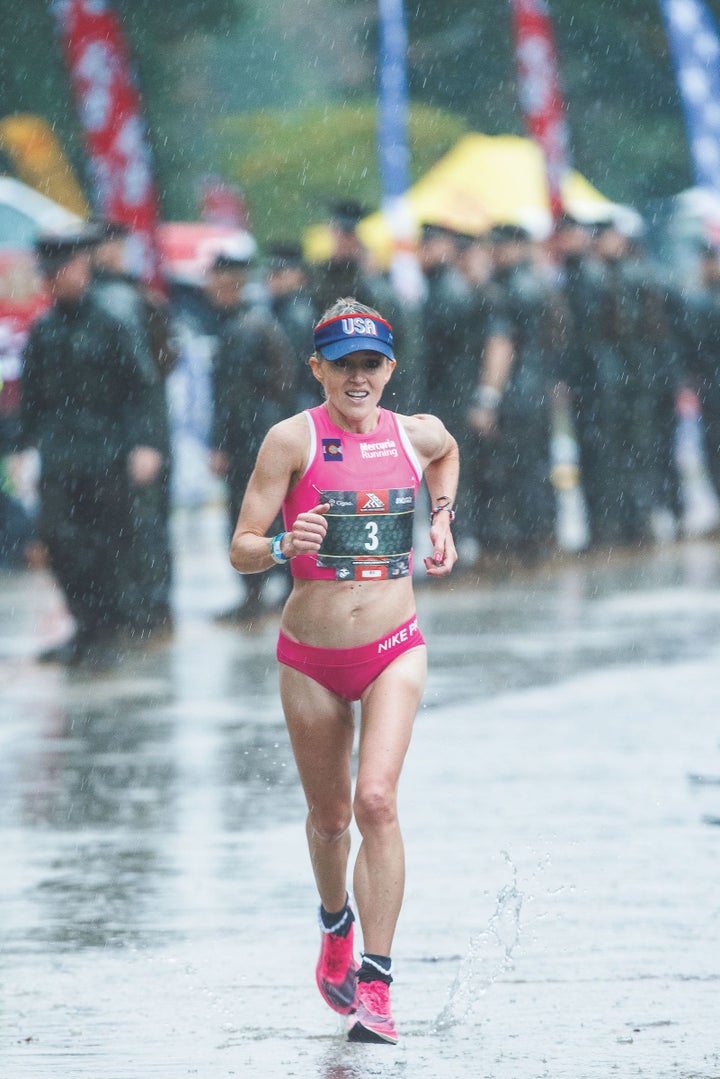 "I just had this idea in my head of what I thought an elite runner was supposed to be and how I thought I needed to perform," says Charboneau. Her new training plan is unique. It still includes 70–75 miles a week, three days of strength training, and a day on the trails. But mentally, she's focused on abstract themes her coach comes up with that Charboneau creatively incorporates into her workouts—a costume, a playlist, a route, or whatever else she can think of. During her Dolly Parton–themed week, her run attire included a coat of many colors, she ran to Jolene Drive, and she worked 9 x 5 minute speed intervals. It's keeping her training fun.
"I've got something playful that I'm attaching to, I'm excited to be running, and I'm excited to just see what I can do and push my own limits, versus stressing about what other runners might be doing or what their strategy is," she says.
It was that new mental focus that landed her 13th at the U.S. Olympic Marathon Team Trials and a marathon PR of 2:33:14. It's exactly where she wants to be in order to push to make the team in 2024. "It's just a little taste of being toward the top but still motivating to keep going and knowing that's nowhere close to where my limit is."
During the months-long quarantine starting in March, Charboneau and her coach, Jenni Nettik, began sharing the goofy weekly challenges on social media. People from all over the country joined in, shining a little light on an otherwise dark time.
Now Charboneau's energy is spent on running and coaching, shelving her dream to be a comedian. "I realized that I'm just a funny person, and my comedy comes through in so many different areas that I no longer have to put it into this box of comedy." She's just a funny runner.