Always Up for a Challenging Adventure, Alexi Pappas is Running The Leadville 100
A national record holder in the 10K, Pappas continues to explore her limits with a late entry into the high altitude 100 miler
Photo: Altra Running/Mike McMonagle
Heading out the door? Read this article on the new Outside+ app available now on iOS devices for members! Download the app.
Alexi Pappas is a busy woman. She's equally glamorous and raw. She's perfectly grounded and living in a fantasy. As an Olympian, filmmaker, writer, and speaker, she's rarely in one place for very long. And the Leadville Trail 100 race was very much not on her radar even two months ago. But then she got an email.
"My manager sent me a message in June saying, 'Just got word that Coros has an entry for Leadville,'" she recalls. "'Let's discuss this week and if it makes sense to run. I think it would be fun and epic, but let's do whatever feels best and right to you.'"
For the 32-year-old Pappas, it feels like there are two kinds of goals to shoot for—the ones you set for yourself that feel like they were born with you. And then the ones that take you completely by surprise. Leadville is the latter.
In the 2016 Rio Olympic Games, Pappas set a national record in the 10,000 meters, representing Greece. After being an All-American collegiate runner for Dartmouth and Oregon, her long-time Olympic dream came true, and it opened all kinds of doors for her. It also allowed her to have the freedom to explore those unexpected opportunities.
"I feel like there's a period of time in your life as an athlete where you chase goals that you have for yourself. Maybe you have an Olympic dream. Maybe you want to run a fast mile. Then there's a time when you can begin to embrace things that the universe brings to you, and not the ones you necessarily had in mind for yourself."
RELATED: How To Use Microadventures To Unlock The Joy Of Running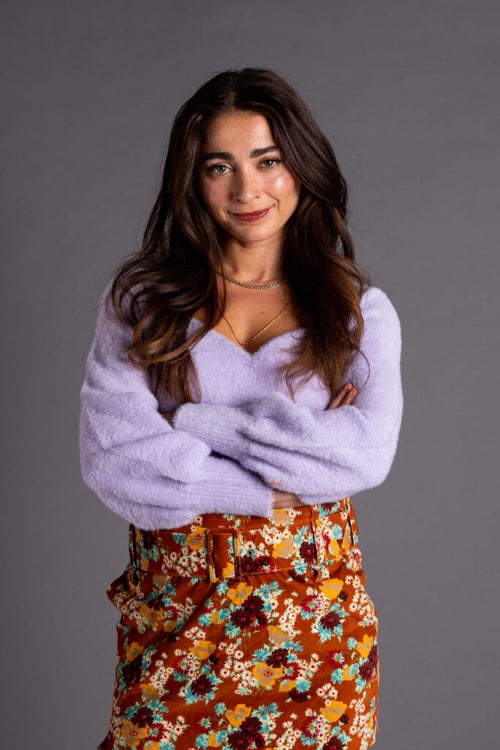 She's Still Immersed in Running
Pappas is a legit runner, having run that Olympic 10K at 5:05 mile pace and also clocking a 2:34 marathon in 2020. Although she's backed away from competitive track and road racing, she's still immersed in the sport in numerous ways. She ran the 2022 New York City Marathon in a custom bedazzled costume and paced Diplo, aka renowned DJ and music producer Thomas Wesley Pentz, through the 2023 Los Angeles Marathon in March.
Although she's recently made a foray into trail running, Pappas, who lives near sea level in Alameda, California, admits that she's less than perfectly prepared going into the Leadville 100. The out-and-back race, which begins at 4 A.M. on August 19 and has a 30-hour cutoff time, is situated between 9,200 and 12,500 feet above sea level.
"It's a big honor [to be given entry into the race]. And it's one I take seriously, but also I'm not in peak condition for this race. So I've been thinking a lot about it as a kind of mysterious unknown. What might happen? What might be possible? I do believe in myself."
Pappas' longest race to date is the Hoka Bandera Endurance Trail 100K, which she did in January. "For that event I entered the day before," she admits. "So I didn't have a crew. I didn't even have a headlamp. I used my cell phone light." Although she fared pretty well (finishing 12th in 12:08), Pappas learned that ultra events are more about solo adventure, with lots of other people solo-adventuring at the same time. Different from running in the pack on a track, where the whole point is to stay with the group.
And this time around Pappas will have a pacer, Michael Mitchell, and a crew to help her through aid stations and with motivation. "I feel like Michael is the right balance of personality and experience," she says. "And my best friend since we were two-years-old will be there to crew, so I'll have lots to look forward to. I figure we'll make an event of it."
Mitchell, accomplished On Running trail athlete and TikTok personality, is stoked to be part of Pappas' race. "I am very excited to help Alexi attempt this incredible feat," he says. "The Leadville 100 holds a special place in my heart as it was the first ultramarathon I ran."
Mitchell's experience in the race in 2021 solidified his love for the ultramarathon atmosphere and community. "I'm a fan of Alexi and all that she represents," he adds. "Not only do I think she will be able to finish the race, but I know it will inspire her to continue her successes in the running world and beyond."
RELATED: How Alexi Pappas Reinvents Herself
Jumping at New Opportunities
Even though Pappas doesn't feel perfectly prepared for what she's about to embark on, that's part of the fun. "I just don't think this opportunity will happen for me again," she says. "There are some opportunities that feel like you'll be able to have them a million times. But this isn't one of those. This is more like the Olympics. I have friends who said that about the Olympics—that they'd do it next time—and then their sport was taken out of the Olympics."
Sometimes you have to jump at the chance, even when the thing you're jumping at is 100 miles in the high alpine of Colorado.
Pappas lost her mother when she was just 4-years-old, and has a friend who has also lost a parent. "My friend told me that our parents would do anything to be in nature for one more day, and he suggested I think about that when [the race] feels long. To have gratitude for simply being alive in the beautiful outdoors, moving about nature, moving from one loving friend and food stop to the next, with plenty of trees in between."
As soon as Pappas finishes Leadville, she'll be onto the next thing, but she's going to enjoy the journey as much as possible.
"I have a new book coming out two days after race day," she says. "So I'll come home and not be able to walk and just do the book release as well as I can."
The book, Bravey, is an updated version of her 2021 New York Times best-selling memoir that's been adapted  especially toward young readers. She talks about unique experiences, like making her Olympic debut as a distance runner, but also common stresses like learning about compassion, forgiveness, and loss.