One Runner's Heartbreak Is Another Runner's Victory
Even if you don't follow about track and field, you will cringe and bite your nails watching this 10K finish at the world championships.
Heading out the door? Read this article on the new Outside+ app available now on iOS devices for members! Download the app.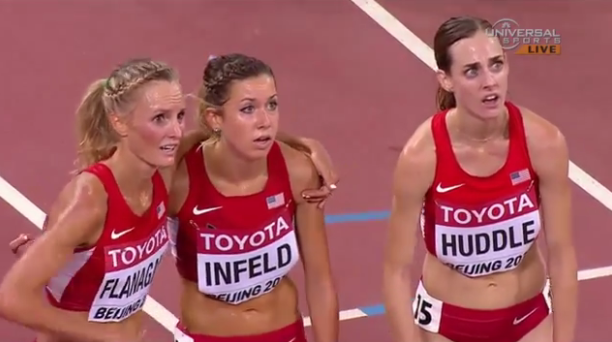 If you know nothing about track and field—heck, if you don't care at all about competitive running—you will still cringe and bite your nails watching this 10K finish at the world championships.
Perhaps the best example of the tragedy and triumph that can simultaneously exist in a single track race was during the women's 10,000-meter final at the IAAF World Championships, where the top runners from around the globe gather to battle for those coveted top-3 spots. Think: an event that's as big of a deal as the Olympic Games for elite track and field athletes. That's this championship, which occurs every two years.
The finish between Molly Huddle, a top-notch runner competing in the 10,000m for her first time at worlds, and Emily Infeld, Shalane Flanagan's training partner who's pretty fresh on the national/global running scene, was a genuine display of running grit that can only come from within. The race was decided in the final lap, when Huddle shifted gears into her closing kick to stick with two Africans who were rapidly slipping away for the 1-2 finish. Infeld, who was sitting in sixth behind Flanagan, stepped out and hopped on Huddle's heels with barely 200 meters left in the race. By 50 meters, she was almost tripping over her in fourth. Coming off 18 months of dealing with two stress fractures earlier this year, which almost ended her career, Infeld's last-minute move was getting exciting.
In the final steps to the finish line, Huddle had third place secured—or so she thought. As she slowed down barely a stride from the line, slowly raising her arms in a ceremonial celebration of scoring the bronze medal, Infeld zoomed and leaned past her on the inside, startling Huddle who thought that moment was hers.
Thirty-one minutes spent on the track, and .09 seconds was the margin between third and fourth place.
Related: 10K Training Plan
Infeld had beaten the 10,000-meter national champion and arguably the best American long-distance runner on the track and roads this year, in an event that no American woman had medaled in since Kara Goucher did it in 2007. What's more—this was only her third 10,000m race EVER.
Fans and reporters immediately started blasting social media with two things: shocked praise for Emily Infeld's underdog victory and utter sadness for Molly Huddle's loss that shouldn't have happened. If you re-watch the finish (over and over, like we did), the bronze could have been—and really, should have been—Huddle's.
In a post-race interview with Flotrack, Infeld stated, "The only thing I feel guilty about is I know Molly let up, and I don't think she knew I was there. I hate to take a medal away from a teammate and fellow American. She's amazing and phenomenal."
Huddle is no doubt a fierce, respectable, great runner, but this tragic end to an outstanding track season raised attention around celebrating victory too early in races. Did she throw her entire training and season away in a single step? A premature celebration? A golden rule of running, especially in quick track races, is to run through the line until the race is finished, and that's what Infeld flawlessly did after Flanagan scolded her for "letting up" at the national championships. So did Infeld deserve the bronze? Absolutely, without a doubt, 100 percent. One might argue that her recent entrance to professional running played in her favor, keeping her fresh enough to have that extra competitive edge to make the dive for greatness. Others might argue that she just wanted it more (although based on the Huddle's reaction, we tend to disagree). Still, others simply give credit to her runner's spirit, as well as her opportunity to train alongside Shalane Flanagan, who holds the American record in the 10,000m. But everyone agrees that she deserved every bit of it. In the case of Huddle, a rookie mistake was made out of excitement of getting on the podium, and in a single step, that joy appeared to cost her the medal.
None of us will ever train at an elite runner's level, face the mental blocks they face, or race on the stages they pursue for their entire careers. We can't live in Huddle's head during that race (which, by the way, was a tremendous performance by Americans, who all finished in the top 6), nor can we imagine the agony she's probably feeling after that last lap. She's a gnarly competitor that will do great things in Rio next year, and she's still the fourth fastest 10K runner in the entire world.